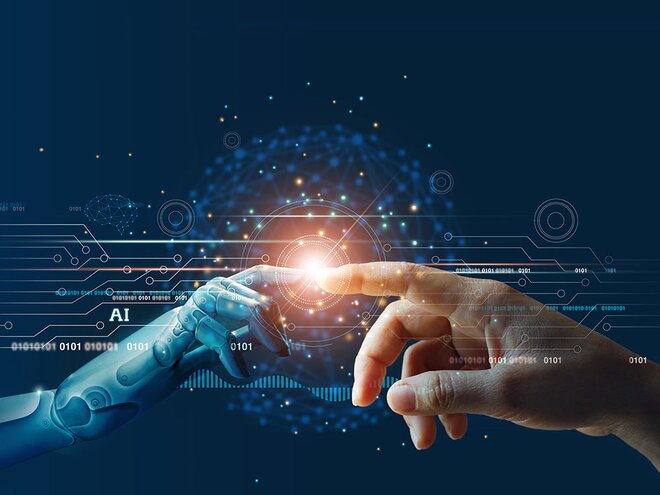 One of the largest and fastest-growing markets for digital consumers, India has the second-largest internet subscribers, pegged at close to 825 million as of FY21. So, digital companies can scale up at a faster rate in India. Besides, the asset-light model and technology-centric approach act as a major catalyst for these companies. This movement of digital disruption has paved the way for the country to emerge as a leader in digital transformation.
The Indian government is aspiring to make India a $5 trillion economy by 2025 and digital disruption is likely to play an important role here. The wave of digitalisation has spread across industries, with many industries being in advanced stages of digitalisation.
Digital technologies are rapidly changing the way businesses operate. For example, there was a time when one had to physically go to a bank's branch for any banking service, but now most of these services are just available with a few clicks from the comfort of home. On the other hand, the introduction of UPI has revolutionised the entire payment ecosystem. Ongoing advancements in digital technologies have changed the way companies create and deliver values to their customers.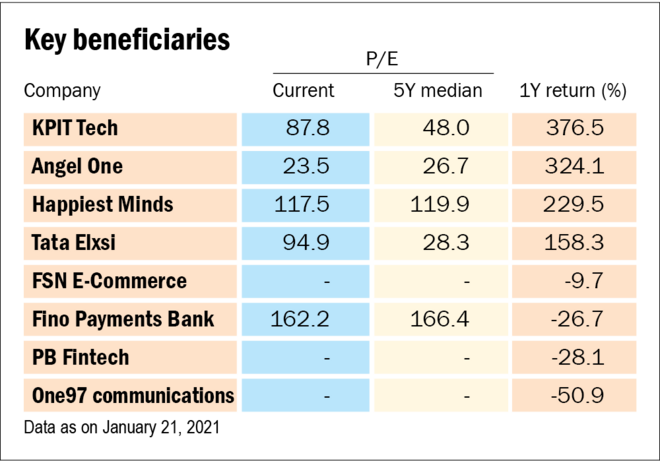 In focus: Happiest Minds Technologies
Founded in 2011 by Mr Ashok Soota, Happiest Minds Technologies provides end-to-end digital services, enabling its customers to embrace digital transformation by leveraging new-age technologies like big data/analytics, robotics, machine learning, artificial intelligence and others.
The company's offerings include digital infrastructure/cloud services (41.6 per cent of FY21 revenues), software services (22.7 per cent of FY21 revenues), artificial intelligence (13.3 per cent), IoT (10.5 per cent) and security solutions (8.7 per cent). Like most other IT companies, Happiest Minds derives a majority of its revenues from the US, which accounted for more than 73 per cent of its revenues in FY21. Its various business segments cater to various industries, such as edutech, hi-tech, BFSI, travel and media, to name a few. The company is able to sell its services through multi-year engagements with marquee clients like Microsoft, Amazon Web Services and Intel, among others and it leads to customer stickiness.
As per a Frost and Sullivan report, the global digital-services market is expected to grow at a CAGR of 20.2 per cent to $2.1 trillion by 2025. This is one of the key tailwinds for companies operating in this industry. In FY21, the company's digital-service offerings accounted for 97 per cent of its revenues - one of the highest among Indian IT companies. In the last five years ended FY21, its revenues grew at a CAGR of 17.4 per cent, with average ROE of 32.4 per cent.
The company competes with global companies like Globant, EPAM and Endava and is well placed to take on digital services in emerging technology trends, including blockchain, virtual reality, drones and robotics.
Also in our 'Top trends to profit from in 2022' series:
Top trends to profit from in 2022: Return to normalcy
Top trends to profit from in 2022: Clean energy & pollution control
Top trends to profit from in 2022: PSU divestment
Top trends to profit from in 2022: China plus one
Top trends to profit from in 2022: Electric vehicles
Top trends to profit from in 2022: Artificial intelligence and machine learning
Top trends to profit from in 2022: 5G & Telecom revival
Top trends to profit from in 2022: Ethanol