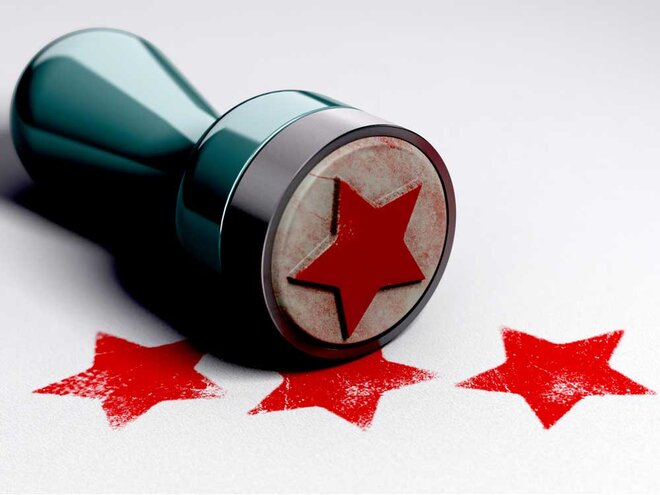 Dividend Stars, as you may have guessed, are those companies that have carved a niche for themselves by paying consistent or increasing dividends in the last 15 years. Not only have these Dividend Stars made their investors rich through dividends, but they have also rewarded them with significant capital gains.
The 15-year time horizon also includes the period of the global recession in 2008, policy paralysis in early 2010, liquidity crisis in 2018 and dozens of other events that shook the economy. Amid all adverse circumstances, these companies have continued to perform consistently and demonstrated a consistent track record of paying dividends and increasing them.
Why are dividends important?
Small things make a big difference. Over the long term, dividends make a significant difference to an investor's total returns. Not only do they help investors recover their investments, but they also cushion the downside. For instance, over the last 15 years, Hawkins has paid a total dividend of Rs 600 per share against its 15-year-ago share price of Rs 21. This is a whopping 28 times of the price paid by an investor. Returns from its dividends alone account for 17 per cent of its total returns (in rupee terms) in the past 15 years.
Dividend traps
Dividends are often lucrative to an investor. They not only return to investors the amount they have invested, but they also provide them with tangible profits, which encourage them to stay invested for long. However, the following are some cases wherein dividends can prove to be a trap.
I. Exceptionally high or special dividends
Occasionally, some companies pay high or special dividends. Such dividends originate from miscellaneous asset sales or some other extraordinary income or some special event such as a 25th anniversary and so on. Investors erroneously consider them to be regular in nature. So they end up buying such stocks for dividends, ignoring the fundamentals. In many cases, such stocks prove to be a trap and tend to result in a capital loss, which is sometimes even higher than the amount of dividends paid over the holding period. To eliminate these traps, an investor should always check the sustainability of dividends.
II. High dividend yield
Investors often get attracted to very high dividend yields. However, a high dividend yield can also be the outcome of a falling stock price. For instance, if a company pays a dividend of Rs 10 on the stock price of Rs 500, this translates into a dividend yield of 2 per cent. However, later, if because of some fundamental deterioration, its stock price crashes to Rs 100, the dividend yield will become a mouth-watering 10 per cent. But the company may stop paying dividends because of its worsening financial position, putting its investors in a bind.
Besides, another reason for investors falling prey to a high dividend yield is that the current market price is a reflection of its current market position, while dividends convey the most recent payout within a year.
Some recent examples of falling knives include Yes Bank (dividend yield 3.2 per cent), Manpasand Beverages (3.3 per cent) and DHFL (5.1 per cent). These companies have a very high dividend yield due to a drastic fall in their stock prices, but their shaky fundamentals leave little room for maintaining dividend payouts.
III. One-off dividends
Some cyclical companies witness an extraordinary performance in some years because of certain tailwinds or a reversal in the commodity cycle. This extraordinary performance also results in the payment of extraordinary dividends, which may not be sustainable in the long run. For instance, HEG witnessed sudden high profits because of an exponential increase in graphite electrode prices following a ban on manufacture of graphite electrodes in China. These profits also led to a sudden jump in dividends to Rs 80 from nil. However, later, as the graphite prices corrected, its profits and stock price both witnessed a steep fall, sending its dividend yield to 8 per cent. The company's future dividend payouts now look uncertain.
Please note that the companies discussed in this article are not our recommendations. Do thorough research before investing in them.
How we arrived at the Dividend Stars
Dividend Stars not just exhibit reliability of dividends, but also strength of fundamentals. Dividends, as well as consistency in dividends, form the foundation of this story. Although many companies pay dividends, a history of paying dividends consistently is what differentiates our dividend stars from the rest. Further, they have not only paid regular dividends but have also increased them or kept them constant over the last 15 years, which is a rare characteristic. To further refine our list and ensure its fundamental strength, we applied the following criteria.
Return on equity
This filter evaluates the ability of companies to generate stable returns on the amount of equity (shareholders' money) invested in the business for a long period of time. A proven track record of generating consistent ROE even in tough times signifies a company's ability to survive downturns and increases the probability of survival during future downturns. A constant ROE also ensures that the company is witnessing higher profits in line with its growing equity base year on year.
Free cash flow to equity
Free cash flow to equity (FCFE) refers to the surplus cash left with a company after it has paid for necessary capital expenditures, regular business needs, interest payments to debt holders, etc. These free cash flows are further used to pay dividends to investors. We have applied this filter to ensure that a company is paying its dividends out of its free cash flows, as consistent dividends in the absence of free cash flows are not sustainable.
Cash flow from operations
We have also made sure that the companies are generating a healthy cash flow from operations, as free cash flows can be driven by debt or sale of assets. Consistent and positive cash flows from operations ensure the strength of a company's operations. This also checks for the company's working capital needs and makes sure that the company is not making just book profits, but is also converting its revenues into cash.
Making dividends meaningful
We have also compared the dividends with the initial amount invested in the stock. For this, we have kept a minimum threshold of total dividends being twice the stock price that an investor paid 15 years back. For example, if 15 years ago, a stock traded at Rs 10, then it should have paid a dividend of at least Rs 20 in the next 15 years.
This translates into an annual compounded return after tax of 7.6 per cent (assuming the total amount of dividends are less than Rs 10 lakh as per the current tax rules), which is higher than the fixed-deposit rate. Although these returns may look small when compared with total returns, they are certainly a booster. Further, such dividends make the stock virtually free for an investor with no real investment but unlimited capital appreciation.
In the end, we have also ensured that the payback period from the dividends should be less than 10 years, which signifies the time taken by a company to repay the original investment through dividends.
Filters

Total companies: 4,325
Market cap higher than Rs 500 crore: 856
Regular dividend-paying history over the last 15 years: 353
Dividends should increase or remain the same in at least last 14 out of 15 years: 99
ROE should be more than 15 per cent in the last 12 out of 15 years: 40
ROE should be greater than 15 per cent in the last one year. The dividend in the recent year should be more than or same as that in the previous year: 33
Free cash flow to equity should be positive in the last 12 out of 15 years: 26
Companies should have paid dividends of more than two times of their original purchase price 15 years ago: 18 companies
Payback period of investments from dividends should be less than 10 years: 15
Finally, here comes the list of our Dividend Stars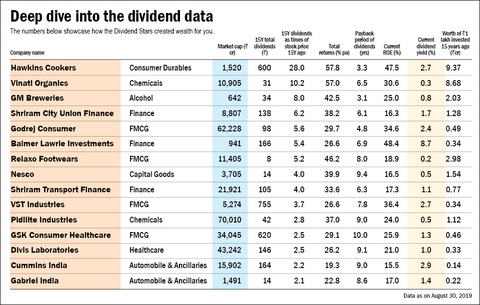 The following graph illustrates how dividend stars have performed against the Sensex in the last 15 years.