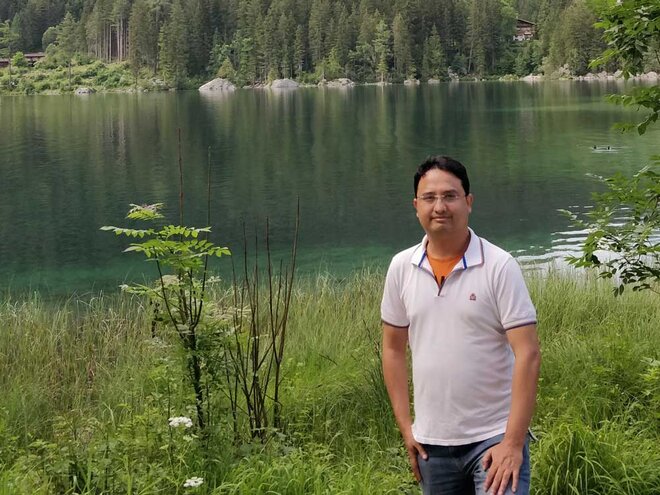 Born in the hills of Uttarakhand, Ajay Rawat is a software architect by profession. He currently resides in Gurgaon with his wife and a 6-year-old daughter. His parents and two sisters live in Uttarkashi where his family owns a small apple orchard in the Gangotri Region. While Rawat did his schooling and graduation from his hometown, he holds two coveted post graduate degrees - MSc in Mathematics from IIT Roorkee and MTech Computer Science from IIT Kharagpur. Interestingly, Ajay has a rather distinct set of hobbies, "I like taking road trips, walking/cycling and listening to music. In my free time, I also like to experiment with machine learning and automation," he says.
Ajay also takes keen interest in personal finance. His investment journey started immediately after he landed his first job in 2006. Like for many, his introduction to mutual funds was also primarily driven by the tax-saving advantage of ELSS funds. What peaked his interest in mutual funds was the fact that anyone could invest in companies with the help of a fund manager who decides on your behalf.
"While initially my fund investments were for tax-saving purposes largely in lump sum, later my goals changed which led to SIP in mutual funds," recalls Rawat. He started doing SIPs back in 2010, gradually increasing the SIP amount over the past 10 years based on his income. Reflecting back, Ajay says, "For many years a big portion of my savings was lying in savings account. So not allocating enough during the initial phase of my job was a mistake."
The fund selection story
The majority of his portfolio (over 65 per cent) comprises equity mutual funds, rest being spread across debt funds, EPF and PPF. For his debt portfolio, Ajay doesn't invest in fixed deposits as he believes that they are tax inefficient and their post-tax returns barely beat inflation. As for his asset allocation plan, he says, "Currently I have a stable job and can afford to take some risk thus the majority of my money is in equity. As and when I'll approach my long-term goals, I will start moving part of the equity portfolio to safe instruments like debt."
Ajay has his investments spread across several funds, each fund being selected on a solid premise. To name a few of his major equity holdings, he runs SIP investments in the DSP Small Cap Fund due to its good long-term performance history and a well-known fund manager. The HDFC Top 100 Fund is another one of his investments, and he has chosen it on the basis of his conviction on the fund manager - Prashant Jain. "He is known for taking value-oriented calls and is not afraid to go against traditional approach of investing", Ajay reasons. To get exposure to foreign markets, he has invested in ICICI Prudential US Bluechip Equity Fund. He's also invested in the Mirae Asset Emerging Bluechip Fund purely because of its performance track record. "In the last six years this fund has consistently outperformed its peers and benchmark on a yearly basis", Ajay mentions. Apart from these, Ajay also invests in Mirae's tax-saving fund.
While currently he has investments in many funds spread across four to five AMCs, he definitely plans to reduce them. "The new tax laws on equity investments have made calculations more complex and now it's not easy to rebalance a portfolio. I am therefore working on a tool which will calculate the number of units required to sell a mutual fund so that LTCG is tax free," he informs.
Coming across Value Research
His quest for a portfolio-tracking platform led him to Value Research. It was during the early days of his investment journey, sometime in 2008-09, that he came to know about VRO from online discussions. "VRO used CAGR instead of absolute returns and that was a big plus. It helped me to track my portfolio and evaluate the performance of my portfolio using correct metrics. It motivated me to build a large corpus as you could see the investment corpus growth in real-time. I also use VRO to evaluate fund performance."
Ask him about what other metrics he uses to analyse funds, and he hands you a point-to-point list. "As for equity funds, I mainly analyse the reputation of the fund house and the fund manager, the expense ratio, asset allocation, trailing and yearly returns over longer time periods, and the investment philosophy of the fund such as value oriented, small cap, or investing in foreign companies," says Rawat. When asked for the metrics he uses to select debt funds, Rawat tells, "I invest in funds which hold assets of short maturity periods or invest in funds that hold government securities."
One thing rare about Ajay is that he doesn't react to market volatility. No matter what the market is doing, he usually doesn't take any drastic steps during challenging situations. "During the 2008 and the recent 2020 market crashes, I continued to invest with the same thought process. I did not stop my SIPs and it worked out quite well for me."
Wondering what he does when his selected fund does not perform as per expectations? Well, he has a routine for that as well - "I try to investigate the reason for the underperformance. For instance, some funds might be following a value-oriented strategy and the underperformance might be expected based on the market situation. I also take note of changes in the fund manager, expense ratio and the portfolio traits. When the reasons of underperformance can be explained by these factors, I compare the fund performance against benchmark and peers and only then decide whether to exit it."
On his way to financial independence
Ajay has been striving to achieve financial independence so that he doesn't have to work a regular job. "This would give me an option to work on my own thing and move to a better place to settle", he says.
In order to achieve this goal, Ajay had to give up on some other goals like owning a house, as he thought renting was financially more prudent. Giving us a dose of his understanding of financial freedom, he says, "To me it means having not to worry about any uncertainty in life with the freedom to explore my own interests. One way to achieve it is to generate passive income by saving aggressively during earning years and investing in high-return instruments like stocks or mutual funds. It also means living a debt-free life which I strictly follow as I believe debt is a big destroyer of wealth."
As of March 23rd, the combined CAGR of his mutual fund portfolio is 12.8 per cent. He has been successful in maintaining a healthy savings rate of 50 per cent of his income and investing the same via SIP. "I have achieved around 60 per cent of my target amount and I see myself close to achieving my goal. The annual return I generate from my portfolio is enough to cover my yearly living expenses. In the next 4-5 years, I should be able to achieve the goal of accumulating 20 times my annual expenses," signs off Rawat.