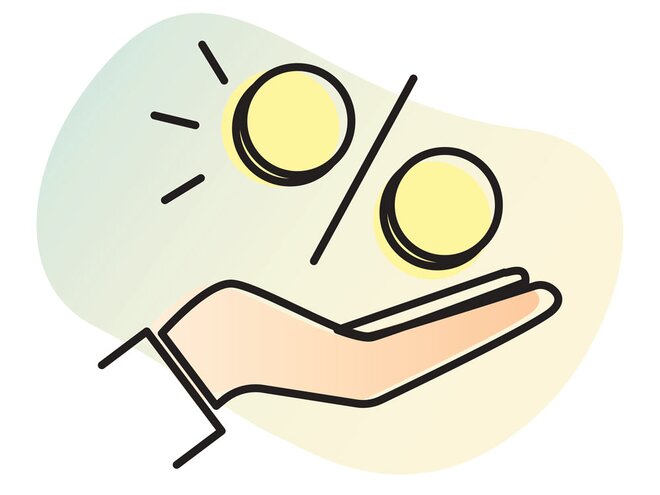 High-float businesses are mostly preferred by investment veterans. To understand the reason, we need to first understand what float is. A high-float business can generate huge free cash flows as upfront payments for its services or products. Since it receives payments in advance, it gets huge cash on the book, which is a kind of an interest-free loan without any maturity date.
Companies that can sustain these high advances in the long term enjoy the benefit of using the float to fund their future growth plans without incurring any additional costs or debt. A case in point is Warren Buffett-owned Berkshire Hathaway's insurance business. Apart from insurance companies, businesses providing subscription services and receiving upfront payment are high-float businesses, as they can quickly convert their sales into cash. Although realty companies also receive high advances, they have a long cash-conversion cycle, with some being two to three years.
Here we have shortlisted four companies that have received advances of more than 25 per cent of their sales in the last three years and a cash-conversion cycle of less than one month.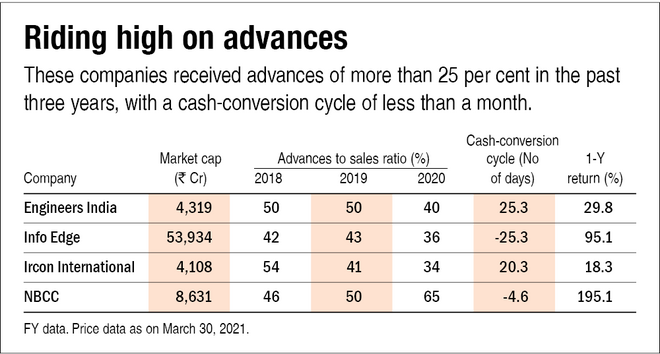 Info Edge
The company owns one of the largest online-recruitment brands, Naukri.com, which is the company's principal generator of cash flows. Naukri.com receives 90 per cent of its revenues from recruiters who pay in advance to use its online services to find suitable job seekers.
In a bid to cater to the niche segments in the recruitment space, the company has come up with products like iimjobs.com and Naukri FastForward services. Leveraging floats, it also ventured into other business segments, such as 99acres.com (online real-estate classified), jeevansathi.com (online matrimony classified) and shiksha.com (online education classifieds). All of these run subscription services, generating high advances for the company.
NBCC
Belonging to the realty sector, NBCC is the government's go-to entity when it comes to developing new or redeveloping older projects. In fact, even the Supreme Court turned to this company when private-sector companies failed to deliver, with Amrapali Group being a prime example. The company's business model gives it a competitive edge. Following a very asset-light model, NBCC subcontracts to its vendors at razor-thin margins, with no price-escalation clause.
The company receives advances for its contracts, which are adjusted over the life of projects. Backed by its no-debt and light-asset model, the company has been able to generate high returns on its capital, which stood at 37 per cent in FY20.
Ircon International
Incorporated in 1976 as a PSU, Ircon is an integrated engineering and construction company. The company has expertise in major infrastructure sectors, including railways, highways, bridges, flyovers, tunnels, aircraft-maintenance hangars and runways, to name a few. It also provides services to neighbouring countries.
Ircon enjoys a long-standing reputation as a sectoral leader in transportation, with specialisation in executing projects of Indian Railways on a turnkey basis. Under these turnkey projects, the company manages the entire chain of a project - right from the planning phase to project handover after completion. For this, the company receives advances primarily from Indian Railways.
Engineers India (EIL)
A Navratna public-sector enterprise, EIL is the market leader in the Indian hydrocarbon industry. The company provides engineering consultancy, EPC (Engineering, Procurement and Construction) and turkey services, with a prime focus on the oil and gas, and petrochemical industries. The company has a marquee clientele, comprising both PSUs and private firms, such as BPCL, HPCL, IOCL and Vedanta.
This debt-free company generates almost 50 per cent of its revenues from consultancy and engineering projects where margins are quite higher than those in turnkey projects. For turnkey projects, the company receives high advances.