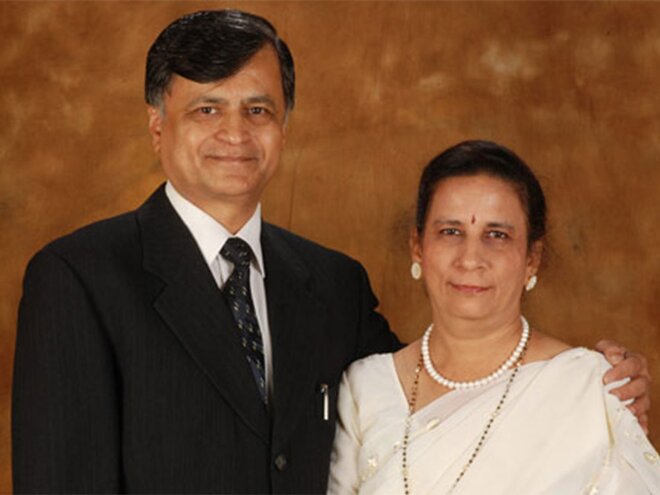 Jayant Anand Lakhkar, 64, is an avid fan of political thriller TV series Homeland. When he is not reading or listening to classical music or doing yoga, his interest in financial investments takes precedence. Living in a 'joint' family with his mother, wife, two married sons and a grandson, with ages ranging from one year to 85 years, Lakhkar has an expansive take on things. It was not until 2004 that he came across mutual funds and Value Research. "...and I fell in love with it," says this Pune resident.
Born, brought up and educated in Nagpur, Lakhkar, like many others, left his native place to achieve his professional goals. He pursued his career initially in Delhi, and from 1974 in Mumbai. "I was considered a bright child and enjoyed the affection of my family, friends and teachers. From ninth standard through my college education, I earned merit scholarships. During my student days, my family went through a patch of financial difficulties. Being the oldest son of my parents, I felt the responsibility to offer help and pitched in with my scholarship money. My parents showed warm appreciation of my gesture. Thereafter, I have always thought of my family and myself as inseparable," says the family man.
His experience with financial hardships at a relatively early age taught him lessons. Now a grandfather, Lakhkar is a big advocate of training children from an early age in the art of making long-term investments. "Today my sons have their own portfolios and we have even started a portfolio for my grandson. Now we compete on whose portfolio is generating higher returns," he quips.
He has also learnt many things through his jobs, things ordinary investors would probably ignore. "I worked in Indian corporates, mainly in the field of materials management, and then got employment with a multinational company based in Gulf, with which I worked for 30 years. The major inputs for the company were copper, aluminium and steel, where hedging strategies were extremely important. So were the currency movements. Dealing with these factors trained me to understand risk assessment, management and mitigation (through hedging strategies)," Jayant emphasises.
Like most of us, his first investment was not a stock, a commodity or even a mutual fund. It was a bank account where he started saving money from his teenage days. He says the account gave him a sense of financial independence. "My first stock purchase came in 1973. The industrial conglomerate I joined in Delhi had floated a greenfield company and offered shares to employees, which was very rare in those days. I applied and got the shares, which I am still holding. They have given me excellent returns over the last 33 years," he recalls. But thereafter his finances had other claims and Jayant did not make further investments until 1983.
It was some time in 2003 or 2004 that Jayant came across Value Research. The connection happened as Internet use was growing across the country. "The internet was just spreading and, in the process, getting cheaper to use. It was at that time that VR came to my attention and I fell in love with it," Lakhkar said.
Even today, he regularly reads VR daily mailers to apprise himself of the investment trends identified by VR. "This provides me useful background when considering fresh investments. To evaluate fresh investments, I use performance tables, which provide a useful database to make investment decisions," he adds.
Jayant's first brush with mutual funds happened soon after he started interacting with Value Research. He started his mutual fund investments by mainly focusing on equity schemes. "At that time, I focused on funds from HDFC, SBI, etc. Fortunately, I stayed away from Unit 64! I am still holding in my portfolio some HDFC funds from those days. I would estimate the returns at approximately 12-13 per cent CAGR on my mutual fund portfolio," he says candidly.
HDFC Mutual Fund's Prashant Jain is somebody this 64-year-old trusts. His good experience is with mid-cap funds, while disappointments are with falling returns from erstwhile well-performing funds after their star fund managers left or were reassigned to other positions. "I only hope that Mr Prashant Jain will salvage the fortunes of the funds under the HDFC umbrella to save me the bother of having to exit them. I only wish he will show good performance and raise the ratings of the funds. They used to be five-star funds but are now wallowing at near bottom of the ratings (although okay on ten-year performance parameter). Can you use the VR platform to convey my message to him?" asks Lakhkar.
His current investment portfolio (that includes equity, mutual funds, PPF and bonds) is approximately 50 per cent equity and 50 per cent debt. Jayant has 14 funds in his portfolio. The biggest allocation is to equities and to a balanced fund. "I have utilised the 2014 opportunity to make investments in tax-free as well as taxable bonds at good yields," Jayant says gleefully. He does not have any investment in gold. Also, he does not have any life cover, although he has subscribed to medical insurance.
As an investor, even during the most trying times of the financial crisis of 2008, Jayant continued with SIPs, which eventually gave him good returns. But he promises to be back soon.
His investments have been driven by a deep desire for financial independence and supporting his financial needs through returns on investments, without depleting the invested capital.
Jayant now has a unique ambition: to leave this world in a 'cash positive' state, i.e., leave his invested capital and remnants of returns, after meeting his and his wife's old-age needs, as legacy to his descendants. "At the age of 35 years or so, I made a long-term plan for the financial needs of my family. In those days it used to be a spreadsheet (Lotus 123) exercise, not very elaborate, but I learnt from it the virtue of long-term thinking and aligning investments, with a view to obtaining returns to support our old-age requirements," says the senior citizen.
As somebody who has seen the investment world go through different stages, Jayant thinks there are a few points to note. "It is never too early to do financial planning. If you cannot do it yourself, take help from independent financial advisers (not beholden to any brokerage, investment house, insurance company, etc.) by paying them reasonable fees. Secondly, beware of free advice; it is almost always biased. Thirdly, plan your asset allocation to suit your life stage and change it according to your age. Lastly, look for good investment opportunities on the basis of 'post-tax' yields by factoring in not only your income-tax slab but also capital-gains tax in your calculations," Lakhkar signs off.
This story was originally published in April 2017.
Do you have an interesting story about how your investment journey unfolded? Share with us on [email protected]