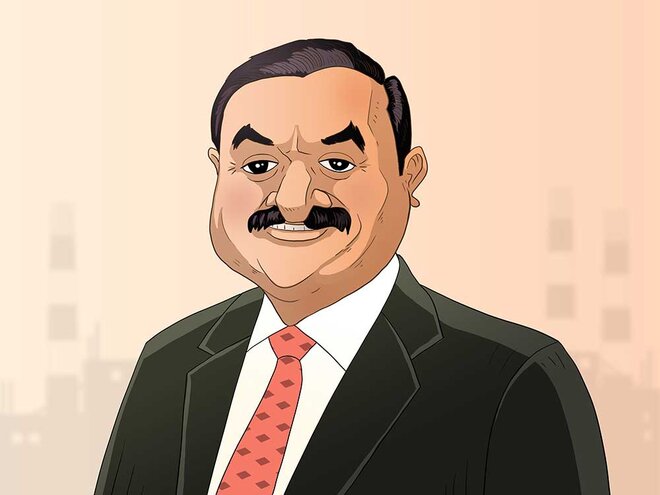 The Adani group of companies are on a roll. In the last one year, the combined market capitalisation of all its six listed companies has increased by a whopping 120 per cent, despite the COVID-19-led economic downturn. Of all the group companies, the star performer is Adani Green, which grew to more than eight times within one year. The group has pursued aggressive debt-fueled growth. Between FY14 and FY18, it entered into four new business segments - wind energy, solar manufacturing, power distribution, and aerospace and defence. Group companies have emerged as leading names in their respective businesses, including the number-one private airport operator, solar power developer and private thermal power producer.
But this aggressive growth has come with its share of risks. The combined group-level debt increased by around 40 per cent from March 2016 to March 2020, while its profitability did not improve. Combined sales and profit grew by just 1.15 per cent and 1.01 per cent, respectively, in the last five years till March 2020. In this story, we have delved into the business activities of Adani group companies. Check them before you ride on the Adani wave.
Adani Green
Starting from scratch, Adani Green has become the multibagger stock of the year by multiplying more than eight times. On the back of its skyrocketing stock price, the company's market cap soared to Rs 1.8 lac crore - which is almost double the market cap of NTPC, India's biggest power producer. Belonging to the sunrise renewable energy sector, Adani Green focuses on solar and wind projects. The government has set an aggressive target of achieving 175 GW renewable energy capacity by 2022. However, in lieu of this target, the company has aggressively moved ahead with bids for solar and wind power plants. After its recent win of an 8 GW solar project, the company was ranked as the largest solar power developer in the world by US-based Mercom.
However, the latest 8 GW project win has come without the assurance of any buyer of power generated, as per a Business Standard report. Power projects are backed by long-term purchase agreements which help companies raise substantial debt. But even then, with a debt-to-equity ratio of 9.2 times as of September'20, the company's balance sheet is amply bloated. At the same time, profitability remains poor, with the company showing losses in each of the last five years till March 2020. For a weak balance sheet and a loss-making profit and loss statement, Adani Green's valuations are certainly in the bubble space. The enterprise value of the company is at 91 times EBITDA. This is way above as compared to global peers. For investors who look for value instead of chasing the momentum, Adani Green is a big no go.
Adani Total Gas
Almost all gas-distribution companies have seen their share prices recoup losses from COVID-19-led meltdown in March. In addition to demand recovery, the slashing of gas price by 25 per cent in September by the government has enabled these companies to increase their margins. The Street's favourite, Adani Total Gas (Adani Gas), has seen its stock more than double in the last one year. Growing from a lower base, the company was the biggest bidder in the 9th City Gas Distribution Bidding in 2018. As a result, Adani Gas has the authorisation to distribute gas to 38 areas across India, which translates into a long runway for growth. The company has witnessed a series of positive developments, comprising stake sale to Total, the acquisition of three additional geographical areas and a recent non-binding agreement with Italy's Snam to set up a CNG compressor-manufacturing facility.
Till March 2020, the company's two-year sales grew by 17 per cent, while its profit grew by an incredible 63 per cent. An improvement in cash flow helped it bring its debt to equity to a comfortable 0.23 times by September 2020. The future of the gas business remains bright, as the government is targeting to increase the share of natural gas in the energy basket to 15 per cent in 2030 from the current 6.3 per cent. With a low base, Adani Total Gas has ample opportunity for growth. However, it is trading at an expensive valuation of 25 times the price of a book as compared to the industry average of five-six times. At that valuation, it seems that all the growth is priced in and there is very little left for new investors.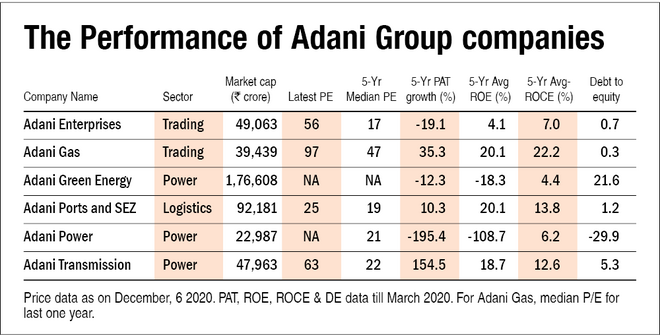 Adani Enterprises
Adani Enterprises seems to have the Midas touch. It is the incubation company of other successful listed entities like Adani Gas, Adani Green and others. Currently, the company's business interest spans across mining, airports, roads, water, data centres, solar manufacturing and others. A spate of positive developments in recent times has enabled the stock price to more than double in the past one year, despite the havoc caused in the infrastructure space by COVID-19. After winning airport operation bids for six airports last year, the company has clinched the operations of Mumbai airport this year, thereby emerging as the country's largest private-airport operator.
The company has lined up a Rs 50,000 crore capex plan for the next five years. The majority of this capex plan will go towards the airport business, while the rest will be used for roads, data centres and other businesses. Surprisingly, the company is now in the race to bid for DHFL's entire assets as well. In terms of business, the company's sales grew by around 5.2 per cent till March 2020 in the past three years, while its profits increased by 1.7 per cent during the same period. The debt to equity at 0.75 times as of September 20 remained quite high, while the average five-year ROCE as of March 2020 delivered was low at 7. Further, almost 20.6 per cent of the 75 per cent stake of the promoter remains pledged.
Adani Transmission
After reporting a decline owing to the COVID-19-led lockdown, India's power consumption has grown on a monthly basis (compared to the year-ago period) since September 2020. The revival in power demand has improved the business prospects of the country's largest private transmission company, Adani Transmission. Despite the fall in March, the stock has moved up by around 37 per cent in the last one year.
Pursuing aggressive growth through both the organic and inorganic routes, it managed to increase its transmission network by 2.7 times in the last three years till September 2020. To reduce its balance-sheet risk, the company has converted 87 per cent of outstanding debt into long term (>five years). Deriving the advantage of low borrowing rates, the company has dollarised 85 per cent of its outstanding debt. This will reduce the total interest outgo and improve profitability.
However, following the acquisition of Mumbai power distribution business from Reliance Infra in FY19, the debt to equity shot up and stood at 2.9 times as of September 2020. Further, the company has planned a capex of Rs 3,000 crore for the current fiscal, which will further add to its debt burden. A steep rise in share price has made the valuation enter the rich zone. The company today trades at a price to book of 5.6 as compared to a five-year median of 4.2. Power Grid, India's biggest transmission company, is trading at one-third that valuation.
Adani Power
The producer of the country's largest private thermal power, Adani Power has a production capacity of 14 GW. Although the company's stock price was underperforming till last few days, a more than 40 per cent rise in the stock price in the matter of the last few days has led to a sharp recovery in yearly returns. Improving power demand owing to increased economic activity, along with the expectation of reforms, led to an improvement in the outlook for power-sector companies.
The power-generation sector has seen consolidation in recent years. Non-performing assets have found buyers mainly amongst three companies - Adani Power, Tata Power and JSW Energy. In 2015, Adani Power acquired Lanco Infratech's Udupi power plant for $1 bn. This was followed by a slew of other acquisitions as well. As a result, the company's power-generating capacity increased to 14GW as of September 2020 from 10.4 GW in FY15. But these acquisitions substantially increased balance-sheet risk, with the company's debt to equity reaching 4.4 times as of September 2020. However, its profitability has not improved. The company continues to be loss-making, while revenue only increased by 3 per cent in the last three years till September 2020. The company's delisting process is underway and likely to be completed by the end of FY21.
Adani Ports and SEZ
With the stock price up by 24 per cent in the last one year, Adani Ports and SEZ has certainly been able to beat COVID-19 blues. A recent inclusion in the Dow Jones Emerging Markets Index has come as a help. With a capacity of 490 MMT (million metric tons), the company is the largest port operator in India. In line with its strategy to expand foothold along the eastern coastal line, the company has recently acquired Krishnapatnam Port Company for an enterprise value of Rs 12,000 crore. This acquisition will accelerate the company's target to reach 500 MMT capacity by 2025.
The resurgence of trade is leading to an improvement in cargo volumes, which were up by 5 per cent in October 2020 on a sequential basis. But there are several risks to consider. Sustainability of trade volumes needs to be assessed, as a resurgence in COVID-19 cases in western countries can slow down trade growth. The balance sheet remains weak. Aggressive inorganic growth has doubled the total outstanding debt in the last five years. The debt-to-equity ratio stood at 1.24 as of September 2020. Promoter-level pledge of 31 per cent as of September 2020 is also to watch out for. The stock is currently trading near its five-year median price to book of 3.5.