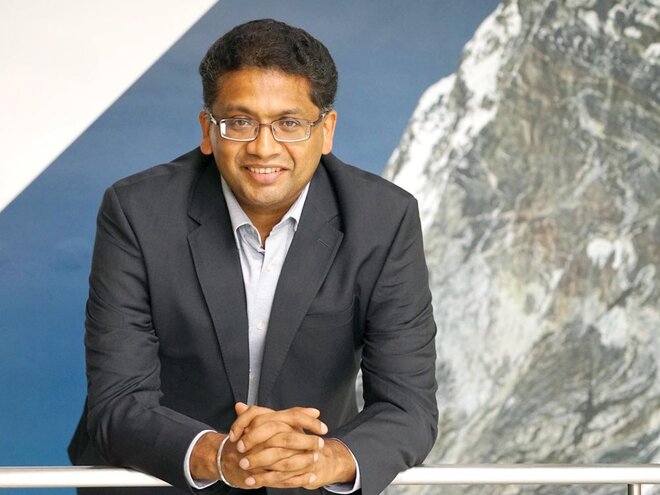 The run-up in the market since April this year quickly withdrew the bargain opportunities that the crash in March had created. This is accompanied by clear signs of stress in the economy. To make sense of market valuations and to find out which pockets in the market now offer value, we spoke to Vetri Subramaniam, Group President & Head of Equity, UTI Mutual Fund. He manages UTI Value Opportunities Fund, which has assets of over Rs 4,000 crore.
After crashing in March, the market staged a smart recovery. How have you handled the recent volatility in the market across your equity portfolios? What changes did you make in the last six months to adjust to the new normal?
Our portfolio turnover ratio (PTR) as of August 2020 was 0.27 (trailing 12 months); this is virtually unchanged from a year ago. The peak number in the last one-year period was 0.32 (trailing 12 months) as of March 2020. The PTR indicates that there has been no exceptional change in portfolio strategy due to or during this period of the pandemic.
We think the intrinsic value of a company is the present value of cash flows generated over a period of time. Cash flows of many companies have been impacted due to the pandemic and the resulting lockdowns in the March and June quarter, but in most cases, the impact is limited to only a few quarters. Therefore, the impact on the overall value would be limited. Of course, some businesses have been impacted more than others and face potential structural headwinds. However, as an investor, we recognise that companies that have a healthy balance sheet and navigate the downturn successfully in deeply impacted areas could emerge stronger due to the supply disruption.
We have been adding exposure to companies which are cash-rich and available at reasonable valuations. The focus is to look for survivors of the current downturn as they will be the ones which are first to bounce back when the economy recovers. At a sector level, we have added exposure to automobile space as the valuations were comfortable. We have also added to the exposures in the industrial/construction sector.
Amid these uncertain times, popular valuation indicators are all pointing in different directions. What's your metric of ascertaining the market's valuation? How would you describe the current market in terms of valuations, in aggregate terms?
Our preferred metrics to judge valuation have been trailing price-to-earnings (P/E) and price-to-book (P/B). Earnings metrics, be they trailing or forward P/E, are currently distorted due to the impact of the lockdown. As regards P/B for the Nifty 50, it is now in line with the long-term average, signalling that it is in the fair-value zone. We are also aware that the return on equity (ROE) of the Nifty 50 is currently at a multi-year low but that reflects the impact on earnings, which should improve as we see incremental normalcy in the economy.
When do you see a broader economic recovery? Has the market discounted it or overestimated it? What are the chances of another crash?
The data points to the fact that the economy was slowing down from late 2018. And then COVID-19 brought both supply and demand to a halt due to the lockdowns. That said, from the worst point, most economic indicators are pulling back towards normalcy. Based on the choice of the indicator, the economy is back to 80-90 per cent of the year-ago level. In certain areas such as travel, hospitality, entertainment and retail, the level of operation is sharply lower, whereas activity in agriculture and rural-related areas has turned positive year on year.
We do not have a crystal ball to predict market crashes or surges. History provides enough evidence that such sharp moves happen in the market. Rather than focus on prediction, it is better to remain vigilant. Our investment process keeps us prepared and is also our guide to navigate such periods. The market is in the fair-valuation zone based on the P/B.
The stock market is arguably doing better than the economy but it reflects the fortunes of larger and better-capitalised businesses. These companies are likely to benefit from the troubles faced by smaller companies with limited access to capital and could potentially gain market share from weaker peers or unorganised-sector players. Further, many companies in the stock market have a significant global footprint and operate in businesses that have been less impacted. The market has been discerning in that companies with leverage have tended to underperform, led from the front by companies in the financial sector, which is by definition a leveraged business. Companies with leverage have been forced to raise equity and deleverage.
Which sectors/pockets currently appear overvalued to you? Which are more reasonably valued?
We find valuation in the consumer-staples area very demanding and that has remained an underweight sector for a long period in our portfolio. Relative to growth prospects, we find valuations more reasonable in the automobile sector. Financials pose a conundrum at this point. Many companies have raised capital and provisioning, but the economy is not back up to normal and it is an inherently leveraged business. The market remains concerned about this area but incrementally, we are constructive on the sector due to valuations. We think banks and NBFCs that have adequate capital, prudent provisioning and enjoy the trust of depositors and bond markets are likely to emerge even stronger from this difficult period.
What's your stock-selection criteria for UTI Value Opportunities Fund? What kind of stocks do you avoid?
Our investment approach is anchored to intrinsic value rather than treating value as merely a statistical factor. Our stock-picking uses a barbell strategy - held together by the principle of buying what the market underestimates. The market may be underestimating the scope for a turnaround and it may also be underestimating the scope for growth and opportunity for capital reinvestment at an attractive rate.
The principle to keep in mind in all investing is that we want to buy with a margin of safety but we also want to stay invested in a good company while it compounds. To do otherwise defeats the purpose of investing. To ensure that, we stay true to our mandate. We target to keep the P/B of the portfolio at a discount (currently around 30 per cent) to the benchmark Nifty 500 index and target 40 per cent of the portfolio to be invested in companies which are likely to experience an improvement in return on asset (ROA)/return on capital employed (ROCE). We also expect the P/E to be less than the benchmark but this can be more volatile as it gets skewed by losses or low profits in companies experiencing cyclical challenges.
We do not buy stocks that are expensive relative to their growth prospects. The implied growth in the valuations can be tested relative to their historical trajectory or comparable examples. We avoid debt-heavy companies and those with strained cash flows in cyclically challenged areas. We prefer pure-play companies over companies with conglomerate structures.
After the run-up in larger companies, mid and small caps have also started to move. How do you see the mid-and small-cap space in terms of value, given the underperformance over the last couple of years and against the backdrop of the disruption caused by the pandemic?
Mid-cap valuations (Nifty Midcap 100) are in neutral territory vs large-cap stocks (Nifty 50). Therefore, we do not see any top-down valuation opportunity to rebalance the portfolio. We are open to making investments in mid- or small-cap companies if the bottom-up case is supported by valuations.
Given the benign outlook for rates and likely improvement in economic indicators from a weak base, this segment of the market has performed well this year. The stark underperformance of mid-cap stocks vs large-cap stocks is a function of the observed time period. The mid-cap index has sharply underperformed the large-cap index over a three-year period and marginally underperformed over five years. But over seven years, mid caps have outperformed and over 10 years, performance is in line with large caps. To us, the key metric is the attractiveness of valuation at a stock and index level rather than merely underperformance. Index-level valuations reflect investor pessimism and optimism towards the asset class. At such extreme points of valuation differential, there is an opportunity to rebalance the portfolio but right now the valuation-differential signal is neutral.
How would you differentiate between value traps and value opportunities in the current times, when the market has raced but the economy has hit a low?
Value traps arise when the businesses have limited or no terminal value and return on incremental investment is falling or is below the cost of capital. This is a challenge for many businesses. In investing, when value is interpreted as a mere statistical factor (cheap valuations), this risk is being entirely ignored. This challenge is acute in companies facing technological changes and obsolescence or changing regulatory and societal attitudes on account of pollution and health perceptions. Furthermore, value traps also arise in companies that have cash-flow problems and debt-heavy balance sheets as they could fall by the wayside during a challenging business environment.
As Howard Marks said, the choice is not really between value and growth but between value today and value tomorrow. It is for the same reasons that while thinking about value opportunities, we need to think about the attractiveness of the business in the future, its ability to deploy capital at an attractive rate of return and the ability to survive a difficult period. Finally, the agency problem could also create a value trap - the interests of management and promoters need to be aligned with those of the minority shareholders.
Value stocks require patience. Amid a slowdown, does holding them become all the more painful against growth stocks, which can bounce back more quickly? How would you convince an investor to still follow the value theme?
All investing requires patience and the ability to hold through difficult times. Market cycles and drawdowns affect investments across all asset classes. We believe our intrinsic value approach is an all-weather strategy. It is executed with a clearly articulated investment process and we share the framework for monitoring our process with all investors. This will hopefully enable them to understand us better and give them the confidence to hold on during challenging periods. Finally, we also believe that investors should think of value and growth in their portfolio as a diversification tool rather than as a timing device.