Value Research Stock Advisor has just released a new stock recommendation. You can click here to learn more about this premium service, and get immediate access to the live recommendations, plus new ones as soon as they are issued.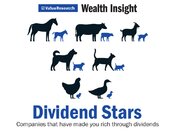 The dividend track record of a company is like an x-ray that reveals things that are not visible on the surface. However, investors must move beyond the old and limited idea of dividend yield and examine dividends in conjunction with other fundamental parameters of companies.
In the cover story of the October 2019 issue of Wealth Insight, Dividend Stars, read about Value Research's new framework for digging into dividends, and how it can help you choose stocks to invest in.
In our story about our Stock Advisor service, Bottom up, not top down read why while picking stocks, we must focus on their fundamentals and not worry about the economy or macro trends.
In Monthly Agenda, using examples drawn from the CG Power scam, we explain how promoters siphon money from companies.
And of course, like every issue of Wealth Insight, we also have columns, interviews, and news to keep you updated to help you find and track the investments that will generate the best returns!
Click here to buy a digital subscription (downloadable PDF + online reader) and start reading instantly. You can also pay extra and receive a printed version.