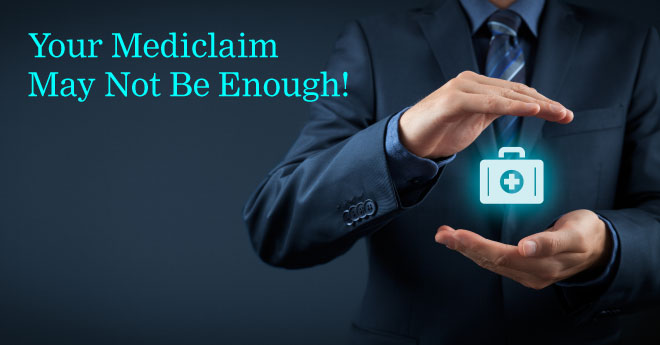 Very often we find friends and family members dealing with medical emergencies, with cancer being the most dreaded one. Apart from taking a toll on the physical and mental health of the affected person and his family, its sudden onslaught also plays havoc on the family's finances. The expensive treatments may erode your savings substantially, adding to your woes.
While we hope and pray that you and your dear ones may never have to face such emergencies, nevertheless we want you to be prepared for it. To give you a perspective, statistics published on cancerindia.org.in is not very encouraging. It states that over 7 lakh cases of cancer are registered every year in India and the number is increasing.
A regular health insurance policy of Rs 5-7 lakh is certainly not sufficient. A complete treatment including chemotherapy and radiation therapy will cost you a whole lot more. So, taking a regular cover will not see you through. Besides, some policies do not even cover cancer. Regular health insurance policies reimburses you only with treatment costs and you will discover more limitations on the way. Products aimed particularly at cancer not only covers your medical expenses, it compensates for your loss of income as well.
A lot of standalone cancer protection plans have come up. They pay you a lump sum amount at the outset, immediately after the diagnosis, irrespective of the survival period or the actual treatment cost. You are free to use this amount at your discretion, be it to support the loss of income, getting yourself treated in the location of your preference or leaving a legacy for your loved ones. These 'critical illness plans' are more effective, come pretty cheap (given the amount of hassle-free protection they provide) and can be bought online. A cover of Rs 10 lakh for a healthy 35-year-old individual would roughly cost around Rs 1,500 to Rs 3,000 per annum depending on the coverage and the policy term. Like other health insurance policies, the premium paid for such standalone plans is also eligible for deduction of up to Rs 25,000 under Section 80D of the Income Tax Act.
Whether the disease strikes you or not is irrelevant here. God forbid, if it does, it will work in your favour if you spend a small amount annually to buy a cancer protection plan for yourself and your loved ones.