Moil is the largest producer of manganese ore in India and came up with an IPO in the year 2010. Since then the share price has fallen steadily to ₹286 since its listing at ₹467. The fall can be attrubuted to weak business resulting in stagnant revenues and profitability in the last few years with a marginal fall in production of manganese to 11.35 lakh tonnes in FY-14 from 11.39 lakh tonnes in the previous year.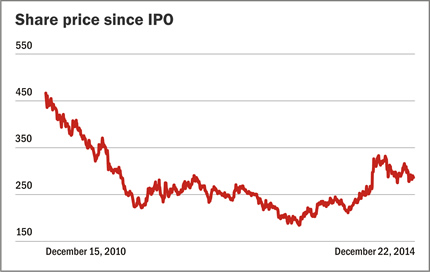 But the company is sitting on a cash reserve of ₹2,872 crore which is 55 per cent of the market capitalisation. Given its zero debt status, this translates into an enterprise value of ₹2,079 crore. The operating cash earning yield per share given the price is 15 per cent and net earnings yield is that of 11 per cent. Despite the slowdown in the business its assets and profitability are still attractive and worth to look at. We think the stock is over beaten in the market due aforementioned reasons.
And, there are few silver linings too. First, the company has the pricing power because of which it has been able to show some growth in revenues despite fall in production. Moil has planned to start a joint venture with SAIL and Rashtriya Ispat Nigam to set up a ferro alloys plant at Bhilai with an investment ₹600 crore. This will give assured market to the company up to some extend and will able to lift up revenue. Moil is an undervalued stock and it may take patient and time to realise its value.
Financials
| | | | | | | |
| --- | --- | --- | --- | --- | --- | --- |
| Description | Mar-14 | Mar-13 | Mar-12 | Mar-11 | Mar-10 | Mar-09 |
| Net worth | 3127 | 2766 | 2441 | 2128 | 1677 | 1321 |
| Cash and bank | 2793 | 2277 | 2088 | 1880 | 1487 | 1232 |
| Debt | - | - | - | - | - | - |
| Cash from operations | 740 | 343 | 350 | 580 | 388 | 828 |
| Return on capital | 26.1 | 24.5 | 26.6 | 46.3 | 47.2 | 94.4 |
| Net margin | 49.5 | 44.3 | 45.4 | 51.3 | 48 | 51.7 |