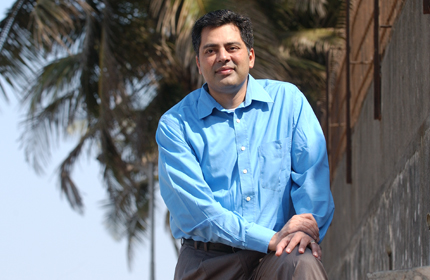 You are managing four mainstream funds — UTI Opportunities, UTI Equity, UTI Mid-cap and UTI Master Value. Brief us about the key highlights of UTI Opportunities and UTI Equity?
In the UTI Opportunities fund, our aim is to have a concentrated portfolio; focusing on sector selection (2-3 stocks in a sector) and limiting the number of stocks to 30-40. We try to play more of a top-down approach which is to look at how the economy will behave in the next 6 months to one year and which are the sectors where valuations can offer us good opportunities. It's a fund based on growth rather than valuations. We also try to avoid too many companies in this portfolio which get impacted by government regulations and policies. You will find that among the large-cap funds, we have the lowest concentration of PSU companies. We also try to mix a bit of mid-caps in our portfolio. Currently, we are running at 80:20 or 85:15 large-cap to mid-cap ratio, but at times it has gone as low as 65:35, depending on the market environment. But in the portfolio, mid-cap companies generally form part of the mid-cap index. Here we have companies with a market cap of Rs 4,000 crore and higher with an exception of Hathaway Cables as it is part of a new industry which we feel can provide value to our fund. Otherwise the fund is focused on large-caps and looks for growth.
Talking about UTI Equity fund, it is a bottom-up fund where our focus is more on stock selection. It tries to play a benchmark plus-minus theme where we look at the benchmark such as BSE 100 and try to see which are the sectors that we are under/overweight on and by looking at the companies we like. We try to have a less-concentrated portfolio — around 6 per cent of a particular stock here to 8 per cent in Opportunities. There is a lower concentration of sectors as well (25 per cent in Equity compared to 30 per cent in Opportunities). Also, in the Equity fund, we try to ensure that the variance from the benchmark weight is within 7-8 per cent. So if a sector has a weight of 5 per cent, we will not cross more than 5-6 per cent whereas in Opportunities we can go as high as 10-12 per cent. For example, in the cement sector, we are close to 13 per cent in Opportunities while the benchmark weight is 3-3.5 per cent. So the Equity fund is meant for first time investors who wouldn't be comfortable with volatility in terms of performance. In a sideway market this fund would do well because it would have some weight to most of the sectors. It would not be totally out of any sector like Opportunities where we take concentrated calls on sectors we like.
In a secular uptrending market, UTI Opportunities would perform better than UTI Equity because of its ability and construction, which is meant to take more concentrated bets. But in a sideways market, where the market trend is not clear, Equity fund will do reasonably well. The objective or the management style is based on the premise that if we are in the first quartile in a down market and if we are in the second quartile in an up market, over a cycle, we will be first quartile. Unfortunately, this strategy means that at times when investors are most willing to invest in the market, this is a fund that will offer them very less incentive to invest because it would be languishing in the second quartile because of lack of concentration. And when it outperforms, there will be very few investors who will be looking at equities at that time.
The difference between Equity and Opportunities funds is not very stark. Please explain.
I think a lot of it has got mixed up because in 2009 both UTI Equity and UTI Opportunities funds took a very defensive stance, and both did well in a down market. Since December 2010, Opportunities has been running a beta of as low as 0.6 by focusing on FMCG and by being significantly underweight on banks. Because of these two points, the volatility of Opportunities has been much lower as compared to what would have been perceived by distributors and investors. A fund which is highly concentrated theoretically should be more volatile because of the concentrated calls and how the performance would be impacted if the calls go wrong. We have been defensive for the past 18 months and the performance even in a down market has been better than most of the peers and hence the distinction between the two funds has become a little blurred.
In the 15 months that you have managed the Opportunities fund, how many times have you made a tactical change in your stance?
One big tactical change we made was in October 2011, when we were underweight on banking by 12 percentage points. Since then we have been constantly increasing the weight and today we have 27 per cent weight on banking. The strategy may not have worked on the expected lines but it was one of the biggest tactical changes that we made. It was a clear tactical call from the way the fund was 12 months preceding October 2011 compared to the next 12 months.
What about Mid-cap and Master Value funds? How are they different from each other?
The way we differentiate between the two is that UTI Mid-cap focuses on growth, and looks for companies in the mid- and small-cap space. In the past 15-18 months, growth has done much better than value in the mid-cap space. So theoretically, in a down market, value stocks should have been able to protect the downside more than growth stocks. But because growth companies have reported better operating numbers each quarter, investors have lapped on to those stocks and increased the P/E of the companies. Whereas most of the value-based stocks are based on asset valuations rather than on earnings valuations and have shown numbers which are slightly disappointing. Investors have shifted from such companies and therefore, value-based companies have fallen more than growth companies. So since December 2011, between UTI Mid-cap and UTI Master Value, there has been a large variance in performance because of this shift which has happened within the mid- and small-cap space.
Even in the large-cap space, expensive stocks have become more expensive and cheap stocks have become cheaper because of uncertainty in the operating numbers. FMCG and pharma companies have become more expensive as they have reported strong numbers whereas value-based companies like PSU banks, because of fears into their operating numbers, have become weak and hence cheaper compared to their private sector counterparts. So, in a mid-cap space the difference between how a company has been and how it has reported its number since December 2010 has created the spread.
All the mid-sized PSU banks have collapsed whereas mid-sized private sector banks like IndusInd or STFC have all shown strong numbers and their stock price has shot up. That has been a major issue which has impacted UTI Master Value fund because it was based more on valuations. I think the cheaper companies have disappointed more in operating results versus growth companies and between October-December 2010, we refurbished the portfolio of Mid-cap fund and brought in some high-quality growth companies and all of those have done exceptionally well. MRF is up 40 per cent and P&G Hygiene is up 50 per cent. Despite being expensive at the time we entered, these stocks have still moved up. While companies that we bought on valuations such as SRS, JBF Industries and IFB are down significantly, Whirpool is up 40 per cent. It is the same sector having different companies that has had a big impact and that is why there is a huge difference in the performance of the two funds in the last one year to 18 months.
UTI Equity is one of the oldest funds of UTI. What was the portfolio that you inherited in 2007 and what changes have you brought that it has seen a major turnaround of late?
The fund had investments in FMCG, telecom and IT, and was holding 15 per cent cash. It was very concentrated with 20-25 stocks and its largest bank holding was Axis Bank which had a much lower weight in the BSE 100 but was among the top five holdings within the portfolio. It had a very large weight to Bharti when regulations for telecom were getting tight and we had to take a call whether to exit or not. We took a call very early to exit Bharti and in a period of one year, the stock fell (although we did suffer in the short-run). In the first 9 months of the year, the beta was quite high and all the infra companies were doing pretty well and if you see, that is the year where we were hit the most. On a calendar year basis, 2007 is the weakest year of this fund because we decided not to fall into the trap of trying to buy those companies. Because every one was loaded with infra, they had large weightage on Reliance Industries which we didn't have. We were instead overweight on Nestle, Bosch; good companies but out of favour that time. For us June-October 2008 was god-send because the whole world came down crashing and from that time onwards I think our performance came out quite strongly. We were holding 10-12 per cent cash which got expanded to 18-20 per cent by that time. In the hindsight, by January-March 2009, we should have invested in some of the companies which were very compelling at that point of time but didn't because we were so concerned about how the whole financial crisis would pan out and thought holding cash would help us to some extent rather than buying stocks. This was another learning of that time and realised that we have to keep our heads above water always and buy stocks with reasonable attempts.
I think March 2009 was an awakening when the market went up. We took a call to invest in more domestic companies rather than the infra space so we bought Maruti, Bajaj and Hero Honda. Again, it was contrary to the then prevailing wisdom as infra was expected to do well because the UPA government had come back to power with a strong mandate and it was expected that reforms would be ushered in. We were lucky that the consumption story played across all emerging markets at that time and us being overweight on consumers worked. By December 2009, we had managed to fill in the performance gap which had happened because of the decision to hold cash in May 2009. And then, the fund got impacted in the first three months of 2010 because we were holding some of the sugar stocks which fell really sharply and then it was again an uphill task to get the performance back on track. So the fund, from CPR 1 in December 2009, fell to CPR 3 by March 2010.
From there onwards we have been cautious; we have not had commodities in our portfolio. We have kept a good balance between quality companies and tried to ensure that we are not too far away from the benchmark in terms of weight.
What do you make of the market? Are you happy with the current levels?
I think we have not done too badly. If you take the December 2010 levels of Nifty, which was at around 6,000 that time, we are 11-12 per cent away from that. There aren't too many markets which are as close to the peak of 2009 rally except for US which has just succeeded its 2009 rally. Most of the markets are down similar 10-12 per cent from their 2009 rallies. I don't think we would need anything exceptional to go up further. However, sustaining this momentum is more of a concern. The right government initiatives would take the market up, closer to the 6,000 levels, but sustaining that based on earnings growth will be difficult and that is the bigger concern.
You have had a long innings at the helm with UTI Equities. Can you cite a few instances that had a disproportionate impact on the way you manage the fund?
We have not taken very big bets but we have had stocks that are up 4-5 times. Some stocks have been very stable like we had 2-3 per cent weight in Nestle, Bosch and these companies have helped us tide over various market conditions. But we make sure that we keep on trimming them after a certain amount of time so that they don't become too concentrated in the portfolio. So, the three stocks that have been consistently in the top-10 for us would be Sun Pharma, Nestle and Bosch. We have had our share of consumer goods companies but not in a big way like others. The fourth stock would be TCS in which we have maintained our weight (4.5 per cent). One of the smaller stocks that has done well for us would be IndusInd (up 3.5 times on our average cost from the time we started buying). Similarly, ING Vysa and Eicher Motors have doubled since we bought them and because of their size we have been fairly disciplined to keep them in less than one per cent position and have consistently trimmed them so that they don't go up to substantial levels. But they have still given us good gains.
Since you have taken a hands-on approach vis-a-vis UTI Equities, will there be a change of tactics in the case of Opportunities fund as well?
I think we would like to keep the two distinct. UTI Opportunities fund had been run by the previous fund manager in a different style and we are trying to be as close to that as possible so that the distributors and investors don't find that there has been a major change in the way of operating. We will take more concentrated bets out there and focus more on growth rather than valuations. Whereas Equity fund will be more sedate, looking at quality companies that we would want to hold for a particular amount of time. I am not saying that the two are totally distinct of each other — I would take more bets but smaller in size for the Equity fund and fewer bets but of larger size for the Opportunity fund. That's how I would differentiate between the funds.
Five sectors you would not like to have in your portfolio.
Currently, we are underweight on metals, commodity at a larger level and mid-cap construction companies, especially in the UTI Opportunities fund. We would like to stay away from the PSU banks as well in the UTI Opportunities fund. We will only play SBI and no other banks because of the economic scenario right now. Lastly, we would stay away from government-owned oil and gas companies because of policy factors.
Don't you think with PSU banks, the risk-aversion in the market has been overdone?
I think the Master Value fund has faced the brunt of those stocks more so you have to correlate that to where the economic cycle is. Currently, the signs are that we are not sure whether we have touched the bottom or maybe by another quarter we could experience issues on the quality of assets. Once the signals come of bottoming out you will find these banks with the highest beta because investors will increasingly relate PSU banks to economic cycles. And the reason why we are apprehensive in terming this as the bottom of the economic cycle is because of the political situation in the country. While the elections are on course for May 2014 but if they get advanced then the uncertainty would impact PSU banks more. Buying a stock purely based on valuations means that you have to hold it even when it becomes more valuable because it could fall first before it moves up.
What are the changes you would want to bring in the Opportunities fund if given a free hand?
We don't live in an ideal world; we have to accept what is given and try to take the best out of it. I would only expect investors to be more patient with the fund rather than look at it as a fund which will have a very high turnover and identify new trends every quarter. I think it is a very stable large-cap fund that we have been running for 3-4 years and we have shown our ability to play most of the cycles quite well and protect investors in a downside as well. Hopefully, we would be able to participate in an up cycle.
One fund which has gone completely unnoticed is UTI Transportation and Logistics and it has performed brilliantly. Tell us more about it.
My view is that sector funds are very dangerous for investors because they are usually bought at the top by investors who know least about the fund and that is why we refrain from making too much noise about this fund because we have had cases when investors invested in this fund in 2005 but the sector did very badly from 2006 to 2009, but recovered significantly later. A lot of investors had come in at the time of last dividend in 2005-06 and they were very disappointed when they saw the market doing well while this fund lagged the broad market.
So I think it requires a very sophisticated and appropriated selling. Our first aim was to make it more broad-based but, unfortunately, logistics as a theme hasn't worked so even today 97-98 per cent of this fund comprises transportation or auto companies. Auto companies have had a very good run in the past three years so you'll find that this fund has beaten or say, has been on par with a banking sector fund without the concentration of a banking sector fund. People don't appreciate that part. In a banking fund the top-4 stocks are 85 per cent of your allocation whereas we have not crossed more than 8-9 per cent on a single stock and despite that our returns have been on par with a banking sector fund. Not because of any great skill that we have shown but because the sector has performed well. It's a fund for more sophisticated investors who can trade in and out of it. So, all our sector/thematic funds will be covered by analysts who cover these sectors and that is the path on which we are going: to groom our analysts to become diversified fund managers. So over the next 6 months this fund will also follow the same route. We will give them the required exposure — how to buy stocks, build a portfolio and how they can get impacted. And over a period of time, such analysts could gradually start to manage diversified funds.
How do you see the current economic situation?
Compared to the market behaviour, I am more worried about the slow economic growth. It's not the 6 per cent economic growth that one should look at but it is the 33 per cent decline or 25 per cent decline in the economic growth from the peak of last year that is more worrying. Inflation remains stubborn and yet we have seen the rupee depreciate. There are very few emerging markets that have withstood their ground after a steep fall in their currencies' valuation. If you go back to the 90s, every stock market fall in an emerging market was preceded by a currency devaluation. In India, rupee is down 24 per cent but at the same time, the market has gone up. Maybe that's what new economics is all about. I think investors need to be cautious at this point of time. Investment horizon should be at least 13 months or greater if they are investing in equities. While valuations are cheap, earnings growth is a point of concern — its not that we are growing at 17-18 per cent and are available at 13-14 times forward. Earnings growth will falter in the coming quarters and investors need to use maybe two different techniques to invest in an equity market. One is to be very opportunistic and time/exit the market whenever desired results are achieved. The second way is to follow a systematic investment plan to the cycle but buying and holding for the next 3 years might not give the best returns. If you get a 10 per cent return you exit and if the market falls again, you re-enter. Or you do small monthly investments for a period of three years.
After all these ills, the market has maintained its levels and has been range-bound. So, is a market crumble round the corner then?
I wouldn't say crumble, but the market has surprised significantly by the resilience it has shown. The other way to put it is that if go back to the same time last year and if someone had told you that the rupee would be at 55 levels to dollar next year, fiscal deficit would be close to 6 per cent and current account deficit would be closer to 3.5-4 per cent, would you have anticipated the market where it is today?
I think the market has absorbed much of the bad news which otherwise would have led to steep fall and stagnation. Although the market did fall to 4,700 levels last year in December, it recovered quite quickly from there which has confounded most of the market participants. We are net positive on FII inflows and the rupee has decelerated. One of the reasons for the depreciating rupee has been that FII outflows were strong. But despite that, because of economic macros like high current account deficit, it's a little puzzling to see the market so strong.