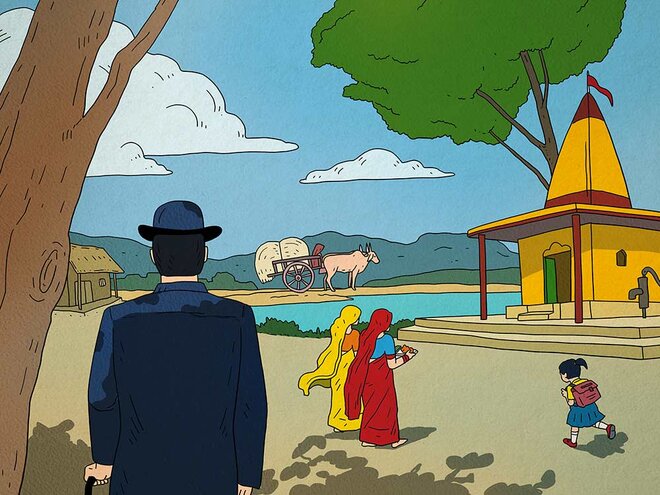 The British left India in a hurry and seem to be forever regretting it. For over half a century, they have kept quiet about it, rarely referring to it as the main reason for their decline in the world, though from time to time, they shed a few tears when the subject comes up. It all happened so suddenly, within no more than a couple of years after the end of the war, as if a tsunami had hit the islands and they could do nothing but watch helplessly as the waters closed on them.
I was in London when it happened. In fact, in the parliament itself, a day or two before Independence, watching the burra sahibs going through the last rites, as India finally escaped their clutches and a new era began four thousand miles away. It was all very gentlemanly, like one of those royal funerals where everything is quiet and orderly, with the mourners going their paces as laid down in the book, the gentlemen in top hats and the ladies in black veils, all against the background of a grey sky.
I was sitting in a special gallery, with British gentlemen on either side. They sat quietly as the speeches droned on and on until the prime minister himself got up and said his piece. When it was all over, we collected our raincoats - it always rains in London - and came out in the summer heat of August while the Thames swept past the pillars of Westminster Bridge. The two gentlemen, who had almost certainly spent time in India, ducked into the underground station across the road from Big Ben and disappeared into the crowd. It was all over before you could say Jai Hind.
A year or so later, I was in India House, working for Krishna Menon, our new high commissioner in London. My job was to screen visitors who were asking to see him and guide them to appropriate departments. It was a huge embassy, about four or five storeys high, with an authentic Indian restaurant on the top floor oozing the fragrances of Indian cuisine across the Strand behind the building.
One afternoon, I found a man, an Englishman, waiting for me just outside my office. He had had a chequered career, first as an ICS officer in Central Provinces, followed by a spell in Burma during the war as a colonel. After the war, he had returned to Nagpur to his old job and was about to be promoted to a high-level post in Delhi when freedom came and the man had to return home, as he called it, with a fat pension and an enforced vacation.
The man was fiftyish with greying hair and burra sahib written all over him. He would have done nicely in Hollywood as Errol Flynn's side-kick, fighting all those endless battles in North West Frontier Province, ducking poison-tipped arrows and home-made bullets from Afghans forever spoiling for a fight. But instead of the Khyber Pass, he was now living in Golders Green, with little to do but a great deal of money, for which apparently he had no use. During all his years in India, he had not found time to get married.
He said he was fed up standing in all those queues outside ration shops, buying butter and cheese and marmalade by the spoonful, as we all did during those harrowing post-war years under the Labour government, and with little to do during daytime except visiting libraries and run-down cinemas showing ancient films. Surely, he said, I could do something to help him. I took him out for lunch a few times, but he did not much care for insipid English food and I could not afford to take him to Indian restaurants which were expensive.
After a couple of weeks, I just gave him up, though I kept running into him almost daily either in the India House library or outside my office.
It struck me that what he was missing was not Indian food or company. He was missing India - the trees, skies, the smell of the earth after the first monsoon showers, fragrance of flowers as they sprang to life from nowhere after the rains, the clip-clop of bullocks as the carts trundled from one village to another, the swish of a sari near the temple and the laughter of children leaving school. He had lost his soul to India and was looking for it in the lanes of London. What a hope!