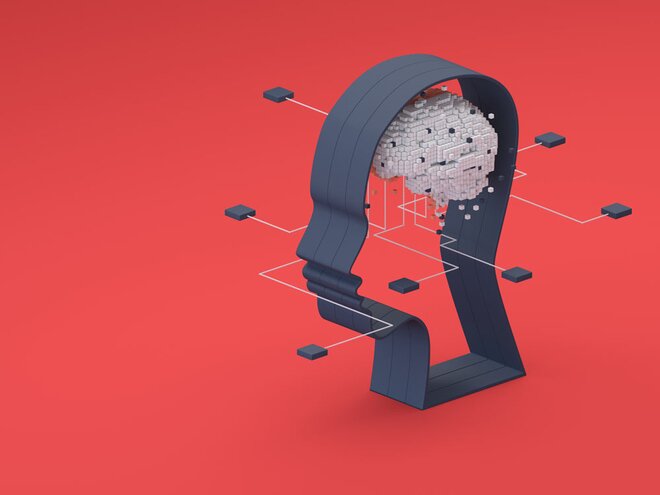 While the use of artificial intelligence (AI) was initially restricted to social media (machine learning algorithms for recognising certain types of content) and financial services (pattern identification to detect fraudulent transactions), it has now become an integral part of our daily life. Increasingly, the technology is being used in healthcare, smartphones, smart TVs, household appliances, self-driving cars and many more. Even companies such as Nike and McDonald's have started using data science to understand consumer behaviour and make business decisions accordingly.
The Indian AI market was valued at $7.2 billion as of August 2021 - a 22 per cent YoY increase, owing to the pandemic, which forced companies to adopt this technology. According to a report by Accenture, the AI market is expected to grow at 27.5 per cent CAGR from 2022 to 2026 to reach $23 billion by 2026. Given this, AI has the potential to contribute 15 per cent to India's GDP (gross domestic product) by 2035. IT services, technology firms and the BFSI (banking, financial services and insurance) sector have been the major users of AI so far, with a market share of 35 per cent, 23 per cent and 10 per cent, respectively.
India, which is known as the IT major of the world, may soon become the AI powerhouse as well. While private equity firms are constantly looking for opportunities to invest in AI-based firms, companies like Swiggy and Zomato have also been investing in it significantly over the last two years. To assist organisations in using AI, the Indian wing of US giant Deloitte has recently opened an AI institute.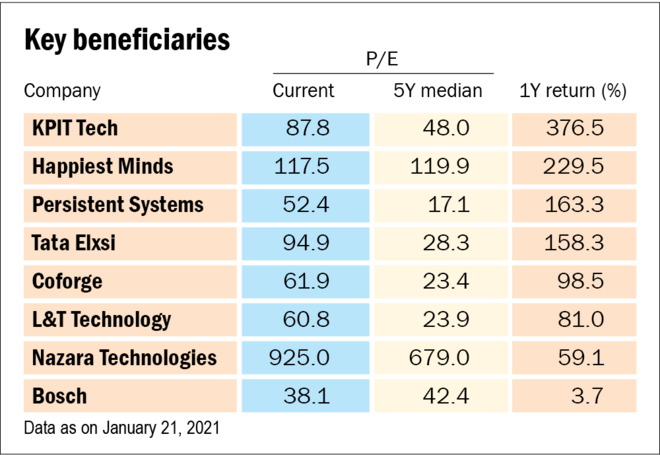 In focus: Tata Elxsi
Incorporated in 1989, Tata Elxsi is one of the leading providers of design and technology services across various industries. Its portfolio includes AIVA (AI for video analytics), AIDMS (assistance for self- driving cars), QoE (quality of experience for streaming platforms), Tether (A cloud-based IoT product), a digital health platform, etc. Leveraging its robust R&D facility, the company is also working on various demo products, such as robotaxi. Besides, it provides various other services such as big-data engineering, cybersecurity, test and validation, product engineering, etc.
Of its FY21 revenue, international clients accounted for 86.8 per cent, proving the company's strong presence in the global market. On the other hand, its EPD (embedded product design) segment, involved in providing technology consulting, designing new products and offering testing services for various industries, was the major contributor (88.2 per cent) to its FY21 revenue, followed by IDV (industrial design and visualisation), and SIS (system integration & support), which contributed 9.3 and 2.5 per cent respectively. Further, the company's 13 per cent revenue growth, as well as 22 per cent profit growth in the last five years, has been well rewarded by the market, with its share price growing by 58 per cent (as of January 21, 2022) in the same period. Given that the company is well settled in an industry that has just started to grow, its expertise can bring tremendous growth opportunities in the future.
Also in our 'Top trends to profit from in 2022' series:
Top trends to profit from in 2022: Return to normalcy
Top trends to profit from in 2022: Clean energy & pollution control
Top trends to profit from in 2022: PSU divestment
Top trends to profit from in 2022: China plus one
Top trends to profit from in 2022: Digital disruption
Top trends to profit from in 2022: Electric vehicles
Top trends to profit from in 2022: 5G & Telecom revival
Top trends to profit from in 2022: Ethanol