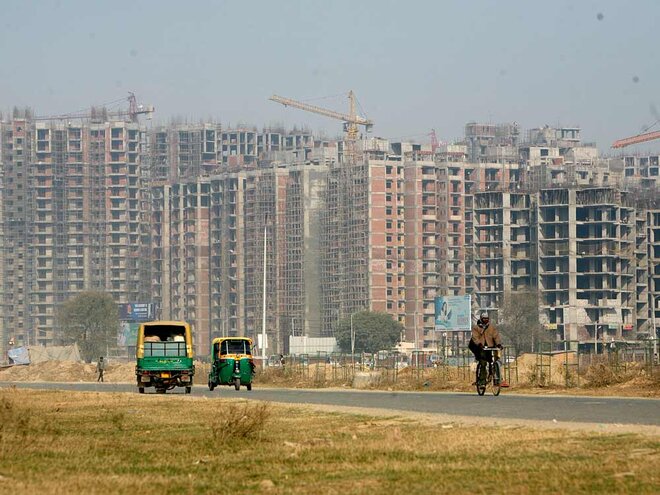 SECTOR VIEW
The pre-pandemic situation
Real estate is one of the largest employment-generating sectors in India and a major contributor to the country's GDP. However, the sector had been under stress because of demonetisation, the implementation of GST, the enforcement of realty law RERA and the NBFC crisis even before the pandemic hit. All these resulted in the sector facing a prolonged slowdown and a liquidity crisis. 2020 was expected to be a year of recovery for the sector, especially for the housing segment. But then, the pandemic hit.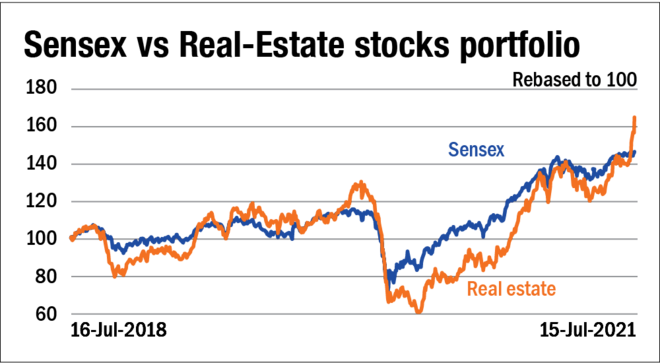 During the pandemic
The first wave of the pandemic had a long-lasting effect. The nationwide lockdown halted construction activities, thereby resulting in large-scale labour migration. With this, the entire sector came to a grinding halt.
The situation remained gloomy till September and sales were down because of the concern over economic growth. Unemployment was at its peak and the threat of job losses loomed large, which impacted consumer sentiment.
According to a report by KPMG, there was an estimated loss of over Rs 1 lakh crore in the sector since the pandemic broke out, resulting in a serious liquidity crunch for developers. Residential sales across the top seven Indian cities slumped to 2.8 lakh units in 2020-21 from over four lakh units in 2019-20.
The present situation
At present, the sector is slowly seeing renewed investor interest, particularly for projects by renowned developers. Although the demand for residential real estate is now picking up, that for commercial real estate is still subdued, owing to a host of factors, including the work-from-home option given to employees on account of safety measures.
The pandemic-led lockdown has accelerated the adoption of technology-led home buying in India. Real-estate developers have swiftly adopted digital technologies to launch new projects, thereby enabling buyers to inspect properties online as well as negotiate and finalise deals. This trend is expected to go a long way in transforming the future of this sector.
Besides, the government has taken various measures to support the real estate market. The announcement of loan moratoriums, coupled with a cut in interest rates as well as stamp duties, largely aided buyers and developers during these volatile times.
In India, real estate is still the most favoured investment option, followed by fixed deposits, gold and the stock market. Thus, homebuyers who can still afford and are looking out for a property will be at an advantage due to all-time low prices during the pandemic on account of lower demand.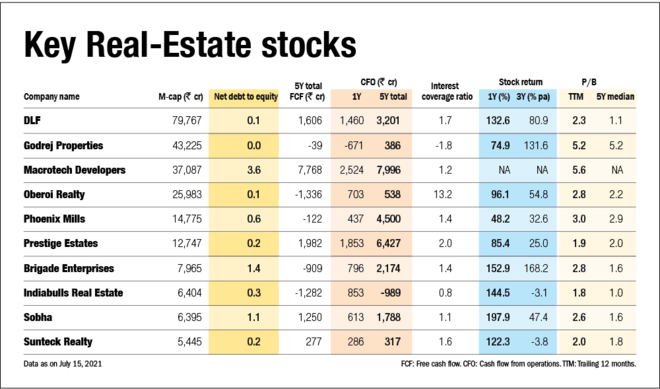 STOCK VIEW: Godrej Properties
The real-estate development arm of the Godrej Group, Godrej Properties enjoys the patronage of a 124-year-old and one of India's most successful conglomerates. It mainly focuses on four core regions - MMR, NCR, Pune and Bangalore. As on March 31, 2021, the company had 85 properties with a saleable area of 187 million sq ft.
The competitive edge
Despite the pandemic, the company emerged as the country's largest listed real-estate developer in terms of sales bookings of Rs 6,725 crore. As compared to the previous year, sales bookings grew at a rate of 14 per cent in FY21. Despite the lockdown in the first half of the financial year, the company sold 9,345 homes and on average, over 25 homes per day in FY21. With residential real estate contributing around 90 per cent to its revenues, the company was able to maintain steady bookings because of a recovery in residential demand.
The company has a strong record of launching and executing its projects timely. In FY21, it launched 11 projects and delivered an area of about 6.5 million sq ft across MMR, NCR and Bangalore as against around 5.3 million sq ft in FY20. It also has a strong pipeline of about 19 new projects for FY22, which will translate into steady collections and revenue growth.
Financials & valuations
Although FY21 was a hard year for real-estate companies, Godrej Properties still managed to achieve its highest ever residential collection of Rs 4,389 crore on the back of consistent sales and pent-up demand. It implies the company's ability to collect outstanding payments from its customers on time. As on March 31, 2021, the company was net debt-free, making its balance sheet well leveraged and enabling it to fund its ambitious plans and add new projects in the future.
The company's stock trades at a very rich valuation as compared to its peers, at a price-to-book of close to 4.9 times as against its five-year median price-to-book of 5.2 times. Although it reported losses in the quarter ended March 2021, it's likely to recover in the future as its various projects are at different stages of the completion, which will lead to an increase in its revenues. The second wave of COVID-19 could lead to a muted start in FY 2021-22 for the company, but its healthy balance sheet and strong pipeline will likely help maintain its sales momentum in the future as well.
ABOUT THE CHART AND THE TABLE
Sensex vs sector stocks portfolio
In the analysis above, we have given a three-year chart of the portfolio comprising the top stocks in the sector vis-à-vis the Sensex. This chart will help you assess the movement in the sector as compared to the market. The stocks considered for this chart are the ones given in the table of key stocks. It was assumed that one invested an equal amount in each stock three years ago. If a company was not listed three years ago, it was incorporated in the portfolio from its listing and the appropriate adjustment was made.
Key sector stocks
This table mentions the top stocks in the sector, along with their key financial stability numbers. Given that most companies in the sectors discussed have witnessed a significant drop in their profits, profitability related metrics may not be very useful. One must assess their balance-sheet and cash-flow strength. Following are the key columns in this table:
Net debt-to-equity: This is the debt to-equity ratio adjusted for cash and current investments. A negative ratio indicates more cash/current investments than debt. This is a comfortable position to be in.
Free cash flows: Cash flows from operations minus capital expenditure is free cash flows. They indicate that a company is able to incur capital expenditure from its own cash flows rather than depend on outside funding. This is highly desirable.
Cash flows from operations: This is cash generated from a company's operational activities. A positive value is desirable. A negative value indicates that profits, if any, are not getting converted into real cash, an undesirable scenario.
Interest-coverage ratio: It indicates how easily a company can service the interest on its debt. The higher the number, the better.
Also in this series:
Profiting from recovery: Aviation
Profiting from recovery: Retail
Profiting from recovery: Hospitality
Profiting from recovery: Media