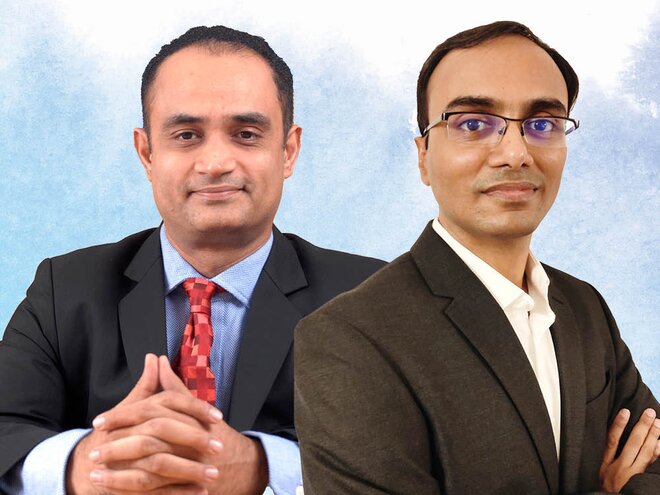 While COVID-19 has impacted most businesses, the services sector has been the worst impacted. However, amid the market rally over the last few months, even stocks from this sector have started doing well. We speak to Rahul Baijal, Fund Manager - Equity (left in the photo), and Rohit Seksaria, Fund Manager - Equity, of Sundaram Mutual Fund about the ground reality of the services sector and whether the rally is sustainable, especially against the backdrop of the third wave. Baijal and Seksaria manage Sundaram Services Fund, an open-end scheme whose mandate is to invest in stocks from the services space.
The services sector has been the worst-hit due to the pandemic. However, lately, many stocks from this sector have started showing smart moves. What has changed? Can this be overoptimism or a liquidity-driven market-wide rally?
The services sector has suffered the most during the pandemic as services in general are more contact-intensive. We have seen the services sector pick up pace in recovery from September 2020 onwards, get stronger over the festive season in October-November and then sustain momentum till early 2021 until the second wave started impacting April 2021 onwards. However, the services sector has managed the second wave much better as it was better prepared to handle the lockdowns.
Many services-sector stocks are showing smart moves and have delivered good returns. While it may feel like overoptimism, most have fundamental basis to it. Some of them like IT services have been a beneficiary of accelerated digital transformation of global companies. In some cases, companies are benefitting from increased consolidation, where weaker unorganised players are getting pushed out and large listed organised players are gaining market share. Also, most companies have cut costs sharply and we expect their post-pandemic margins to be much higher than pre-pandemic levels.
Please decode the impact of the pandemic on the services sector. Which are the worst-affected areas? Which have been largely insulated or have actually done well?
As discussed, the services sector got significantly impacted due to the pandemic but the impact was different on different segments.
The worst affected is the travel and tourism industry, including airlines, travel agents, hotels and restaurants, theme parks, etc. Another segment that has been badly affected is the one operating out of malls, such as multiplexes and garment retailers. Malls are last when it comes to unlock prioritisation and even when it was permitted in between, it took time for footfalls to normalise. However, with vaccinations picking pace, these segments should start showing recovery and doing well by the next year.
The segments which have been largely insulated are food and grocery retailers, hospitals and diagnostic chains, and large banking and insurance companies.
Businesses which have benefited during the pandemic due to the change in consumer behaviour and work from home/anywhere habits are telecom companies, online service providers (both B2B and B2C), home-delivery companies. Also, IT services companies have benefitted from the acceleration in digital transformation agenda of global companies.
Over the last one year or so, are there any fundamental changes that have happened in the way business happens in the services space? Are there any models that will become irrelevant?
The biggest change which has happened in the last one year is the acceptance of work from home/ anywhere. This has already transformed and will further transform the way companies used to think about employee costs and overheads. For example, a bank was thinking about shifting the cheque-clearing function to employees working from home and paying them on a piece-rate basis. This is not limited to the services space. All companies will look to shift more and more work, especially operational and admin work, to gig workers/work-from-home workers to manage their employee cost and overheads better.
Another change is a sharp increase in digital adoption as a much larger population was forced to come and transact online. This has led to a global rush to beef up digital offerings, which has benefitted Indian IT services companies. This has also led to many traditional areas such as grocery, pharmacy, restaurants, salons, etc., open up for disruption from well-funded and more service-oriented online digital players. It is still early to say if any model will become irrelevant, but many traditional businesses will have to reinvent themselves to stay relevant in the new digital world.
Assuming that normalcy is restored in the near future, which types of companies in the services sector will bounce back fast? Which will take a long time to recover?
If normalcy is restored in the near future, the segments which are more severely impacted - such as travel and tourism, dining out, and entertainment - will be the ones showing a stronger bounce back. There is a huge pent-up demand as people are tired of staying locked in their homes and are itching to travel and socialise. Once they are assured of normalcy, this pent-up demand will explode.
Services is such a strong secular theme that in the event of normalcy all segments will bounce back in no time. Only companies which have highly leveraged balance sheets or which have been forced to increase leverage to cope with the pandemic will take longer to recover.
Assuming that the pandemic lingers on, how do you see the services space doing? In your management discussions, have you come across any strategies companies are deploying to endure a prolonged slump in services?
The listed services companies have reimagined their operations and have sharply pruned their costs during the pandemic. Also, they have built a war chest of cash on their balance sheet either through reduced working capital or through raising funds from markets through right issues, QIPs, etc. They have ensured that they are well prepared to survive through the pandemic, even if it lingers on for the next 12-18 months. We saw an example of this during the lockdowns in the second wave where disruptions were lower and companies switched to their template for a lockdown.
However, the lingering pandemic might be devastating for small and unorganised players in the services space who might not have the wherewithal to survive the disruption for that long. That again will be positive for larger listed companies in the long term as competition will diminish and their market shares will improve.
How do you pick stocks for your Sundaram Services Fund? Since March 2020, how have you coped with the pandemic-led disruption in your fund in order to safeguard investor interest?
We have positioned Sundaram Services Fund like a multi-cap fund with 40-60 per cent allocation to large caps and balance to mid and small caps. In this fund, we focus on services sub-segments that have a secular growth runway for the next few years. Within those sub-segments, we generally bet on the #1 or #2 players. The idea is to bet on secular compounders from a three-to-five-year perspective.
Emerging technology and online services are interesting high-growth areas where we don't have many companies in the listed space. As these companies are maturing and listing, this fund aggressively participates as an anchor investor during their IPOs.
Since the pandemic struck in March 2020, we have remained invested in most of our positions as they are fundamentally sound companies that can withstand the current environment and will participate well as the recovery picks pace post the pandemic. However, we trimmed our positions in multiplexes, hotels and garment retailers as they were disproportionately impacted due to lockdowns. Simultaneously, we added to our positions in IT services, which was benefitting from a surge in global demand, and few other quality players which became attractively priced thanks to the fall in markets.
If someone wants to bet on a few services sector stocks now, what things should he keep in mind? Given the current fractured P&Ls, how should one develop conviction? Are there any specific financial metrics that one should track?
Services sector is very broad, with multiple sub-segments. We have divided it into six segments, viz, financial services, TMT (telecom, media and technology), trade and tourism, healthcare, transportation, and business services. Each of these segments has further sub-segments. So, an investor needs to develop deep understanding of each sub-segment and its key players and build a view of how it will evolve in the future. Then focus on leaders in these sub-segments as they are better placed to gain market share and withstand disruption. As these are high-growth companies with high ROCE, you generally don't get them cheap. So, we need to take a long-term view and buy good compounding stories. Investors shouldn't get deterred by current fractured P&Ls due to a one-off pandemic but bet on companies in high-growth services sub-segments which have a strong balance sheet to ride through the current disruption.
The last one and half year has been nerve-racking for investment managers. You may have especially felt the heat, given the mandate of your services fund. What did you do to keep yourself calm and focused? How did you handle the investors' jitters? What's your secret sauce to deal with stress and anxiety?
Both of us have more than two decades of experience each in the stock markets and we have seen multiple cycles of euphoria and panic in the markets. This experience helps us keep calm and actually benefit from panic-induced market corrections. Also, we have always been confident of the quality of companies we have invested in. We were sure that they will not only withstand the pandemic-led disruption but also gain market share and improve profitability through the disruption and into recovery. Last but not least, a little bit of yoga/exercise every day helps.