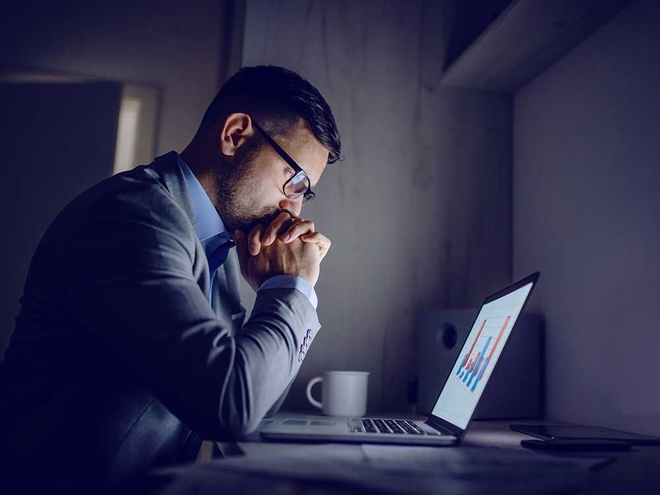 In its reclassification exercise, SEBI created 16 categories of debt funds, with floater funds being less popular debt funds. However, these funds have now come to the forefront. Over the last six months, their net flows have soared to Rs 21,000 till end of November. Further, the category has been giving decent returns. As on November 30, the Rs 52,000 crore category had a median return (direct plans) of about 9 per cent.
What are floater funds?
Although the category has been in existence for quite some time, as per SEBI's official mandate, these funds invest at least 65 per cent in floating-rate instruments, including fixed-rate instruments converted into floating-rate exposures by using derivative strategies. Contrary to conventional bonds, the interest rate of floating-rate instruments is not fixed and is reset periodically in line with changes in interest rates in the economy. That's quite similar to the interest rates of home loans, which keep changing.
Now, let's understand the interest-rate sensitivity of bonds. If interest rates fall, any new bond issuances will carry lower coupons, thereby making old or existing bonds more attractive. The demand for these bonds will rise, thereby increasing their prices. The reverse happens when interest rates rise. However, floating-rate bonds are relatively insulated from such interest-rate movements since their interest rates get reset itself.
Since there have been several rounds of reductions in interest rates over the last one year or so, many people are not expecting more rate cuts in the coming time. While fixed-interest-rate bonds will get adversely impacted once interest rates start rising, floating-rate bonds will be at an advantage. That could be one of the reasons behind the renewed interest in floater funds.
At present, the floater category has only eight funds. Perhaps, the limited appeal of these funds is attributable to the limited market of floating-rate bonds in India. So, most of the floating-rate funds synthetically create such exposures by using interest-rate swaps.
Fund managers buy fixed-rate bonds and use interest-rate swaps to convert fixed-interest exposure into floating. Let's discuss it with an example. A fund manager buys a fixed-rate bond. She now expects interest rates to rise. In that case, there is a risk of a sudden drop in the price of the fixed-rate bond (and so in the fund's NAV) as there exists an inverse relationship between bond prices and interest rates. Now, a manager of a floater fund enters into an interest-rate swap with a counterparty to exchange the fixed rate for a floating rate. This helps the fund manager to hedge the portfolio and capture the uptick in yields.
While the floating-rate structure makes these funds less volatile to changing interest rates, what about other risks? Deepak Agrawal, EVP & Fund Manager - Fixed Income, Kotak Mahindra Asset Management Company says, "Interest Rate Risk, Liquidity Risk and Credit Risk are the three risks attributable to any debt scheme. The floating rate structure helps to cater the interest rate risk. Synthetic floaters and the fixed rate component of the portfolio help to manage the liquidity risk of the portfolio. Kotak Floater Fund invest predominantly in high grade instruments thereby reducing credit risk." While the credit quality differs across funds, the category has had limited exposure of about an average 10-11 per cent in securities rated AA and below in the last one year.
Maturity
Floater funds do not have any regulatory mandate in terms of the portfolio-level duration. The graph titled 'Median maturity' shows the maturity trajectory over the five-year period. An analysis of the maturity profile of the floater category over a five-year period highlights that the category has approximately maintained a median maturity of less than a year over 45 per cent of the times. Currently, these funds maintain a maturity of over two years. Thus, these funds usually stay towards the shorter end of the maturity curve and do not take aggressive duration bets.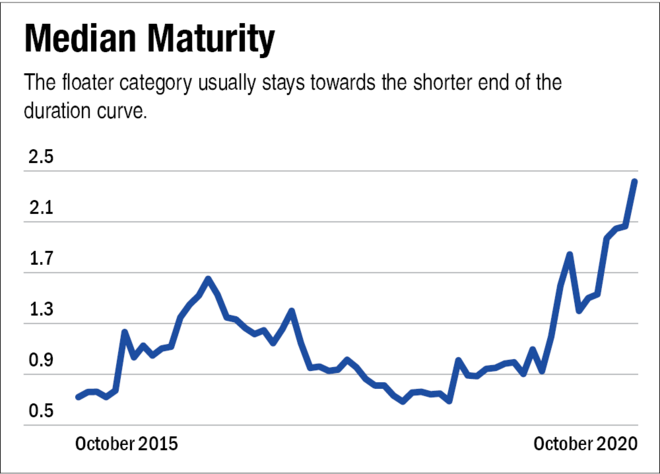 Returns
These funds have always given decent returns. We compared these funds with the short-duration ones, which are one of the debt-fund categories suitable for an investor's core fixed-income portfolio (see the graph titled 'On a similar footing'). Over any one-year period, the floater category would have given you the return of a minimum of 6 per cent and a maximum of 10.5 per cent. On the other hand, its short-duration counterpart would have given you a minimum of over 4 per cent and a maximum of 12 per cent. So, over a one-year period, the floater category is less volatile than the short-duration category. This is because the latter invests in fixed-rate bonds whose prices react inversely to changes in interest rates in the economy. If you stretch the period to three years, the risk-return trajectory is fairly similar for both the categories, with both giving a minimum of about 7 per cent and a maximum of close to 10 per cent.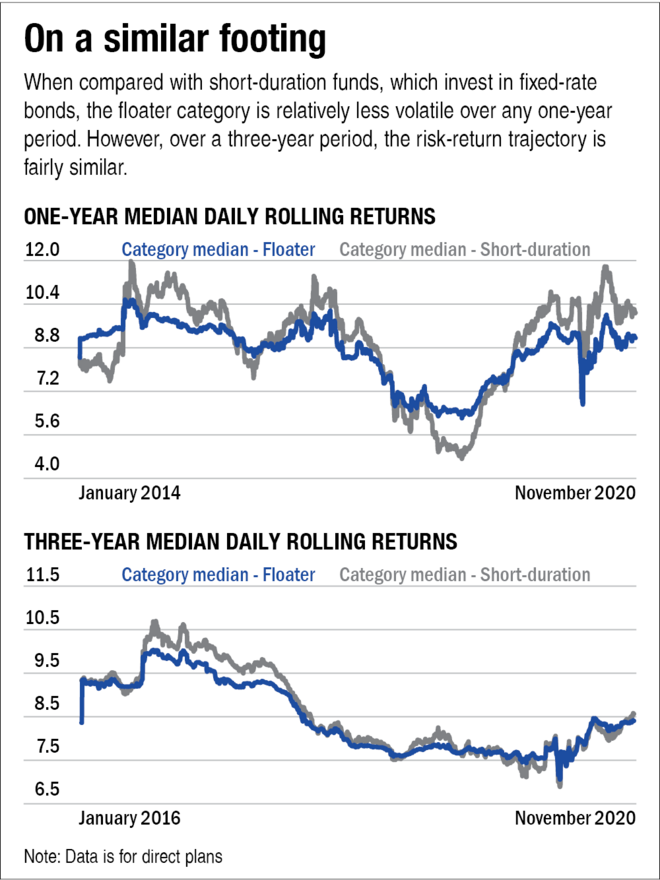 Conclusion
Given the kind of volatility of floater funds, these funds are clearly not suitable for somebody looking to invest for a very short period, like over a few months or so. Having said that, they can be a viable fixed-income option in your portfolio for an investment horizon of upwards of one year. As Agrawal puts it, "Irrespective of the interest rate cycle, any investor looking to invest with 1 year plus investment horizon can have 25-30 per cent allocation to this category."