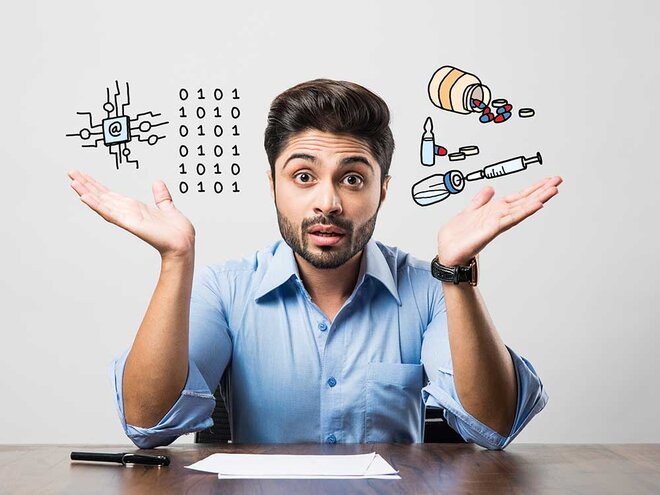 Inherent volatility is associated with equity funds in general and sectoral funds in particular. While diversified equity funds tend to rise with growing market levels, different sectoral funds witness a rally at different points in time. A close look at the short-term past performance of equity funds reveals that one or the other of sectoral funds have delivered superior returns over a diversified equity fund. This rally in the performance of sectoral funds generally entices investors to invest in these funds. However, the problem is that many investors tend to invest in a booming sector only after much of the rally has passed by. Thus, they end up investing at the later stage of the momentum in anticipation that the rally may continue further, which ultimately leads to disappointment among investors.
This year as well, the story is quite similar, with two sectors - pharma and technology - gaining prominence by delivering stupendous returns even when the broader market faced correction. Pharma funds have delivered returns of 56 per cent returns this year and those of technology funds have been pegged at 41 per cent YTD (as on November 30, 2020). Given the phenomenal performance of these sectors, several investors are now being drawn towards these funds. But is it worth chasing the momentum?
Pharma funds
Between January 1 and November 30 this year, the total assets managed by these funds grew by 87 per cent to over Rs 11,200 crore from about Rs 6,000 crore. Following the March correction in the market, these funds rallied to deliver 53 per cent returns from April to November. A bulk of these returns was observed during the April-June period. During this period, the assets managed by these funds increased by over Rs 2,300 crore. Of this, Rs 1,700 crore was due to the gains of the underlying, while the remaining Rs 600 crore was due to fresh investments made in these funds (as per Value Research estimates). The strong performance caught investors' attention, with net inflows increasing to almost double in the next quarter (July-September) even as the gains declined for the period (see graph 'Pharma flight').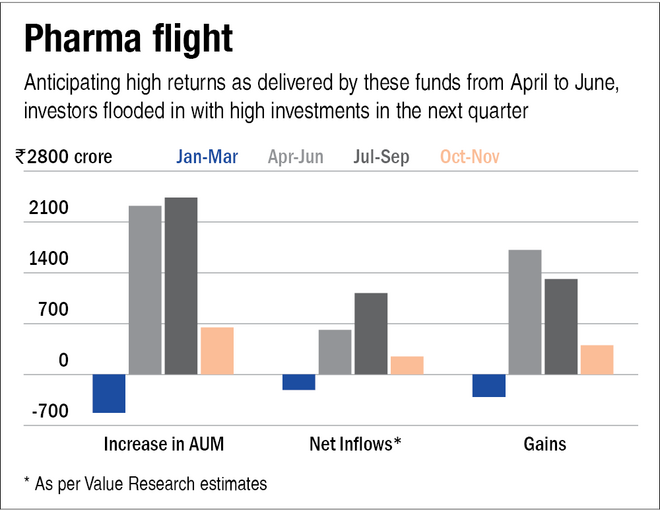 Technology funds
Technology funds depicted a similar story. Between April and July, the total assets managed by these funds increased by about Rs 700 crore. Of this, Rs 565 crore was due to exemplary returns of these funds in this period, while according to Value Research estimates, the remaining Rs 135 crore was due to the net inflows in the category. Charmed by the returns, investors came in with high investments during the period between August and November, leading to the assets managed by these funds increasing by over 4.6 times as compared to that from April to July. During this period, the net inflows increased by over 18 times and stood at an estimate of Rs 2400 crore, while the gains increased marginally (see graph: 'Timing the rally').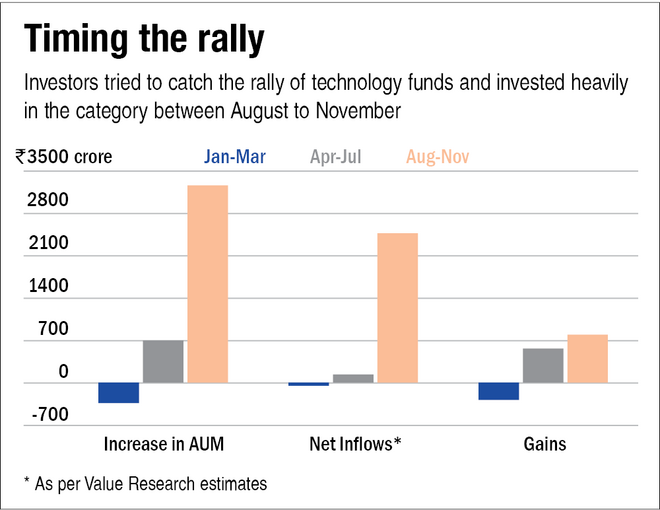 Conclusion
It proves that to derive benefits from sectoral funds, one needs to time one's entry and exit, which is almost impossible to do consistently in the long run. We, at Value Research, therefore, believe that it is better to avoid sectoral funds in your portfolio. Instead, you should focus on investing in diversified equity mutual funds, leaving the decision of entering and exiting a particular sector to the fund manager.