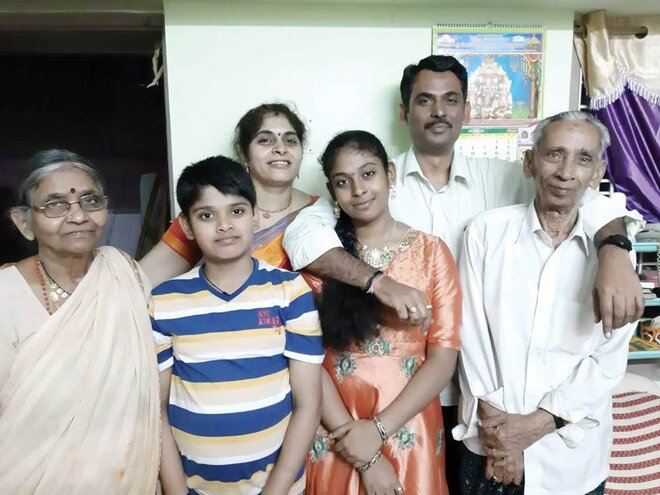 Ramesh is in his forties. He lives in Hyderabad and has been working in the field of information technology. Currently, he is in a senior management role. A curious learner, Ramesh has interests in human psychology and financial management.
He learnt the difference between 'wants' and 'needs' during his childhood. Recalling his childhood, he says, "That was a time when even five paisa mattered. My mother used to send me to a shop to collect five paisa that the shopkeeper owed us. This helped me understand the importance of money." He adds, "Even though we had enough, yet we kept our expenses in control. I keep sharing these lessons with my kids now."
Ramesh was a bright student, who also received government scholarships. After his 10th standard, he joined a polytechnic course in electronics and communication engineering. His career began in 1996 with a relatively low-paying job. Since he also had to finance his further studies after polytechnic, he couldn't save much. Two years later, he changed his job and in 1999, his father opened a PPF account for him. "My dad told me that the PPF was one of the safest options," remembers Ramesh. However, he did not make regular contributions for the first few years.
Experiencing equity
Ramesh got an experience of equity markets around 2000-01. He recollects, "During casual chats with my office friends, I learnt that they invest in the stock market. To explore it, I opened an account with a large broker and started making small investments and revelled in my profits. Somehow, I knew I should not day trade and rather follow a buy-and-hold strategy," he adds. He lost some money owing to bad decisions, especially related to IPOs. "Though there were hits and misses, all of it was great learning," says Ramesh.
Around the same time, he started investing in mutual funds but made only lump-sum investments. He says, "At that time, I was not very keen on investing in mutual funds, partially due to the influence of my uncle who was a strong believer in stock investing as against investing through mutual funds." He also started investing earnestly in the PPF from 2002.
Taking help of a financial advisor
In 2012, Ramesh changed his job and due to a rise in income, he thought of seeking some professional advice regarding his investments. He remembers, "I took assistance from a financial planner who helped me realise some pitfalls of stock investing and the importance of SIPs and advised me to increase my insurance cover." Following his advice, Ramesh made SIPs his primary investing route from 2012. "However, he was insisting that I should invest through their platform, which I was not keen on. So, I did not engage with him further," he adds.
Given this backdrop, he is looking forward to Value Research's premium service. He says, "This service is a no-strings-attached facility and will, therefore, let me continue with my own investments while offering the necessary advice. I am eagerly looking forward to this service."
Value for Research
Ramesh highlights that Value Research played an important role in changing his mindset and selecting funds. Although he does not exactly remember how and when he first discovered Value Research, he remains indebted to that day. "Value Research is my most trusted partner and only source for all my mutual funds-related information. I like the articles and Investor Hangouts' sessions on the Value Research website and actively use the portfolio tracker," says Ramesh.
His funds include the direct plans of SBI Bluechip Fund, SBI Small Cap Fund, Invesco India Growth Opportunities Fund, Mirae Asset Emerging Bluechip Fund, L&T Midcap Fund and L&T Emerging Businesses Fund. His SIPs account for almost 50 per cent of his earnings and he reviews his portfolio periodically to make any necessary adjustments. Compared to his SIP amount in 2012, he has almost doubled his contributions.
His fund-selection process includes an analysis of the performance numbers across different time periods, a comparison with the benchmark and a thorough analysis of portfolio composition. Apart from Value Research star ratings, he also checks for any overlaps across his stock and fund holdings.
He shares, "If the overlap is more than 30 per cent or so between two funds in the same category, I take it as a red flag. Also, I look at the portfolio overlap every six months or so to see if there is any significant change." This helps him achieve true diversification in holdings across his funds and stocks.
While picking stocks, he assesses the business, management's credibility, the company's long-term prospects, its competitors, etc. "As it is not easy to decide whether the current price is also the right price to enter, I usually adopt a staggered approach to buying," says Ramesh.
Overall asset allocation
As of today, Ramesh's overall allocation comprises about 50-60 per cent equity, including mutual funds and stocks, 30-35 per cent debt and 15-20 per cent gold, NPS, etc. His debt exposure is mainly divided across the EPF, PPF, Sukanya Samriddhi Yojana, a few FDs and a few debt funds.
For life insurance, he has two term plans with a combined cover of about Rs 1.5 crore. He has personal as well as employer-provided health insurance. Apart from these, he has also taken home insurance and accidental insurance. Although not a fan of ULIPs, he invested in one without much analysis in 2006. Since he understood the complex and opaque nature of them, he hasn't invested in any other since.
As for his goals, he shares, "I have accumulated about 50 per cent of the corpus required for many of my goals. I will continue to keep my expenses in check and invest intelligently with help from Value Research. I'll also pray that inflation does not eat away more than what I have planned for," says Ramesh.
Lessons from the past
Ramesh feels that it was not the right decision to get into SIPs so late in his investment journey. Now, amid the COVID-19 outbreak, he is determined to continue with them. He credits this confidence to his experience of the 2008 crash. "I witnessed the fall and the surge a few years later. As I could not make enough investments that time, now I am continuing with my SIPs and small stock purchases, though my portfolio value has fallen significantly," says Ramesh. An understanding of human psychology, optimism and investment wisdom that he has obtained from his reading about successful investors, such as Warren Buffett, are the possible reasons for his resolve and determination.
If you ask Ramesh to summarise his investment journey, he presents an analogy, "In my view, the planting has been done and I need to wait to allow the trees to grow and start giving me fruits. While uncertain weather may impact the number of fruits, the trees will be able to bear it." He continues, "To help them grow into tall and strong trees, I will keep nurturing the plants. I hope that I will be able to rest under them and lead my life. I'll eat the fruits and also share them. Although I could have planted more trees during my journey, I feel it's good to let bygones be bygones," signs off Ramesh.
What we can learn from Ramesh
Keep your expenses in check.
Teach your children the value of money. Lead by example.
Invest in equity through SIPs, not lump sums.
Research thoroughly before investing.
Review your portfolio periodically to make any necessary adjustments.