If you invest Rs 100 today and the rate of return is 20 per cent, you will get Rs 120 after one year. Now, at the beginning of the next year, if you invest Rs 100 more, it will take the total capital invested to Rs 220. The question is whether you will be able to generate at least 20 per cent to justify the new investment.
Companies also face the same dilemma. No doubt it would be challenging to generate additional returns on capital employed (ROCE) when the base of capital is higher but there are some companies which have achieved this feat.
In order to further improve the criterion, we applied the following two filters:
The change in capital base (debt + equity) over five years should be at least 10 per cent per annum.
The minimum ROCE should be 15 per cent.
Only three companies from the listed universe were able to meet these criteria. They are as follows.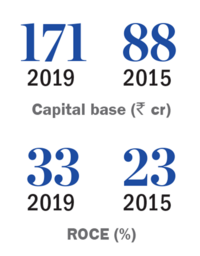 The company's business is divided into two segments: consumer business and foodservices business. The former manufactures and sells ready-toeat and readyto- cook Indian and Asian meals. The latter is mainly domestic, comprising frozen foods, sauces, etc. The company's focus remains on the natural food industry in the US, which the management estimates to be a $120-billion industry. In developed countries like the US and Canada, the average time spent on cooking food is comparatively low and hence, the market for ready-to-eat products is big and growing.
The company has been able to double its sales in the last five years, keeping its sales as a percentage of equity constant at two times in the last five years. The company has done well to increase its operating margins in the same period from 14.8 per cent in FY15 to 19.0 per cent in FY19.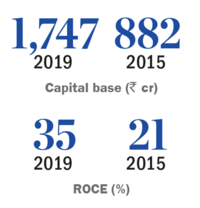 Part of the Californiaheadquartered Honeywell Group, the company's business is divided into four segments: process solutions, building controls, building solutions and home-comfort controls. Its clientele is from various industries, such as oil and gas, chemicals, metals and mining, etc.
The company has capitalised on a business model that does not require high investments and yet has scalability. Its sales-to-capital-employed was 2.7 times in FY15 but 1.8 times as of FY19 because of a significant increase in equity. Another factor that has led the company to increase its ROCE despite a higher base is the jump in its operating margins from 9.8 per cent in FY15 to 18.2 per cent in FY19.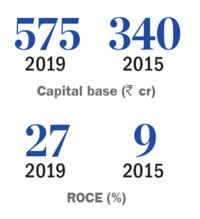 Lumax Industries, an automotive light manufacturer with a 60 per cent market share, began its operations in 1945. The company's products include lighting solutions for head and tail lamps; sundry and auxiliary lamps; and other related products.
Passenger vehicles make up 67 per cent of the company's total revenue; two-wheelers contribute 27 per cent; and another 6 per cent comes from commercial vehicles.
The company's operating margins have consistently risen and doubled between FY14 and FY19 and this has resulted in the company increasing its ROCE despite reinvesting most of its profits and debt staying at the same levels. This has resulted in a consistently higher capital base.