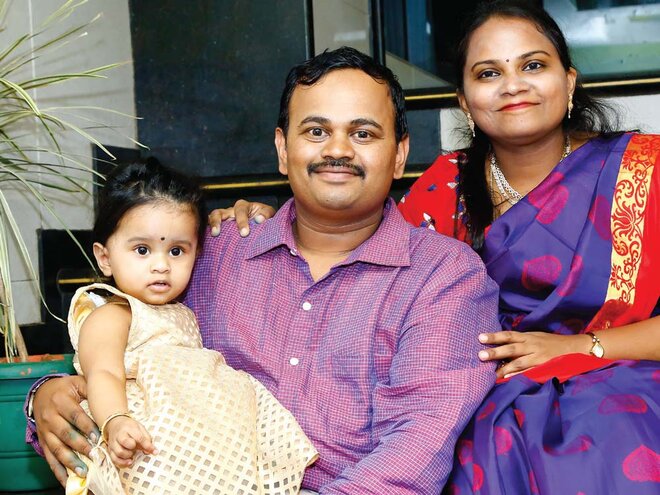 Born and raised in a village of Tamil Nadu, Arunkumar P. G., 33, currently lives in Bangalore. A software engineer by profession, Arun lives with his doctor wife and their one-year-old daughter. His parents live in Tamil Nadu. He also has a younger brother.
When asked about his areas of interest, he replies, "Books, books, books and movies, movies, movies. Nothing else!" Having studied in a village panchayat school till the fifth standard and then in a nearby town till the 10th, Arun even today closely identifies with his roots. "Our bread and butter for living and meeting educational expenses came from our agricultural land. We were so happy when we grew paddy and sugarcane in our field," reminisces a nostalgic Arun. Even today, his father works the land. "We will continue to work our land because it is simply our way of living," he further adds.
For Arun, money always came easy, "During my childhood, my father always fulfilled my financial requirements, which made me think that money was generated in my dad's pocket!"
Entering the world of mutual funds
After doing his B.Tech in electrical engineering from Vellore Institute of Technology in 2007, Arun shifted to Bangalore, the centre of India's high-tech industry. However, it was only in 2012 when his investment journey took off.
His first brush with mutual funds happened when he had to meet his tax-saving requirements. Coming from a family with no knowledge of investments, Arun took his friends' help, "As I was looking for tax-saving investments, one of my office colleagues introduced me to equity-linked savings schemes (ELSS)," he recalls.
After learning the benefits of ELSS, ranging from the short lock-in compared to other standard tax-saving instruments to their ability to provide inflation-beating returns over the long term, Arun started hunting for a good ELSS fund. This landed him on the website of Value Research. Thereafter, he started his first SIP in Axis Long Term Equity Fund.
Unfortunately, around the same time, he lost his elder brother. In order to provide emotional and financial comfort to his family, he started exploring mutual funds. "My elder brother was our family's pillar of strength. Following his demise, I wanted to financially secure my family," says a responsible Arun.
This exploration, however, took him a bit too far. With just a return-oriented goal in mind, Arun started investing in all large-cap-heavy, five-star-rated funds. As a result, his portfolio started ballooning. Before he knew it, he had a portfolio of 22 funds.
Without any hesitation, Arun accepts this as a mistake. "I was looking only for five-star, less-risky and high-return funds, which was not the correct approach and I admit it," says Arun. Nevertheless, his approach of continuous and systematic investing for five long years and increasing the SIP amount in line with salary increments was the right choice.
After realising the fluctuating nature of ratings, Arun now digs deep into fund specifications, including category, risk profile, ability to withstand volatility, consistency of the fund manager, etc., before deciding on a fund.
To him, Value Research is a guide to the world of finance, "Kudos to Value Research as it helps many people. It was only after reading Value Research stuff that I realised that investing is more important than just saving. Every article on the Value Research website helps me improve my mutual fund knowledge base. I like watching Mr Dhirendra Kumar's Investors' Hangout on Value Research's YouTube channel," says Arun.
A fresh start
After about five years of investing in 22 funds, it was only last year that Kumar decided to trim down his portfolio and came across an independent financial advisor (IFA) in his office. He credits this step to Dhirendra Kumar's advice of holding three to four funds for adequate diversification.
His IFA did a complete financial check-up of his portfolio and helped him lay down a set of life-specific goals. At present, these include planning for his daughter's higher education and wedding and building a corpus for his retirement. All his goals are aimed at achieving a 12 per cent return with a time horizon of at least 15 years.
With the help of his financial advisor, Arun went down from 22 funds to four funds. Advised by his IFA, he first sold the units which were not subject to the short-term capital-gains tax and invested the money in new funds using a systematic transfer plan (STP). After one year, he sold the remaining units and has been investing the proceeds through STP. At the time of selling these funds, his portfolio had an annual return of around 14 per cent.
Arun's investments
When we talked to Arun about his asset allocation, he revealed that he is mostly an equity mutual fund investor. In his portfolio, he has one each of large-cap, multi-cap (now flexi-cap), mid-cap and small-cap fund. He invests a total of Rs 35,000 in Aditya Birla Sun Life Frontline Equity Fund, DSP Equity Opportunities Fund, HDFC Mid-Cap Opportunities Fund and L&T Emerging Businesses Fund. Continuing with his portfolio discipline, he plans to increase these recently started SIPs based on his increments.
To ensure 100 per cent safety of his emergency corpus, he mostly relies on fixed deposits and invests only a small portion in debt funds. He has Rs 10 lakh in FD and Rs 1 lakh in debt funds. Catering to his insurance needs, Arun already has a health cover of Rs 9 lakh provided by his employer. He is also thinking of purchasing a personal health cover. He also has term insurance of Rs 50 lakh.
While Arun still has a long way to go on his investment journey, with a neat and clean portfolio, he feels he is better prepared for all the ups and downs his funds have to offer. Like many, Arun wishes to retire early by the age of 45. But what makes his wish a class apart is his post-retirement ambition. An admirer of hotels, Arun wants to open his own hotel after retirement. "I am a fan of hotels. I love the way they cook, administer and serve food. Hence, I have started planning for accumulating the required capital," signs off the future hotelier.
This story first appeared in the October 2019 issue of Mutual Fund Insight.
Do you have an interesting story about how your investment journey unfolded? Share with us on [email protected]