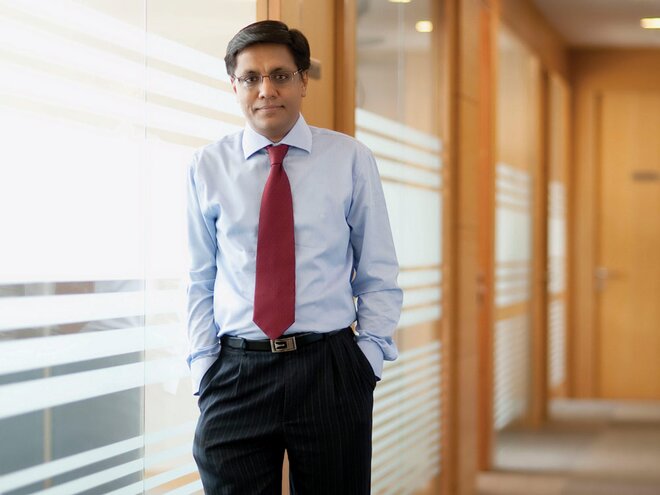 Mirae Asset India Equity Fund's transformation to a large-cap fund has puzzled investors. Aarati Krishnan talks to Neelesh Surana, CIO - Equities, Mirae Asset Mutual Fund of Mirae Asset about the reason for this, and other matters such as the slowdown in consumption and auto.
Many investors are concerned about the decision to convert Mirae Asset India Equity Fund into a pure large-cap fund, especially with narrowing alpha in the large-cap space. What is the reason for this decision?
The fund's exposure to large caps since inception - for the last 11 years - has been around 75 per cent and in excess of 80 per cent for the last three years. This has been in sync with its benchmark, which is the BSE 200, where large caps constitute about 85 per cent. In this context, the first and foremost point we would like to highlight is that nothing changes after this classification.
At the time of SEBI's reclassification, we had kept status quo. But subsequently, we observed that there was confusion among several external agencies as at some platforms the fund used to get reflected under the large-cap category and in some under multi-cap. Secondly, its assets grew at a relatively fast pace from about Rs 3,300 crore two years back to more than Rs 13,000 crore. Also, we continue to believe that there are many opportunities within large caps to deliver good risk-adjusted returns.
Considering all of the above, we deemed it fit to move it to the large cap category, mainly given that portfolio changes were not required. While reviewing this change, we also realised that the leeway to invest in mid caps in typical large-sized multi-cap funds is about 25-27 per cent against 20 per cent for the large-cap category. The important point is that the gap is only 5-7 per cent if we consider the current industry patterns.
When it comes to alpha, if you look at the data, even mid-cap funds have trailed the benchmark on median returns over the 10-year period. Some funds have outperformed, but that's why we argue that alpha comes from stock selection. We think that the recent discussion about active versus passive in India is based on short-term data and we need to see how this plays out over time.
To summarise, this reclassification in the long term removes the ambiguity, makes the scheme more scalable and, in our view, does not compromise on risk-adjusted returns.
Many promising sectors, take chemicals or consumer durables, for example, are only represented in the mid-cap space. These have been big wealth creators in the last decade. Would you not miss out on such opportunities by turning into a large-cap fund?
We do believe that in a growing economy like India, mid caps hold potential. However, the same is not at the expense of large caps, which also have significant potential to grow in India. Additionally, we have a leeway to invest 20 per cent in mid caps in the fund. Some of the smaller large caps and large mid caps are fungible, too, and thus weights can be recalibrated. The lines between the smaller large caps and the larger mid caps are quite blurred. In the last few years, we have seen PSU banks go from large cap to mid cap. Many mid-cap consumer-durable names have become large caps.
Some of the competing multi-cap funds take a very tactical approach to their allocations between large-, mid- and small-cap stocks and have had a more than 50 per cent exposure to mid and small caps a couple of years ago.
In our view, a relevant benchmark for a multi-cap fund is the BSE 200. But that index has an 87 per cent weight in the top 100 stocks today. So, any multi-cap fund which moves away a lot from that benchmark is taking on a lot of risk. While mid and small caps outperform in bull phases, the drawdowns can be quite severe in bear phases.
What's your sense of mid-cap stock valuations today? You were one of the first fund houses to gate flows into your mid-cap fund.
Mid-cap valuations have certainly come off and stocks are cheaper now both on absolute basis as well as relative to the Nifty. They are not as cheap as in 2013-14 but considerably better than a year ago. The froth in the category in 2017 has reduced. Considering this, we would recommend a 70:30 mix between large-cap and mid-cap allocation. We are launching a mid-cap fund with two objectives: to capitalise on current valuations and to complete our basket of offerings.
What are your filters to select mid-cap stocks?
The basic filters are the same as we use for large caps. The only difference is that in mid caps, we set a higher bar. We use four filters for stock selection - return on investments (ROI), growth, quality of management and our assessment of intrinsic value. On all these parameters, we expect a higher margin of safety for mid-cap stocks. For instance, if we look at a pre-tax ROI of 15 per cent for large caps, we would prefer, say, 18 per cent for mid caps. Most companies that have evolved from mid to large caps have passed these basic filters.
We are not a great believer in micro-cap investing, as the casualty rate is very high with very small companies. We have found that a certain scale is required for a company to survive business cycles and attract talent. A lot of wealth can be created even as companies scale up from being mid caps to large caps.
Today many high ROCE sectors are facing unforeseen disruptions. What's your view on the consumption slowdown?
We believe that the current slowdown is cyclical and not structural. The current trough level of cycle is in a glide path which has a strong upward growth trajectory. This is especially relevant for categories within the consumer sector where penetration levels are low. What has happened is that this slowdown has come at a time when consumer stocks were at an extremely high valuation; therefore the downside risks were higher. For e.g., an 80 P/E stock can collapse to a 40 P/E stock due to a slowdown. But even if there was no slowdown, an 80 P/E was not justified, and at some point it would have corrected! We believe that core businesses in consumption are strong and that consumption in India is a very powerful long-term theme. We have witnessed similar cyclicality in the past, like blip in automobile growth rate during 2014. The only challenge we see in consumption stocks is that of valuations.
The automobile sector is facing regulatory disruptions from threats such as the transition to electric vehicles. Isn't that structural?
Globally, the automobile sector is facing disruptions on three counts - from electric vehicles, ride-sharing and autonomous vehicles. Autonomous vehicles may not be relevant to India, but the other two factors need to be tracked. Therefore, players need to be evaluated on a case-to-case basis for their ability to withstand these disruptions. We have not been considering small-cap auto ancillary stocks in the last two years for this reason. But we do see the larger OEMs in passenger vehicles working on transition strategies. But certainly yes, investors cannot ignore this while selecting these stocks. For now, we believe that some of the automobile stocks are more impacted by the liquidity-driven slowdown in NBFCs and the same would change in a year or so.
Cyclical stocks such as corporate banks and infrastructure companies have led recent market gains. Have you participated in them?
Yes, in banking, we have been positive on corporate banks for quite a while. Pre-elections, some public-sector names in power, energy etc., were available at extremely attractive valuations and we acquired them. In infrastructure and construction, in general, we have struggled to find good names.
Today, we're reading many headlines about the 'death' of value investing. Do you believe in value investing?
We don't believe in pure value investing. We believe that pure value with no trigger for growth could be a trap. The way we look is to hunt for value within growth-oriented businesses. Basically, growth has to be a subset of value. We need to buy growing businesses at a reasonable valuation. So, if I had a choice between companies growing at 5 per cent, 12 per cent and 18 per cent and the market was fully valuing the last set of stocks, I would go for the companies growing at 12 per cent. Even if cheap, we would avoid businesses which would grow at say 5 per cent. Also, many times, we do get to buy growth companies with a good franchise when they are going through a short-term slowdown.
The price-earnings multiples of market indices, such as the Nifty 50 and Sensex, are at nearly 28 times. Is this worrying?
The P/E is optically higher because the denominator - earnings - is unusually depressed. Earnings are depressed for financials, especially banks, and their profits are expected to double in the next two years. Earnings are below normal even for pharma, telecom and consumption. A low return on equity for India Inc and the low corporate profits to GDP also suggest that this is an aberration and there is room for improvement in earnings. If we had a high P/E multiple on a high ROE and elevated profits to GDP, then I would worry about expensive markets. But that's not the case now.