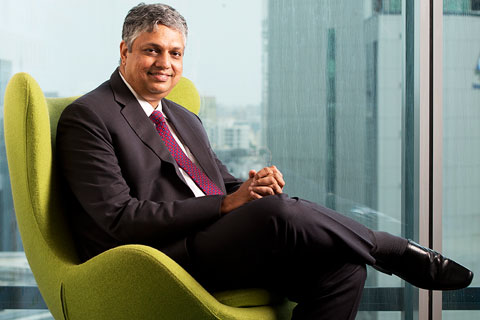 You've been quite spot on with your asset-allocation calls in the past. In September 2013, after the taper tantrum, you said equities were really attractive to buy. In September 2014, you said long-term debt funds were an attractive asset class. Both calls have delivered well, with both equity and long-term debt funds delivering double digit returns since then. But today, what would be your assessment? Would you choose equity or debt?
I would say short-duration debt is the safest asset class today, relative to other asset classes. In my view, neither equities, nor long-duration debt are particularly attractive.
First, mid and small caps have become less attractive on account of their valuations. Lately, after the big move in index stocks, even large caps have become highly valued and less attractive. This is barring a few exceptions. Therefore, we are of the view that if people have invested in asset classes with much higher risk in the last five years, it is time for them to turn more cautious.
Retail investors find it difficult to understand and choose the right debt funds.
For people who are not in the 30 per cent tax bracket, debt is a very attractive asset class. Mostly people think of mutual funds as an equity vehicle. I think it is important for them to think of mutual funds as debt vehicles also.
Even where investors don't want to actively choose debt funds, they can go for liquid funds, ultra-short or short-term debt funds. It is true that debt-fund returns cannot be as stable as fixed deposits, but if people are willing to take a three-year view, I don't know why they can't consider liquid plus, short-term debt funds or dynamic-bond funds.
The problem really is that people invest in debt funds with a three-year view but then look at their returns with a six-month view. Categories like dynamic-bond funds are likely to be volatile in the short term.
ICICI Prudential uses an in-house model that combines the Nifty P/E, book value, gilt yield and many other indicators to decide on asset allocation between equity and debt. What is that model telling you now?
It is indicating that the market is fully valued. In fact, all of the indicators we use are signalling full valuations, whether they are large caps, mid caps or gilts.
In debt also, today, we see no big upside from taking exposure to high duration. The models signals that investors now have to be far more cautious than they have been in the last five years. This is the outcome of very good returns from all the assets in the last three and five years. The Nifty 100 Index's 10-year return is 11 or 11.5 per cent and five-year return is 17 per cent. These are not small numbers.
An allocation to gold is another option for investors in the current market.
In the last three years, ICICI Prudential has been asking first-time investors to enter mutual funds through the dynamic-allocation fund, rather than equity funds. In the last five years, ICICI Prudential's Equity and Debt Fund (an aggressive hybrid fund) has done better than the Dynamic or Balanced Advantage Fund. So what would you suggest today?
Over the past couple of years, for lump-sum and first-time investors, we have been recommending dynamic asset allocation/balanced advantage and aggressive hybrid funds (erstwhile balanced funds) over investing fully in equity funds. I would prefer dynamic-allocation products over pure equity or aggressive-hybrid funds today, because of the latter's high past returns.
On equities, earnings growth has been lagging behind stock-price gains for some time. If there is an earnings catch-up, valuations may correct to lower levels, isn't it?
Yes, that can be one possibility. But an even bigger factor deciding both equity and debt outlook is oil prices. If oil prices fall significantly and earnings were to catch up, there would definitely be upside in both debt and equities.
Today, I can see the possibility of earnings catching up, but oil prices coming down appears to be a remote possibility. I think for interest rates to come down (which would drive both equity and debt returns), oil prices need to decline.
Are we heading towards a situation like August 2013 when the rupee depreciated suddenly and equity and debt markets in India saw severe volatility?
No, I don't think so. India's macros have been very well-managed in the last five years. Take the three indicators - fiscal deficit, current-account deficit and inflation - all three have been within manageable range. Our view is that while the rupee may have depreciated, we are not a fragile economy.
In fact, we will become a fragile economy if we don't allow the rupee to depreciate with other emerging markets. If all other currencies are depreciating against the dollar, it is best to allow the rupee to follow suit. Otherwise, our foreign-currency reserves will deplete very sharply in defending the currency. It would be useful to keep the rupee stable vis-a-vis emerging market currencies and not necessarily against the dollar.