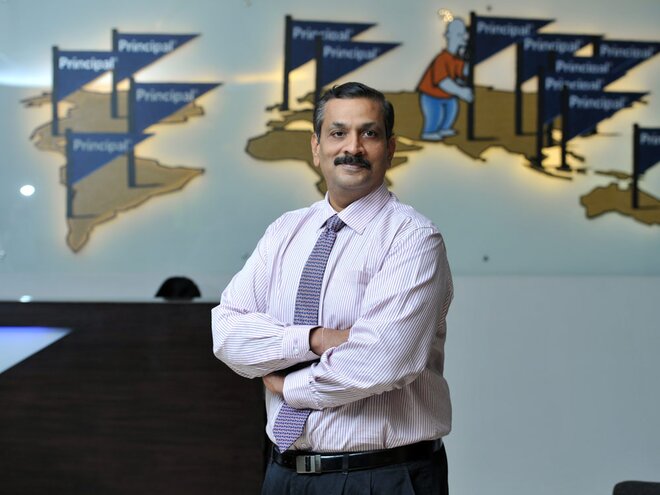 It didn't take P V K Mohan much to jump at the job of an analyst. In fact, he didn't even blink an eye before saying 'yes', though he was securely employed with a bank. Over the last two decades, Mohan has mastered measured risk-taking. As Head - Equity of Principal Asset Management, he oversees investor assets worth over Rs3,000 crore and manages four-star rated Principal Multi Cap Growth Fund and Principal Tax Savings Fund.
In an interview with Kumar Shankar Roy, Mohan talks about his habit of looking beyond the traditional favourites and his willingness to bet against consensus. The skilled fund manager, who expects large caps to do well for quite some time, is however mindful of the chances of sustained rate hikes hereon and their effect on the equity-market sentiment. He also talks about why he is selectively positive on media, infrastructure and realty stocks.
What made you enter the world of markets and what made you stay on.
What started off as an activity just to kill spare time after my PGDM -preparing an industry research project on refractories for a friend of mine - got me extremely interested in equity research. During one meeting, I went to present my report on refractories. I was offered a job as an analyst and without blinking, I chucked my bank job in favour of this job.
I enjoyed what I was doing and just kept at it all these years. Tracking several sectors and meeting so many companies, entrepreneurs, corporate executives made the job more interesting. As I graduated into the fund-management role, I enjoyed - and still enjoy - the thrill of finding stock ideas which give outsized returns
You manage Principal Multi Cap Growth Fund and Principal Tax Savings Fund since September 2010. Eight years is a long time to manage a fund. How have your investment strategy and approach evolved over the years?
In some sense, they have been the same - being more bottom-up in portfolio construction, looking for stocks that can grow earnings ahead of the peers and expectations, and availability at attractive relative valuations. What probably has changed is the breadth of coverage - the willingness to look beyond the traditional favourites, bet against consensus, be ahead of the market and tolerate short-term pain and volatility for better returns over a period of time.
How do you assess whether a company has widened its moat or not?
The key is to look at competitive positioning, sustainability and scalability of the business model in terms of increase in sales volume, better profitability, better cash flows. Assessing moats requires not just meeting the company but also competitors - both listed and unlisted - suppliers, distributors, ex-employees, etc. This gives a better understanding of why the company could do well on a sustainable basis and of its competitive strengths.
How do you decide the best use for cash on a company's balance sheet?
Cash is best utilised in the following cases:
1. Reinvestment in the core business if it has good growth prospects and generates good cash flows and return ratios
2. Diversification into related businesses which complement the existing business and have strong growth prospects,
3. Enhanced dividend payouts/buyback
What kind of poor capital-allocation decisions by the management scare you?
Some poor capital-allocation decisions are as follows:
1. Entry into unrelated businesses
2. Entry into capital-intensive businesses
3. Entry into a business where management has no competence or track record
4. Entry into a competitive business where the company has no competitive advantage
What's your opinion on banks, sectors related to discretionary consumption, industrials and domestic materials?
Retail business for banks continues to show good growth, which is likely to continue, though margins may come off slightly. Corporate-facing banks are just getting out of asset-quality woes and offer some value in today's market.
We are very positive about discretionary consumption and staples as demand conditions in the urban and rural markets are looking good. Our concerns about the valuation in the sector remain. In the absence of a revival in the capex cycle, we are selectively positive on the industrials sector. In materials, we expect the cement sector to do well. The strong volume growth is likely to sustain and should drive better pricing power going ahead.
What is your outlook on media, infrastructure and realty stocks?
We are selectively positive on these sectors. While ad spends may drive growth, there is the potential digital-disruption challenge for the media sector. Infrastructure asset owners are still struggling with balance-sheet concerns. The realty sector is plagued with huge unsold inventory. It is thus imperative to be extremely selective in these sectors.
If you actively manage the portfolio by changing asset allocation, how do you determine what asset classes are good and bad value propositions?
We have an asset-allocation fund that uses a four-quarter trailing P/E of the Nifty to determine the allocation between debt and equity. As the P/E moves higher, the equity allocation comes down and vice-versa. In pure equity funds, we do not change asset allocation. We manage them as equity funds with a long-term perspective and may sometimes hold some cash tactically.
You have two decades of experience in equity research and fund management. What was your best performance throughout a complete market cycle? What was responsible for this?
While I have been in the equity markets for over two decades, a large part has been spent in the proprietary portfolio/PMS platform. It's been around nine years on the mutual fund side and we had a very pleasing performance in the 2012-2014 period and again 2016-2017 period.
My sense is that in stable markets when the market is much more broad-based and willing to reward the stocks based on improving fundamentals, my performance has been good. Conversely, in times of flight to extreme safety or extreme focus on a few stocks, as we saw recently, it has been challenging for me. But broadly over a three-five-year period, which is a good period for fundamentals to play out, the performance has been good.
It is the stock selection and holding with conviction till the investment hypothesis plays out, despite short-term volatility and underperformance, that really makes the difference.
Investing has its ups and down. Did your investment thesis for some companies ever fail? What went wrong?
Oh yes, several of them! They were more in the form of missing some great compounding stories despite having looked at them very early. Of the stocks that I owned but which failed to perform, there were some PSU banks and some stocks in the construction and power sectors.
While the PSU-bank story is well known, stocks in the other two sectors failed due to inability to de-leverage the balance sheet, partly due to policy changes and partly due to management's inability to respond fast to the changing business conditions. Fortunately, these were small bets and the returns from several other stocks that did well kept the portfolio impact of these underperformers minimal
There are periods when nothing is fundamentally wrong with a quality stock, but it doesn't move for months or even years. Given that your job as an active fund manager is generating alpha, how do you deal with such situations?
The first thing is to make sure that the investment hypothesis remains intact. If that remains as anticipated, then just stay put till the market recognises the true value of the stock. Reassessing the hypothesis, and that too very dispassionately, is the most crucial thing to do. It also helps if there are other stock ideas in the portfolio that may play out in a relatively shorter time frame or play out at different points of time. There is then no undue pressure of short-term underperformance.
The RBI has hiked interest rates twice in the last few months. Equities do not perform well in a rising-rate scenario. How do you think this will play out?
Our base case is that the policy rates will not go up significantly from hereon. In such a scenario, if the earnings-growth momentum sustains into FY20, we do see the markets responding favourably.
Sustained rate hikes hereon would, of course, damage the sentiment of the equity markets but that would be a function of how oil prices behave and how the government manages its deficit. Most importantly, the outcome of the elections would also have a bearing on the short-term outlook for the equity market.
With clear categories and definitions, funds have less wiggle-room now. Given that most equity funds are betting on the same set of 300-350 stocks in general, what will drive alpha generation from here?
Alpha generation in large-cap funds may get challenging and would be lower going ahead. However, given the flexibility of the large/mid, multi-cap, mid-cap categories, we do expect good stock selection in the mid/small-cap space to drive alpha generation over the longer term.
Even after deep correction, mid-cap and small-cap valuations are relatively rich. Overall, will mid caps and small caps continue to underperform large-caps? What can trigger a turnaround?
It is quite possible that the outperformance of large caps continues for the next few quarters. However, we believe mid- and small-cap stocks with good earnings growth and good track record of execution would see better times going ahead, especially if the quarterly performance trends meet or are ahead of expectations. Over a three-five-year period, we expect mid/small caps to outperform large caps.