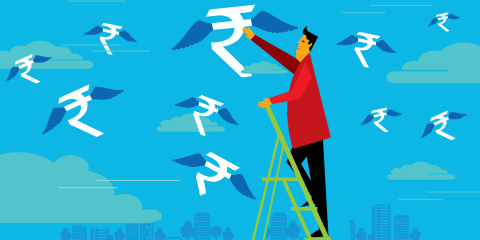 One of the main attractions of the NPS from its inception has been its status as the lowest-cost option for the investors looking for a market-linked retirement vehicle. But some of the NPS costs are stealthily creeping up.
Unlike mutual funds, where all the costs you incur on the investment are bundled into one clearly disclosed expense ratio, the NPS levies a battery of small costs in bits and pieces at different points in time.
So, there is the fund-management fee, which is charged by the investment manager to construct and manage the portfolio. This is deducted from the NAV each year. This fee, which started out at an ultra-low 0.0009 per cent of assets in 2009, climbed to 0.01 per cent in the next round of bidding. It is now set to rise further to about 0.10 per cent this year. This, however, still remains a very low level of fees for an actively managed vehicle, given that active equity funds in India charge an annual fee of 2.5-3 per cent of assets. Actively managed bond funds levy 1.5-2 per cent.
Then, the points-of-presence (agents or offices distributing NPS) charge Rs 125 on initial account opening. They also collect upfront 0.25 per cent of your investment (subject to a maximum of Rs 25,000) when you make your first as well as subsequent contributions. Transactions like switches, updating of your details, withdrawal, etc., are subject to a nominal charge of Rs 25.
In September 2016, PFRDA has also allowed advisors to charge an asset-based fee for their advice on the NPS. The flat fee of Rs 20 has been replaced by 0.02 per cent on your investment. This is, however, subject to a maximum cap of Rs 1,000. But to charge this fee, the advisor must enter into a formal agreement with you.
In addition to these, the record-keeping agency for the NPS levies Rs 50 for account opening and Rs 190 per year for account maintenance, adjusted every quarter from your units.
But with the PFRDA recently ushering in a second record keeper, these charges are expected to fall sharply from April 1. While the new agency Karvy Computershare will charge Rs 40 for account opening, Rs 57 for maintenance and Rs 3.36 for each transaction, NSDL is set to charge Rs 40, Rs 95 and Rs 3.75 for these services.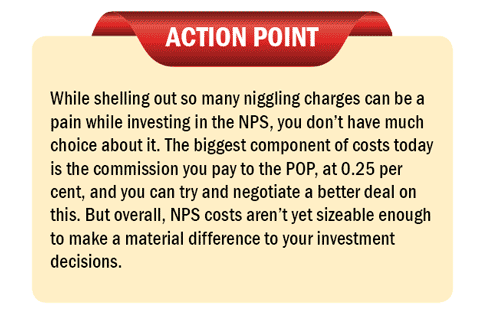 This article is part of a series of articles titled How the NPS has changed.