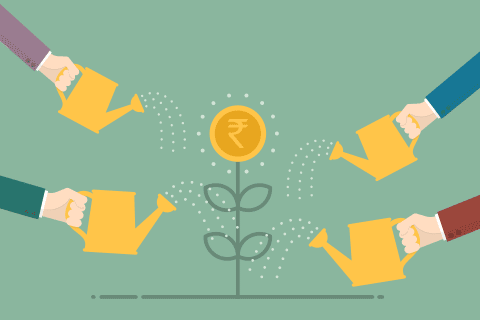 Infosys, the poster-boy of economic reforms and the over $100-billion Indian IT services industry, finds itself in a strange spot these days. Non-executive founders, led by NRN Murthy, in the past 2-3 months have regularly attacked Infosys management and the policies adopted by the current leadership. First, it was about CEO Vishal Sikka's salary. Then, the spotlight was on golden hand-shake given to two former executives. Now, Murthy has expressed his distaste for the salary hike given to chief operating officer Pravin Rao. However, domestic institutional investors like mutual funds haven't run away from Infosys. A Value Research analysis shows that top funds, which held big stakes in Infosys, have more or less hiked their exposure. At the end of February, as many as 482 schemes held Infosys shares worth about Rs 19,600 crore.
Data shows that the top 10 MF schemes that holds the biggest chunk of Infosys shares are HDFC Equity Fund, HDFC Prudence Fund, SBI ETF Nifty 50, ICICI Prudential Value Discovery Fund, ICICI Prudential Focused Bluechip Equity Fund, Birla Sun Life Frontline Equity Fund, HDFC Top 200 Fund, ICICI Prudential Balanced Advantage Fund, SBI Bluechip Fund and Franklin India Prima Plus Fund. As a percentage of fund assets, Infosys shares account for between 2.8% to 6.4% of these big funds.
With Murthy and former executives like Mohandas Pai and V Bala (both were chief financial officers at Infosys) now regularly finding problems with current managment, it is important to analyse if MFs have curtailed their exposure. The Rs 17381-crore HDFC Equity Fund, managed by Prashant Jain, hiked its Infosys exposure from 107.72 lakh shares in Jan-17 to 111.32 lakh in Feb-17. Similarly, HDFC Prudence Fund, again managed by Jain, upped its exposure in Infosys to 103.59 lakh shares from 77.68 lakh, or 33%, in just a month.
Amid growing attacks by Infosys non-executive founders and former executives, Infosys board that has dug its heels in and which is willing to defend its various decisions. The legitimacy of the board's decisions have been buttressed by the fact that a number of them have been put to vote and have been cleared by a large percentage of shareholders. However, with Murthy, the key founder, continuing to state that his concerns remain and calling for contrition on the part of the board and accountability on its part, there have worries among many investors. However, mutual funds, for the moment, do not seem too bothered. Unlike the Tata-Mistry battle, there is a certain belief that this battle could potentially play out very differently because of the far lower shareholding of the founders of Infosys.
SBI ETF Nifty 50, the third biggest Infosys stakeholder among MFs, added about 7 lakh shares to its kitty to end Feb-17 with 9.231 lakh shares compared to 85.42 lakh in Jan-17 end. Others like ICICI Prudential Focused Bluechip Equity Fund, Birla Sun Life Frontline Equity Fund, Franklin India Prime Plus Fund hiked their Infosys expsoure by 1 lakh to 3 lakh shares in Feb-end. Among the top 10 schemes, ICICI Prudential Value Discovery Fund and HDFC Top 200 Fund chose to maintain Infosys share exposure constant in Feb-17 when compared to Jan-17.
Beyond the top-10 funds, schemes like Reliance Tax Saver (ELSS) Fund, and UTI Mastershare Fund have also increased Infosys exposure. Overall, MF schemes hold 1937.54 lakh shares in Infosys at the end of Feb-17 compared to 1874.99 lakh shares at Jan-17 end.
Fund managers were shy about talking directly about a core holding like Infosys. They usually avoid commenting on corporate governance issues at companies they hold in their portfolio. One senior fund manager said: 'We reject companies with less than stellar corporate governance practices. The company you have mentioned doesn't have any such poor track-record. It is more a case of opinion between old and new leaders. We will have to see if this drags on.'
Traditionally, in India, it is the promoters (be it private or government) who have wielded untrammelled influence in deciding strategic direction as well as day-to-day operations of companies. As both domestic & foreign institutional shareholding has increased substantially over the last two decades, there are signs of rise in shareholder activism in questioning the rationale of some of the practices & decisions by the promoters. Even independent directors in some instances have started playing a more pro-active role.
In a previous interview to Value Research, Ajay Bodke, CEO & Chief Portfolio Manager - PMS, Prabhudas Lilladher, said: 'Creditors & lenders need to shed their passivity & join activist shareholders in opposing questionable decisions....Institutional investors have lately questioned certain decisions in venerable companies like Maruti Suzuki, the Tata Group, Infosys, etc. This whiff of transparency needs to be applauded by all the stakeholders.'
| | | | |
| --- | --- | --- | --- |
| Scheme Name | Assets (%) | Value (Rs Cr) | Shares (Lakhs) |
| HDFC Equity Fund | 6.48 | 1126.97 | 111.32 |
| HDFC Prudence Fund | 5.9 | 1048.74 | 103.59 |
| SBI ETF Nifty 50 | 6.18 | 934.52 | 92.31 |
| ICICI Prudential Value Discovery Fund | 5.30 | 870.63 | 86.00 |
| ICICI Prudential Focused Bluechip Equity Fund | 5.75 | 720.54 | 71.17 |
| Birla Sun Life Frontline Equity Fund | 4.50 | 699.17 | 69.06 |
| HDFC Top 200 Fund | 4.99 | 680.25 | 67.19 |
| ICICI Prudential Balanced Advantage Fund | 2.80 | 499.90 | 49.38 |
| SBI Bluechip Fund | 3.55 | 412.32 | 40.73 |
| Franklin India Prima Plus Fund | 3.92 | 410.02 | 40.50 |