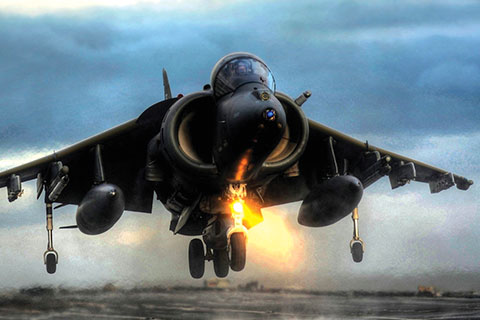 Pradeep Kumar Arora earned his living as a fighter pilot in the Indian Navy by flying the Sea Harriers. "You will be surprised by the need to keep a cool head when you have 21,500 lbs of thrust at your disposal," says Arora, who has adopted the same policy for his investments. Though emotion and his wife's preferences have played a big role in real-estate investments, Arora - now working for an MNC at Hyderabad after 26 years with Navy - utilises data and trends for his other investments, which brought him to Value Research.
Pradeep has been living with just his wife and a Dalmatian (dog) at home since his children moved out. "My formal education stopped as a graduate in science but the informal education in life continues," says the sprightly 'young' man.
Pradeep's father has been his biggest influence. "He was a self-made man who lived by practical principles and was not very money-minded. He had a poor childhood but by dint of his courage to make a leap, he provided the next generation a different starting point in life. He surprisingly had some great investments in stocks that paid off handsomely - Thomas Cook, Hero Honda and Reliance. He held them for over 20 years (till practically the end of his time) and they repaid him handsomely," recalls Pradeep.
Recalling his first investment, Pradeep said it was reinvesting every year in the National Savings Certificate and it worked. "It was great for tax and for returns (20 per cent simple interest per year). But then they increased the tenure to six years and then more and reduced the rate of interest and I quit recycling after sometime," he quips.
But Dalal Street wasn't as kind when Pradeep made his debut. "My first stock was Bindal Agro, and it was a dud. I still have the physical certificate lying around somewhere," he says.
It was in year 2000 or so that Pradeep and Value Research first met. As it so happened, he had just bought his second computer and a dial-up connection, and was getting to know the Internet. "I came across the website through a Google search and have been a user and advocate of the site ever since," he says. VR is the only resource that he consults for investments. "I use your star rating to make my first cut. Next is the performance over three years and less as compared to its peers. Then I go by the fund house. After that I try to see manager interviews, fund reviews and corpus size," Pradeep says about his methodology.
His tryst with mutual funds was a triple date. "I had three funds in my first brush. Reliance Vision, Reliance Diversified Power and HDFC Prudence. Only HDFC Prudence survives. It was purchased at a NAV of Rs 49," the investors says. HDFC Prudence has had a rough patch lately, but its fund manager, Prashant Jain, is the reason the scheme survives in Pradeep's kitty.
Curiously, Pradeep has a rather "embarrassing" number of funds in his portfolio. There are five liquid funds, five bonds, one gold fund and as many as 18 equity funds (yes, 18). Liquid funds are being cleaned up slowly due to the three-year long-term-capital-gains rule. "My biggest allocation is to Franklin India Ultra Short Term Bond. It is my favorite spot to park funds for a short term as there is no exit load and great returns and hardly any downturn," he opines.
The break up in percentage of his investment assets is 25 per cent equity and equity funds, 20 per cent long-term bonds/MIPs; 63 per cent FDs/liquid/EPF; and 2 per cent gold funds. "I do not have SIPs," pat comes the reply when you ask him about the popular investment route.
Investments have helped Pradeep ensure that his savings stay ahead of inflation and grow also. Financial goal-based investments have given him great clarity of how much money he has towards each goal. Like many others, previously he used to invest without having goals and was never certain of how much money he could spend towards a certain goal. "Today, I have various portfolios dedicated to each goal. The risk profile of that portfolio is determined by the criticality and the time available to achieve that and not by my age. This has worked very well for me," says Pradeep.
A firm believer in do-it-yourself, Pradeep also imbibed financial prudence from his father. That shows in his approach. "He taught me the need to have a bread-and-butter (B&B) corpus and a jam-and-cheese (J&C) corpus. My B&B corpus is in EFPO, FDs and ultra short-term bonds. My J&C corpus is in equities, equity funds and long-term bonds. I continue to split my saving capacity into the two broad buckets and then sub-divide them further into financial goals."
This B&B and J&C model has helped him. "Since I follow the concept, I have ridden every market correction with relatively less stress. I just stop eating jam and cheese. I have not made much money from corrections also due to this. Once I tried to invest in some sector funds in IT (was the flavor then) but they sank sadly with the dotcom bust," he admits.
Pradeep credits Value Research for being very instrumental in guiding him. "The quality of data, portfolio tracker and some articles have helped me shape myself. I visit your website daily. For a mutual fund website, you have some superb data on stocks also," says the fifty-six-year-old.
Pradeep's ability to stay the course has come at a cost. "I have had a bad experience with portfolio-management services and a very bad experience trying a customised private solution in bullion. Both of them were at the total discretion of the fund manager. They had very little transparency, nil regulatory oversight and high management fees. I got screwed and lost money. The bullion lesson taught me to never trust the relationship manager who is assigned to you by a bank. His target is take money out of your pocket, not put money there," Pradeep says.
What are the other investing lessons that Pradeep would like to share? "Invest rather than just save. Divide your investments into various financial goals - studies/marriage/car/house, etc. This gives great visibility to you and therefore more control and more peace of mind. Passively track your investments periodically. VRO does a great job of making it easy," he signs out.
This story was originally published in January 2017.