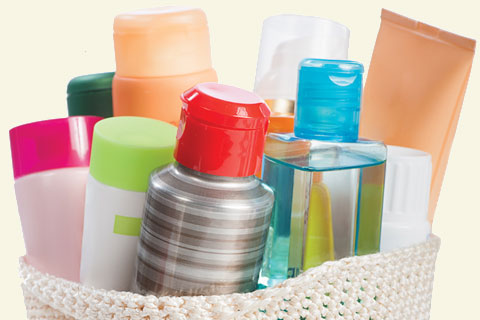 The Indian FMCG sector did sales of $47 billion in 2015 and is projected to grow to $100 billion plus by 2020. Personal care and food corner two-thirds of FMCG revenues (source: IBEF) in the country. Any India consumer story cannot be complete without these two essential industries.
Personal care is one of our most basic requirements. All of us and our children are going to use personal-care products all through our lives. All of us are going to use toothpaste every day of our lives; we are always going to wash with soap, and oil our hair; and our clothes will need detergents to get them clean.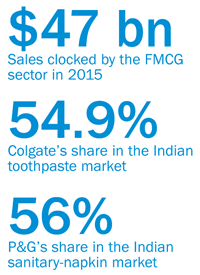 Personal-care products are addictive products. Once you get hooked to one particular brand, you will keep on going to that brand. If it's not in stock, you'll ask the shopkeeper or mall attendant when your brand is going to be re-stocked. Even children nowadays have their own preference for particular brands of soap, shampoos and creams. This gives personal-care companies a power over their customers. Personal care accounts for half of all consumer spend in the country. And this is what will drive its revenues in the years to come. Here are some FMCG brands that we think are likely to remain dominant players in their fields even a decade from now.
HUL
HUL is the big daddy of FMCG companies in India. There cannot be any discussion on the FMCG sector in India without HUL. That's not for any small reason. The list of brands that the company owns is part of the everyday life of Indians. In soap, HUL sells Lux, Lifebuoy, Dove, Pears, Liril and Rexona, among others. In shampoos it owns Sunsilk, TRESemme and Clinic Plus. In detergents, it carries Wheel, Rin and Surf Excel. In teas, it has Brooke Bond, Taj Mahal, Red Label and Taaza.
In FY16, HUL generated sales of over ₹31,000 crore. Think about it - ₹31,000 crore. The all-encompassing range of HUL's products will ensure that HUL is going to be part of the Indian consumer story for decades to come.
Colgate Palmolive India
Colgate has a market share of 54.9 per cent in the toothpaste market in India. That means one out of every two Indians uses a Colgate product every day. That's a tough hurdle for any competitor to beat. On top of that, it has a presence in five million retail outlets. In recent months, there has been a lot of noise about how the new entrant Patanjali threatens Colgate. True, Patanjali has taken away some market share from incumbents, including Colgate, and could hurt the toothpaste major more but Colgate has on its side a top-of-the-mind share that Patanjali cannot match. Also keep in mind that Colgate has fought off a number of local and global competitors in India in the past. Whatever the threat Patanjali poses, an Indian consumer story without Colgate does not appear likely.
P&G Hygiene and Health Care
P&G's Whisper sanitary napkins fulfil a basic demand that will only go up with population growth in the country. A large number of Indian women still use cloth during the menstruation period. This will be Whisper's target market in the years to come. P&G has cornered 56 per cent of the lucrative market. Its closest competitor J&J's Stayfree has a market share of 28 per cent. The growth in the use of sanitary napkins in the country will see P&G as one of the primary beneficiaries in the years ahead.
Here you can read about the other articles in this series