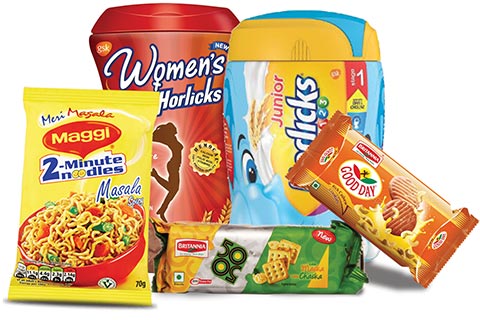 Food and beverages are an integral part of any consumer-demand story. Imagine starting your day without your tea or coffee or your evening tea without chai-biscuit. The food-and-beverages industry has much more to offer and includes staples, cereals, baked stuff, health beverages, snacks, chocolates, processed foods and dairy products, among others.
India is a huge food market, even by world standards. It is the largest milk and buffalo-meat producer in the world; the second largest in eggs, goat meat, fruits and vegetables; and the third largest in broiler meat. The food-processing industry constituted 14 per cent of India's GDP through manufacturing. It is at $258 billion in FY15 and is expected to grow to $482 billion by 2020 (source: IBEF).
The Indian food-processing industry has two peculiar features. The first is that it is dominated by the unorganised sector, which has corned 42 per cent of the market to itself. Small-scale industries have taken another 33 per cent of the industry, leaving the organised sector with only 25 per cent of the market.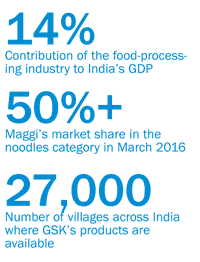 The second is that even in the organised sector a large number of top players are unlisted: Amul, the largest food-marketing company in the country is a cooperative. Parle, one of the largest biscuit manufacturers in the country and operating other iconic brands such as Frooti and Bisleri, is a family affair. Packaged ready-to-eat food manufacturer MTR is similarly out of investor hands. Hence, investors looking to invest in this industry have few choices, but some among those are heavyweights in their own right and brands that you just cannot ignore.
Britannia
Britannia is India's biscuit behemoth, with iconic brands like Tiger, Good Day, 50-50 and Milk Bikis, among a host of other brands. You would be hard-pressed to find someone who has not grown up on Britannia biscuits. Britannia's biggest strengths include its brand equity and distribution strength, which are likely to ensure that the company will still dominate the biscuit market in the country in the years ahead.
Nestle
Consider this: "As per Nielsen data, Maggi's market share inched up to 50%+ in the noodles category in March 2016 from 33.3% in Dec 2015" (source: Kotak Securities). This is after the excess-lead fiasco that put Maggi off the shelves across the country. Nestle's Maggi is a national icon. Most of us and our children have grown up on Maggi. College students take to this quick food voraciously. It's the go-to food when you don't want to eat anything else. It is a mid-meal when you are hungry a little more. It's difficult to imagine quick foods without Maggi. Over the decades, the company has created such mindshare that new entrants like Patanjali just cannot match. Maggi and Nestle are likely to remain India's favourite food brands for well into the foreseeable future.
GSK Consumer Healthcare
GSK Consumer has cornered half of the health-food-drink market in India, with a value market share of 46.8 per cent (source: company, AC Nielsen data). Its iconic Horlicks brand is a household item across the country, especially in homes with kids. GSK has launched brand extensions into Women's Horlicks, Junior Horlicks and Mother's Horlicks, which are likely to cement its position further in the health-drink market. GSK's products are available in over two lakh outlets in 27,000 villages across the country. Like Britannia and Nestle above, Horlicks has a sustainable advantage that is likely to keep the product still in demand years from now.
Here you can read about the other articles in this series