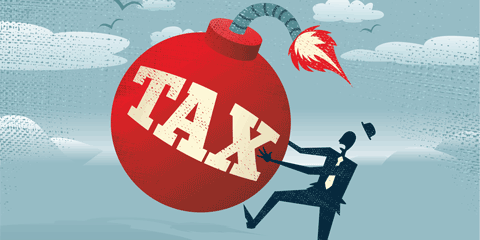 Even as the finance minister is getting ready to present Union Budget on Monday, several equity mutual fund investors are anxious about a likely change in long-term capital gains tax on stocks. A few months ago, there were unconfirmed reports that the government is likely to introduce long-term capital gains tax on equity investments. At present, long-term capital gains tax is zero on equity investments held over a year. However, many market participants now believe that the government is unlikely to tax long-term capital gains on equity, but it may increase the holding period to qualify for long-term capital gains tax to three years. Currently, equity investments sold after a year qualify for long-term capital gains tax. If equity investments are sold before a year, investors should pay a short-term capital gains tax of 15 per cent.
"I think the government wants uniformity among different investment options like equity and debt. That is why a lot of people believe that the holding period may go up to three years," said a senior mutual fund manager. If investments in debt mutual funds are sold after three years, they qualify for long-term capital gains tax of 20 per cent with indexation benefit. In fact, the government changed the capital gains tax treatment on debt mutual funds only in the last budget. The holding period was increased to three years from one year the tax rate was also changed to 20 per cent with the indexation benefit.
Now, the big question: should investors be really worried about the proposal? In fact, we received a query from a reader last week, asking whether she should sell her equity holdings and book long-term capital gains before the budget to escape the likely changes. Read: Fear of long-term capital gains tax on equity.
However, such quick-fix solutions are likely to backfire in the long run. Investors should remember that they are investing in equity to achieve long-term goals. The favourable tax treatment was just an additional benefit. They should also remember that they were not redeeming their equity mutual funds every year. In fact, we ask investors to put money in stocks only if they have an investment horizon of five years or more. In such a scenario, the increase in holding period won't really make such a big difference. Of course, it changes the way you would review the performance or rebalance your portfolio. Now, you have to be mindful about the short-term capital gains tax while performing those exercises.
"I think the initial reaction is a little exaggerated. It is coming from traders who hardly hold stocks. I don't think retail investors have anything to worry about. In fact, it would be a positive change," said a mutual fund manger with a private sector mutual fund. "We, both fund managers and investors, always speak about long-term performance. But we were always looking at short-term performances. Now, we can focus on the three-year performances. It will make life much simpler," added the fund manager.