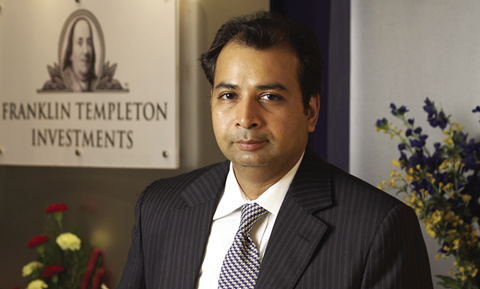 If you were to ask Sukumar Rajah which sport reminds him the most of his profession, he would probably pick golf. Every golf course has its own quirks and so does every market cycle. Every time you tee off, your ball may either glide beautifully over the fairway or land up in the nearby lake. Good judgement and restraint are far more important to this game than instant reflexes or brute strength.
Sukumar Rajah, currently the Managing Director and Chief Investment Officer of Asian Equity at Franklin Templeton, earned his stripes managing equity assets at the firm, having stayed on with the firm since inception (it was originally India's first private sector mutual fund, Pioneer ITI).
The Indian stock market in the early nineties was a veritable Wild West, with stock prices controlled by cartels and fundamentals taking a back seat to manipulation. Yet Sukumar, along with his colleague K N Sivasubramanian, built up a formidable track record for funds such as the Franklin India Prima, Bluechip, and Prima Plus, which stood the test of three market cycles by sticking unswervingly to a bottom-up, cash-flow-based approach that ignored market fads.
Value Research met with Sukumar during a recent flying visit to India to find him as calm and unruffled as ever. He took his time to give measured responses to a barrage of questions.
Fundamental shift
I start the interview with the top-of-mind question. Having lived through many cycles in Indian markets since 1994, does he really believe that this latest bull run will turn out to be 'secular'?
Making the point that there can be no one-way bull market, Sukumar offered a fresh perspective on why he thinks Indian markets are set for good times over the next 4-5 years. More than the improving macros or the election result that everyone is talking about, he believes that the end of crony capitalism is the best thing that has happened to Indian markets in the last one year.
"Checks and balances against crony capitalism are triggering a fundamental shift in the Indian corporate sector. So far, some people were in business purely because of connections. They were able to bag licences or get banks to fund them. But that business model may no longer work. This will force consolidation into companies that are more disciplined and generate better returns on capital."
This improvement in the quality of Indian companies, he believes, will merit a higher valuation for the Indian market, even as corporate profits also bounce back from a low base.
He also thinks that this is why this recovery will not be as swift as some impatient folks expect. A good part of the growth in the earlier cycle originated from not-so-great players in sectors such as power, infrastructure and other sectors. "But with those players no longer viable, a new set of entrepreneurs have to step in to fill the vacuum. This re-adjustment can't happen overnight," he reasons.
Retail investors and rear view
Now that he has an outsider's perspective of India (he is based in Singapore), why is it that foreign investors are always more bullish about India than domestic investors? Again, instead of lashing out at the follies of retail investors, Sukumar offers a mature perspective.
"That is not an apples-to-apples comparison. When you are speaking of domestic investors, by and large, these are retail investors. But when we speak of foreign investors, we are essentially talking of institutional investors. Their framework is quite different. Retail investors not only in India but in most parts of the world are usually focused on the rear-view mirror and go by sentiment. I am not sure if that is going to change dramatically, even in 20 or 30 years," he explains, flashing a rare smile.
He reckons that one factor that is holding back equity allocations in this cycle is large funds locked in real estate by HNIs. "Some people not only have 100 per cent of their money in property, they have also leveraged that money. Now, with many projects failing to take off, they don't have the liquidity to allocate money to stock markets, even if they are positive."
Personal investments
I start off with my personal questions, which, I can sense, the star money manager isn't totally comfortable with. So where are his own investments parked? "Mostly in equities, via the mutual fund route," he says briefly.
Though he's picked a fair share of winning stocks for his funds, he "hasn't invested directly in a stock for ten years now." Knowing that Franklin Templeton is quite a stickler for avoiding conflict of interest, I ask him if being stationed in Singapore has convinced him to invest more outside India.
Sukumar says that, with the bulk of his expenses now in foreign currency, he realises the need to diversify, but the bulk of his equity money is still in Indian equity funds. Do the wild swings of the rupee not spook him? He admits that currency volatility did impact him quite badly in 2013, but that he is willing to "simply take the brunt of it."
What about passion investments like art? Everyone seems to be dabbling in them nowadays. Sukumar laughs. "I don't understand art at all. Some people really like art. But I think others have gotten in simply because prices have been going up. To get into any investment without understanding it in detail is dangerous. You cannot offload the responsibility for your decisions on to your advisor," he says.
A question about his real estate investments (favourite of every Indian HNI) provokes a more vehement reaction. Sukumar says he 'does not like real estate as an investment category at all', because it is so high-maintenance. "Whatever property I have bought is only for my own use. Real estate comes with a very low yield and there are a lot of risks that people don't appreciate. If you leave it with a tenant, there are risks and legal issues too. I don't have to do anything on a daily basis to manage my equity or fixed income portfolios. But with property, there's always something happening."
New role
Time, he explains, is something that is in short supply since he relocated to Singapore two years ago. His seven-year-old daughter, he smiles, keeps him quite busy. "There are a lot of places she wants to be taken to in Singapore. In Chennai, there weren't that many new places to see."
His current role also appears to be quite a plateful. He now oversees India equity teams, manages offshore money and a few Asian products and also helps design the investment processes for Asia.
So, is he still pursuing his favourite sport - golf? While in the Chennai office, Sukumar was known to be quite a keen golfer, travelling to renowned courses around the world, playing every Sunday and even practising putts at his corner office if he could snatch a minute after market hours.
He says that he has cut back on it because he wanted to spend more time with his family. "On weekdays, I just about have time to have meals with my family and spend about half an hour with them. I only occasionally get time do something on my own, like golf practice," he says.
But the only part of the chat where he strikes a wistful note is when I ask him which role he has enjoyed the most in his three-decade career. "The most enjoyable role was in the early times, where it was entrepreneurial. Now having become part of a big and complex business, there are less degrees of freedom. But that is how you grow."
He may be too modest to go into the details, but Sukumar was one of the first Indian fund managers to spot the promise in the Indian software business model. His decision to buy into stocks such as Infosys, TCS and HCL in 2001, after the dot-com crash, paid off handsomely for Franklin Templeton's equity funds.
So what's the mantra for success that he would like to share with investors? "To succeed in the stock market, you have to develop the qualities of diligence, mental discipline and maturity. You also have to be open-minded. The world keeps changing. Some trends repeat themselves, some don't. There will always be periods of panic and euphoria in the market. It is necessary to have the maturity not to get carried away by them. The more cycles you see, the better you get. But I don't know if I am as mature as I want to be. I keep working on it," he admits with characteristic under-statement.