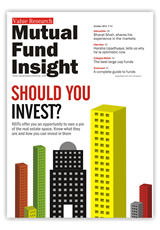 The October 2014 issue of Mutual Fund Insight: REITs: Should You Invest is available now.
Despite all kinds of problems, the Indian investors' love affair with real estate is undiminished. Now, SEBI has set out the regulations to enable Real Estate Investment Trusts (REITs), which are somewhat like real estate mutual funds. Will REITs live up to their promise? Will they become an easy and safe way to invest in real estate? Read Value Research's detailed analysis in this month's cover feature.
Our interview of the month is with Harsh Upadhyaya, CIO-Equity, Kotak Mahindra AMC. In an exclusive conversation, Upadhyaya tells us of his optimism about the markets and shares the framework used to manage equity funds at Kotak.
In Interaction, we've interviewed Bharat Shah, Executive Director of ASK Group. Shah talks to us about how he built his investing methodology and how his views on investing in Indian markets have evolved over two decade career as an investment manager.
In Category Watch and Fund Analysis, we have examined the core Large Cap category, along with a detailed analysis of six hand-picked funds that our analysts recommend.
As always, in The Plan, our experts have analysed an actual investor's portfolio in detail and suggested a complete restructuring plan. In Buy Sell Hold, our experts answer investment queries from our readers.
And of course, there are regular features like Fund Radar, Fund Diary, and columns from writers like Vivek Kaul, Sanjeev Pandiya, Jay Dubashi and Aarati Krishnan.
Like every month, our comprehensive Scorecard of Mutual Fund data is a guide to practically every fund in the country.
The issue is now on news stands. You can also subscribe to the printed version, or buy a digital subscription (PDF + online reader) instantly. You can also buy a digital copy of this issue without subscribing.