MOIL is the country's largest and globally the fifth largest manganese ore producer. It has reserves of 73.5 million tonne that constitute about 44 per cent of the country's manganese reserves. The company has ten mines located in Maharashtra and Madhya Pradesh and two wind farms, also in MP.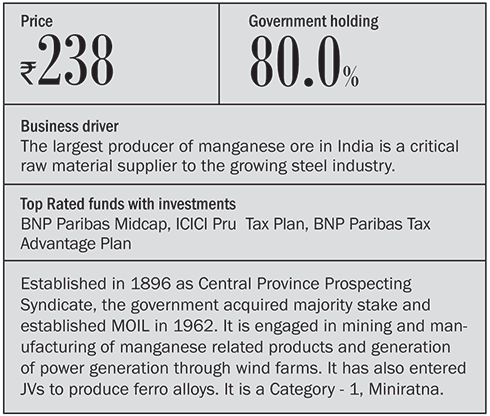 Strengths
On average, MOIL's reserves contain manganese content of around 40 per cent and higher which is considered high-grade ore. MOIL's product portfolio includes manganese ore above 46 per cent, manganese ore between 44-46 per cent, electrolytic manganese di-oxide and ferro manganese. The company commands a market share of 50 per cent in India (FY13) up from 42 per cent in FY12. Another advantage is being a low cost producer. The advantage manifests itself in the company's high margins which averaged at 75 per cent in the last five years. These kind of margins put MOIL ahead of even global peers. Likewise, the company with cash reserves of ₹2,710 crore accounts for 68 per cent of the current market cap.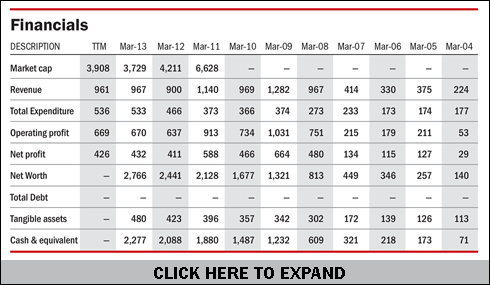 Further, the company has a relatively low capex requirement compared to the size of the operations it runs. The current capex guided by the company stands at ₹200 crore for the current year and ₹400 crore in the following year and the cash in its books can cover MOIL's capex many times over. The company has plans for investments for development of its existing mines and for this purpose it has taken up projects at mines at Balaghat, Chikla, Ukwa, Munsar and Gumgaon.
MOIL is expanding its current capacity from 1.2 million tonne (FY13) to 1.5 million tonne by FY16. That means sales volumes are likely to remain flat this financial but could see an improvement in the following year. An advantage for MOIL is its debt free status, which provides it with opportunities for brown field as well as green field projects. MOIL is in the process of searching good mining property outside the country and has invited open ended expression of interest for potential investment opportunities, primarily for manganese ore and other minerals.
Globally, the world's biggest mining company BHP Billiton has raised prices for its November 2013 shipments by around 2 per cent. Chinese steel mills have also hiked manganese alloy prices in November. All these price movements are good indicators that the prices may be stronger going ahead than they have been in the past. The weakening of the rupee now provides additional cost barriers against cheap ore imports. MOIL has raised its prices by between 2-14 per cent for the December 2013 quarter. As it stands, prices are expected to hold stable for the next couple of quarters.
Concerns
Even though MOIL witnessed increase in volumes by a little under 7 per cent in the September 2013 quarter, top line growth remained flat. This was on account of lower realisations which fell 12 per cent over the previous year. Another factor that impacted this quarter's mining was the heavy rains. Moreover, high raw material costs and low realisations have hit margins hard. Ebitda margins fell 9.91 per cent to 37.2 per cent. Ebitda was down 21.9 per cent while bottom line was hit by 16 per cent.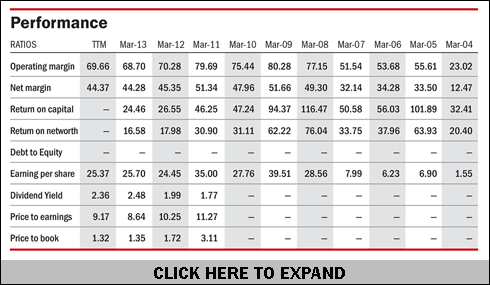 Valuation
MOIL trades at a little less than 10 times its earnings. The company with its huge reserves, high quality ore and low cost of production should remain in good stead for a long time to come. But this is a commodity play and will continue to be impacted by commodity prices. Watch out for manganese ore prices which can threaten to hit bottomline and earnings hard. Another concern is softening of manganese demand in the domestic market. Given the low current valuations and the cash rich position, MOIL appears an attractive value pick.