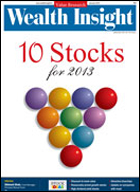 We are into that time of the year when predicting the future seems to be the general vocation with soothsayers predicting the year ahead, who just a few weeks ago predicted the end of the world. There are numerous stock recommendations for 2013 that you would come across. Our list of ten stocks is not a prediction, it is a lot more than a list of ten stocks.
Analysts at Value Research constantly work towards understanding business and stocks. We go a lot more deeper to analyse stocks with rigour to ascertain what exactly influences stock prices. According to the Efficient Market, stock prices are as likely to go up as they are to go down on any given day, irrespective of their movements in the past. Take for instance, the first half of 2012, when the Sensex had marginal gains between January and May. However, the same index soared over the next seven months to gain 20.5 per cent, and ended with full year gain of over 25 per cent.
What triggered this rise in the second half was a spate of announcements and measures by the Government that provided the necessary impetus to the market. The Sensex ended the year close to the psychological 20,000 mark. The improved market sentiments have helped the fortunes of the markets to recover. We arrived at a list of ten hand-picked stocks across sectors that are among the best and have bright prospects in 2013 and beyond. As always, we intervened with a few filters to qualify these stocks. There is no tip for an exit price or time to stay invested in these stocks. You need to invest in them with a three-year time horizon to benefit. Happy Investing.
To read in detail about the ten stocks mentioned in the cover story..
Subscribe the January 2013 issue of Wealth Insight now.