I am 43 and my wife is 40 years old and our total monthly income is Rs 45,000. We have two kids aged 6 (son) and 14 (daughter). I also earn Rs 60,000-Rs 90,000 annually from our agriculture land and we live in our own house. I am paying Rs 46,500 annually as premium on three policies: a mediclaim policy of Rs 2 lakh since 2006, LIC Jeevan Shree with Rs 5 lakh sum assured and LIC Jeevan Saathi with Rs 2 lakh sum assured. I have investments across 34 funds, that were mostly bought on distributor advice. I want to accumulate Rs 15 lakh for their higher education and Rs 50 lakh towards my retirement. Please suggest improvements that can be made in my portfolio so that I am able to achieve my goals.
– Upendra
You come across as an impulsive investor who invests without clarity. Investments in 19 of the 34 funds have been done during the NFOs. A new fund offer is best invested in if it offers a unique idea or it compliments the missing link in your existing portfolio. If the lure of Rs 10 NAV pushed you to invest in these, you have been a victim of ignorance with mutual fund investing. Further, you need to face the reality that you have started focusing on your investments rather late, and missed the opportunity to better utilise the available investment opportunity. For instance, your investments are in lump sum, which is not the best way to invest for the long-term. Yet, you have an upper hand with your finances for you live in your own house and do not have any debts.
Cash flow
You have not mentioned your monthly household expenses. But, going by your investing pattern we have assumed your household expenses to be Rs 36,000 including savings in the bank which would take care of your emergency expenses when needed. After meeting your monthly insurance commitment of Rs 3,875, you will be left with Rs 10,000 to invest in.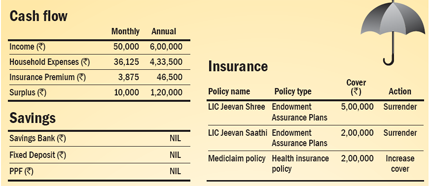 Insurance
Both LIC Jeevan Shree and Jeevan Saathi are endowment assurance plans which are skewed towards savings than insurance. At your age and considering your future goals, you should immediately consider a term insurance plan for yourself and your wife, which will address the financial risks your children are exposed to.
• Evaluate with your insurer what you will stand to gain and lose if you were to surrender these policies, if you are a few years away from their maturity, consider continuing with them; else cut your losses and exit these plans
• Likewise, increase the amount of your health cover, and bring all family members under its ambit
Investments
Your portfolio of 34 funds has 96 per cent equity exposure and is valued Rs 13.45 lakh. However, having so many funds in the portfolio does not amount to greater diversification or performance guarantee. There are several portfolio overlaps, which are avoidable. For instance, you have 12 mid- and small-cap funds in your portfolio and seven sector funds.
• We suggest you rebuild your investment portfolio with four suggested funds and two funds from existing portfolio – BSL Dividend Yield Plus and SBI Magnum Emerging Businesses – that offer the necessary diversification. Rest, redeem all the funds
? Park the redeemed sum of Rs 11.40 lakh in liquid funds such as DSPBR Liquidity Reg , Quantum Liquid and Templeton India TMA Reg and initiate a systematic transfer plan (STP) in the equity funds from the same fund house
• Invest regularly and systematically equally every month in the four suggested funds and increase your investments gradually, if possible
• Plan for your needs in advance and start redeeming systematically spread over a few months
• Track the performance of these funds to find out their progress towards your financial goals to make any changes, if necessary.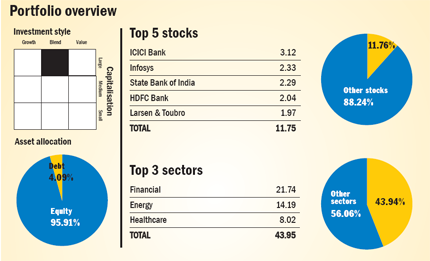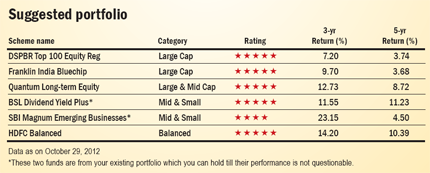 Financial goals
By clearly stating your financial goals you have stated your financial priorities. However, you need to factor in the impact of inflation. For instance, even if you earmark Rs 5 lakh for your daughter's education 4 years from now, it will actually cost Rs 6,31,238 taking into account 6 per cent inflation. Likewise, to accumulate Rs 50 lakh for your retirement today, it will actually be worth Rs 1.34 crore 17 years on.
• You will need to take some tough decisions. Also, you will need to invest in equity and do so with as much exposure as you can take, considering the risks involved
• Alternately, redraw some of your financial goals and taper them instead of getting discouraged by the difficulty of achieving them
• You should also consider increasing your working life beyond 60 if need be and over the next 17 years increase your earnings