In the second of the interview, Ravi Gopalakrishnan, Head Equities, Canara Robeco Asset Management talks about small- and mid-caps and what could be the next big theme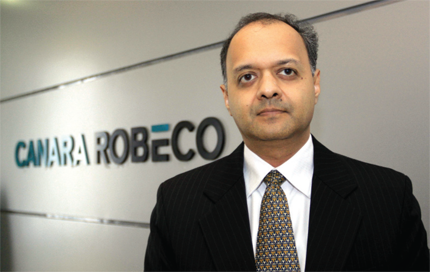 Are small-caps that liquid?
Small-cap companies by definition are not very liquid. By and large we generally prefer liquid mid-cap names since the margin of error is very limited since if something goes wrong with a small-cap stocks it might be difficult to find an exit.
What is your view on mid- and small-cap companies?
At the beginning of a bull market, usually it is the large-caps stocks that lead the rally. However, over a period of time the small- and mid-cap companies also catch up. While mid-caps selectively offer good value at this point in time, they also come with relatively higher risks and volatility and liquidity is also a major consideration here.
What will cause the market to resume its upward trend?
There are multiple issues facing the Indian economy. The economy continues to be in a slowdown and investment demand is not picking up. Further, the rupee has also weakened considerably against the dollar over the past few months and rating agencies have been issuing warnings of a potential downgrade if the deficit situation does not come under control.
With these macro headwinds, we have a situation where in something drastic needs to be done to revive growth and investments. The government has already taken a few bold steps in the form of increasing foreign ownership in multi-brand retail to increase foreign investment and hike in the price of diesel to bring down the fiscal deficit. More such measures are required to revive the investment demand in the economy and if indeed the government is able to push forward the reforms agenda, the market is likely to resume its upward trend.
Do you think these reforms could help FIIs?
If you look at the FII investments, India has attracted a large share of FII investment year to date. Going forward if interest rates decline and global commodity prices continue to fall India will be amongst the biggest beneficiaries given the high dependence on oil imports.
If one looks at the previous Quantitative Easing (QEs) by the developed world, it actually led to a commodity bull run. This is very negative for a country like India which imports most of these commodities, particularly oil. But this time around, it has not impacted the commodity prices and the only reason that has happened is because of the slowdown in China.
If the government is able to revive the economy through various reform measures, this will encourage significant FII and FDI investment into India. This will again help in strengthening the value of the rupee over time. Yes, the Indian economy has slowed down but one has to view this in relation to the growth in other countries especially the developed economies. From a foreign investors' perspective, the two most important variables are macro economic stability and currency stability.
So India is actually in a sweet spot since commodity prices haven't gone up, liquidity is pretty easy and if the government continues with the reforms agenda and takes steps in terms of reviving the growth, India will continue to remain a good investment destination for FIIs.
What could be the next big theme?
I feel that the BFSI segment is still pretty attractive given the fact that for some of the companies are still attractive from a valuation perspective. I think there is a case for investments in select industrials which have been beaten down significantly. But one has to be extremely careful in choosing companies because a lot of companies in this sector are highly leveraged with falling order books. So you need to look at those which don't have too much debt on their books but at the same time have a reasonable order book and reasonable visibility in terms of growth. If the economy does manage to revive I think sectors such as media, entertainment can also do well. Pharma again is a good segment from a growth perspective but there also one has to be company specific because there are some companies which might get impacted by the change in government pricing norms.
What has been your biggest learning and what mistakes do investors generally make?
I think in an open-ended structure it is very important to understand that money doesn't come as and when required. For instance, one gets redemptions from the market in a downswing and you get money usually at the top. This has usually been the biggest challenge in any open-ended structure and that's why it is always important to look at long-term investments which usually go a long way in making reasonable amount of returns from equities. If you look at the stock market over the past 20-30 years, you will see, on an average, equity markets have given a 15-16 per cent annualised return. But if you take any 10-year block within the 30-year time frame, you will see that significant or disproportionate returns are made in a 3-year time period. It is very difficult to predict which of the three years will give super normal returns within a 10-year block, hence it is important to stay invested for a long-term to make reasonable returns from equities.
To read Part 1 of this interview Click here .