The Mutual Fund industry has sought the permission of Finance Ministry officials to increase the Total Expense Ratio (TER) by 0.25 per cent or 25 basis points and also proposed that service tax be levied over and above the TER.
Currently, the TER for equity funds is capped at 2.5 per cent for the first 100 crores (fund's average assets). Then, it gets reduced to 2.25 per cent for next 300 crores, 2 per cent for next 300 crores and finally, 1.75 per cent for next 300 crores and above. Service tax, as of now, is included in the TER. If the industry's demands are met then the TER will be capped at 2.75 per cent for the first 100 crores (fund's average assets) with further reduction as per the size of the fund. However, it will be a double whammy for investors as the service tax that has already been increased to 12.03 per cent (from July, 2012), will also be borne by the investors.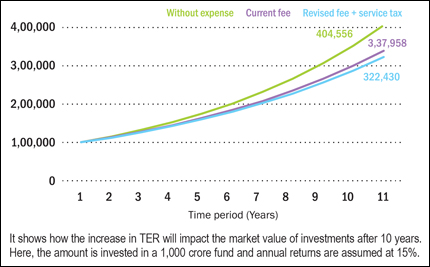 So, what we have done is calculated the impact of these changes by calculating the expense ratio on different sizes of the fund. Also, what will be the implication of these levies after 10 years when the current as well as revised expenses are charged? What comes out is that investors will be paying more by approximately 50 basis points annually.
Load to get heavier
Overall, investors will have to pay more for the services they are currently getting. Apart from this, AMCs are also asking for fungibility in TER which means there is no upper cap on the constituents of TER. Currently, there is a cap on how much an AMC can charge as investment management fees and other charges.