I am 31 and getting married soon. I want to create a portfolio which will help me achieve my various goals: buying a house and a car next year, planning for child's education and marriage, and my own retirement. So far, I have been investing without proper planning and only to save tax. My monthly take-home pay is Rs 50,000 which will increase by 4 per cent every year from 2013. I spend Rs 20,000 for my living and send Rs 15,000 to my parents back home. I have Rs 50 lakh term cover, Rs 1 lakh endowment plan and a medical cover of Rs 3 lakh paid for by my company. I have Rs 2 lakh in fixed deposit, Rs 1 lakh in PF and Rs 40,000 in PPF. I also have also invested in LIC Market Plus and LIC Jeevan Aastha for Rs 20,000 and Rs 50,000 single premium plans. My SIP investments in Canara Robeco Equity Tax Saver, Canara Robeco Income, DSPBR Tax Saver, DSPBR Top 100 Equity, Franklin India Taxshield, Reliance Regular Savings Equity, Religare Tax Plan, SBI Magnum Emerging Businesses, SBI Magnum Taxgain and Sundaram Taxsaver have stopped and I am only continuing SIP of Rs 1,000 in UTI Dividend Yield, which I plan to do so till 2013. Please suggest changes and whether I can achieve my goals.
- Sivakumar
There are several benefits of planning for the future. However, life is too unpredictable to plan too ahead in the future. For instance, you are yet to get married and you have already set a goal for your child's education and marriage. Likewise, you are sending money to your parents and if it is because they are financially dependent on you, you may need to reconsider certain other goals. Though it is good to be aware of future responsibilities, planning too far ahead may put you in a situation where you live too much with the plan and miss the joys of life.
Cash flow
You have surplus cash which is 30 per cent of your monthly income and using this sum to invest will take you a long way. We suggest you consider setting aside an emergency fund which adds to 3-4 months of your monthly expenses. As you have Rs 1 lakh in bank fixed deposit, you can treat it for emergencies through a linked-account to your savings bank account for greater liquidity. Once you get married, your expenses will change, and so will your income if your wife is employed. You can then accordingly maintain an emergency fund.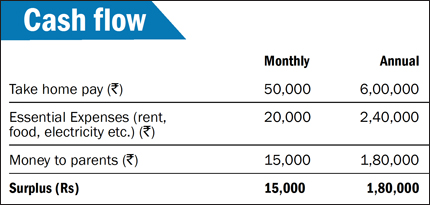 Insurance portfolio
You have adequate life and health cover. However, it is strange how you got into investment plans from LIC, especially when you are investing in mutual funds, which are much better investment vehicles. Make an assessment on the loss you will incur if you were to terminate the endowment and investments plans before deciding to continue or exiting them. Also, check if you can continue the employer-provided term plan if you change jobs. While you can do so with a health insurance policy with portability, the same may not hold with term plans.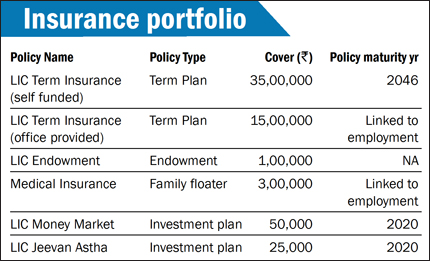 Portfolio
Your portfolio of 11 stocks has large-cap growth orientation with 87.5 per cent equity allocation in 225 stocks. The funds are good, but there are several overlaps. If the lock-in in the tax planning funds is completed, consider redeeming the investment into other equity schemes.
As you are no more investing in debt portfolio through SIPs barring UTI Dividend Yield, we suggest you consider building a portfolio through SIP investments in stable funds from the Value Research's large, large- and mid and tax planning funds with peripheral funds from the mid- and small-cap and multi-cap fund category.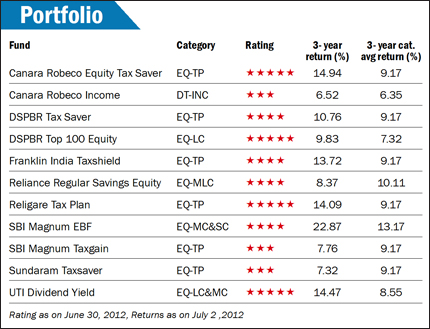 Financial goals
You will not be able to buy a house and car without a loan. While a house is an asset which appreciates, a car will only go down in value. Also, try and restrict your loan servicing to up to 30 per cent of your income. Moreover, with a house, you will also save on the rent. You have mentioned you could borrow from your parents to make the down payment for the house, which you should consider. Also, you should first focus on your retirement at the moment. Currently, your retirement savings in the PF and PPF are debt heavy but you should rather allocate a higher sum to equity. We suggest you invest regularly in a good MF scheme which will transform into a sizeable corpus over the next 29 years.