A tiny fund (`58 crore as on March 2012), UTI Transportation & Logistics has shown tremendous pick up. At a time when equity funds are struggling to stay in positive territory, this one delivered a one-year return of 4.50 per cent (as on May 28, 2012) while the Sensex lost 12.10 per cent over this period. The fund features in the top 10 (out of 390) open-ended equity funds over this period.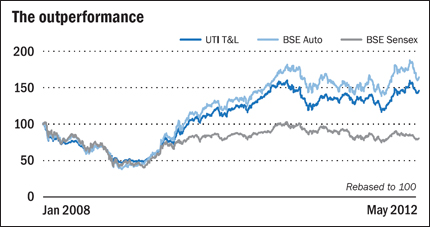 Its year-to-date returns of 18.84 per cent are way ahead of the Sensex's 4.94 per cent return while the annualised three-year return of 23 per cent stands tall against the Sensex's return of 4 per cent. The performance could significantly be attributed to that of the auto sector. Since 2009, BSE Auto has outperformed the Sensex every year.
Earlier known as UTI Auto, the fund broadened its mandate in 2008 from plain auto stocks to even include companies engaged in providing transportation services, design, manufacture, distribution or sale of transportation equipment and companies in the logistics sector. Incidentally, its other peer, JM Auto morphed into JM Midcap which was later merged with JM Multi Strategy.