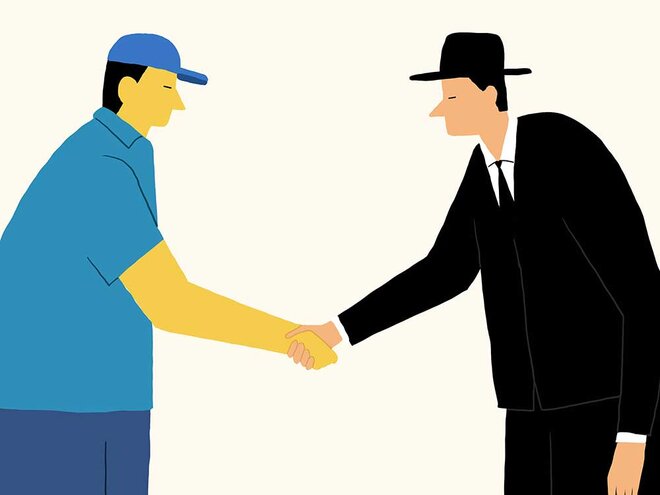 Although we Indians agitated for years for the ouster of the British from India, most of us barely knew any Englishman or European and many had not even seen one, let alone spoken to one. In all of my 20-odd years in Bombay, I had come across only four or five 'white' men. One was a police sergeant or commissioner who had saved me from near-death in a road accident and the other was a magistrate who later became director of instruction in the state and wound up with a knighthood.
The British and the Indians led separate lives, both geographically and socially. They lived in bungalows, we in chawls. They ate at the Taj and went for morning walks at Malabar Hill. They rarely attended our schools, for, if they were children of civil servants and many were, they went to public schools back home. For us going to England was out of the question; for them, England was home. And, of course, they were the rulers and poor us, we were the ruled.
The first Englishman I came to know was a policeman. In fact, he was a Welshman called Jones who was high-up in the Bombay police. He happened to be at a road junction near our school, when a tram nearly ran over me, a school-going boy of ten. The man put me in his car and took me to a hospital, where even the nurses were 'white'. It must have been an 'English only' hospital but for some reason, I was not treated differently. And when I was discharged, I was given a big cake and asked to avoid trams!
The story of the second Englishman is a little complicated. He had a double-barrelled name, the kind viceroys used to have and I often thought he was descended from royalty, which he may well have been. I met him thrice, once as an official of the education department, then as a district magistrate who nearly sent me to jail during the 'Quit India' movement and then again, as a foreign service official in London, with a knighthood before he retired.
My first encounter with him as a director of education in Bombay is more memorable. He had visited our school in connection with a function and there was some kind of a debate in which I was a speaker. He was apparently quite impressed and took me to his office in his car and presented me with several thick books, including 'Oliver Twist' by Charles Dickens, my very first English novel, in fact, my first English book.
A few years later, by which time he had become a judge, we met in a court in Pune, he in the judge's high-backed seat and me before him, along with many other college-going boys, as some kind of a detenu. Some 20 or 30 of us were going in a procession in August 1942 when we were arrested and put up before him.
I do not know whether he recognised me, but he smiled and asked what I had been up to, throwing stones at a police station on a rainy afternoon. Actually, we were not throwing stones and were far away from a police station. After a quick trial, we were let off with a warning, though we were never told what the warning was. Five years later, I was in London, and so apparently was my English friend, striding down the strand, like a man possessed. He had returned home, along with several others, after we became free and was working in Whitehall. The imperial look had disappeared and he looked more like a slightly dishevelled Alec Guinness up to his usual tricks in Notting Hill pubs. I, on the other hand, had gone up in the world and was not only working for Krishna Menon in India House but attending glittering champagne parties in Mayfair, ogling lady this and lady that and having a ball.
I got a feeling that my friend was in some kind of intelligence job after years in India as a member of the ICS but of course, he said nothing. Englishmen, I had learnt, never say anything unless you force them to and even then, it is never the whole truth. That is only why they make such wonderful spies. I never got to know his real name. But it was certainly not James Bond!
This article was first published on December 12, 2009.