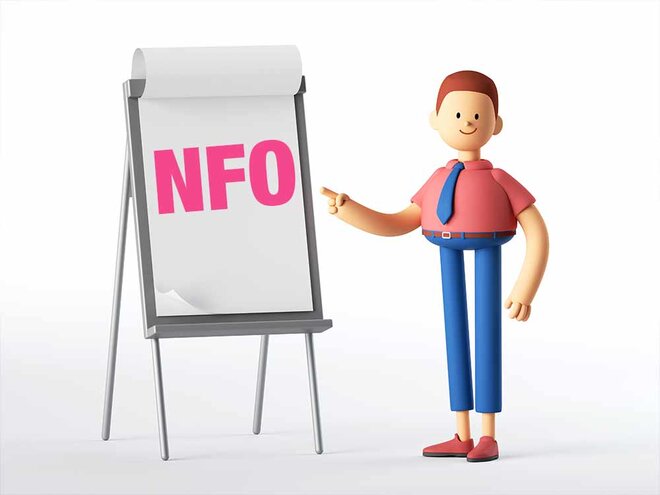 Automation technologies today can be found in every field, even within the fund industry. IIFL Mutual Fund has rolled out a new fund offer (NFO) based on a quant theme. It aims to capture the benefits of passive plus investment strategy where stock selection happens systematically, free from any human bias. The scheme will close for subscription on November 22, 2021 and will be managed by Parijat Garg.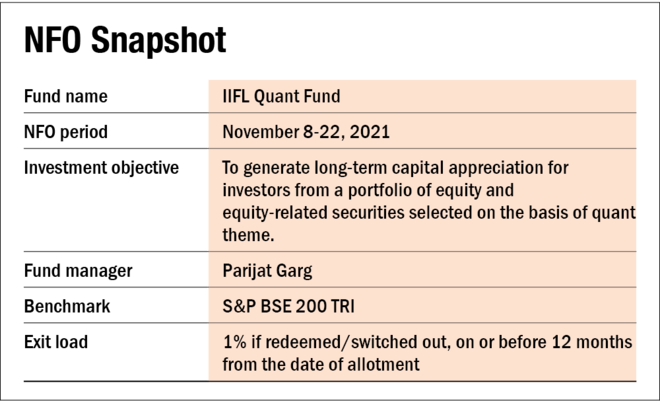 Investment strategies where the securities are bought and sold based on a data/process driven analysis is known as quantitative investing. So, quant funds apply preset rules in order to pick stocks and construct a portfolio. Thus, such a strategy is meant to be run without being swayed by emotions.
About the Quant model
The fund will follow rules-based approach and adapt to market dynamics. According to the AMC's NFO presentation, the quantitative model of this fund will select stocks based on a momentum theme with in-built quality filters (as determined through their own internal framework) and manage risks by having constraints on stock and sector allocations. Therefore, the model offers dual benefits of momentum and systematic investment theme. However, the NFO presentation mentions - "The choice of variables a fund manager uses can cause the resulting portfolios to have a very different outcome."
The below graph compares the indicative (as on September 30, 2021) sector weights of the quant model with the benchmark - S&P BSE 200 TRI. We see that the quant model seems to have higher allocation to the financial services, IT and industrial manufacturing sector.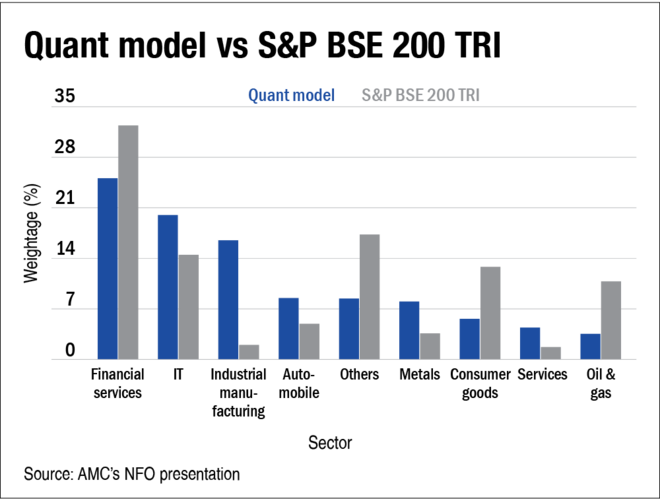 The NFO presentation provides some back-tested data comparison of the Quant model vis-à-vis the S&P BSE 200 TRI. To get a holistic view, we compared these returns with the flexi-cap category. The graph 'Quant model vs flexi cap funds', shows that a hypothetical fund running the said quant model would have managed to outperform both the S&P BSE 200 TRI and the flexi-cap category. Having said that, this performance is in the past and that too for a hypothetical fund and thus, should not be used as an indicator of the future performance of the strategy given the real-world constraints.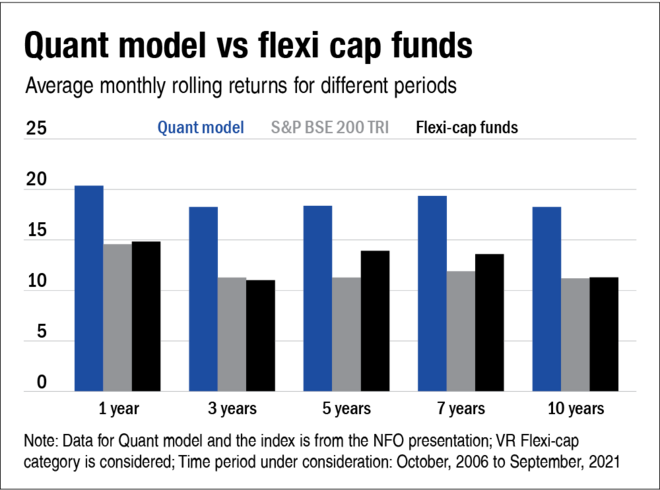 Quant-based funds
While the "quantitative" concept is fairly new in India, we do have six quant funds with a collective AUM of Rs 3,097 crore spread across six AMCs. These funds are relatively new and thus, most don't have a long track record.
Since the fund follows a rule-based selection approach, the fund manager's involvement is limited, thus these funds usually charge a lower expense ratio relative to other actively-managed funds. Having said that, despite having slightly lower expense ratios, the few quant-funds that do exist seem to be lagging most of their actively-managed flexi-cap funds till now.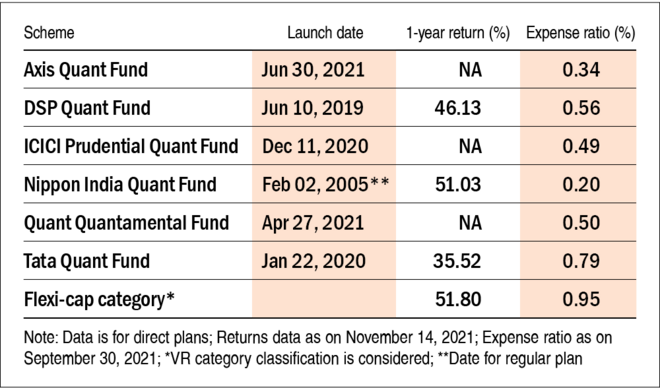 About the fund manager
Parijat Garg is the designated manager of the new fund. Although he joined IIFL Asset Management Limited only in October 2019, he has over 13 years of experience with systematic trading and large-scale quantitative systems. Prior to joining IIFL Asset Management Limited, he has worked with Quadeye Securities LLP as a portfolio manager and Tower Research Capital (India) as a quant analyst.
About the AMC
IIFL Asset Management is an India-focused, global asset management firm, with its parent group having presence in five countries. IIFL Asset Management offers a diversified suite of mutual funds, alternative investment funds and venture capital funds spanning public and private equities, fixed income securities and real estate. In India though, it manages a relatively small asset base of Rs 3,359 crore (as of October 30, 2021) spread across one equity and two debt funds. The AMC currently ranks 31st among the 42-player mutual fund industry in the open-end equity funds segment (excluding fund-of-funds and index funds). Its only current equity offering - IIFL Focused Equity Fund - is rated 5-star as per the Value Research rating system.