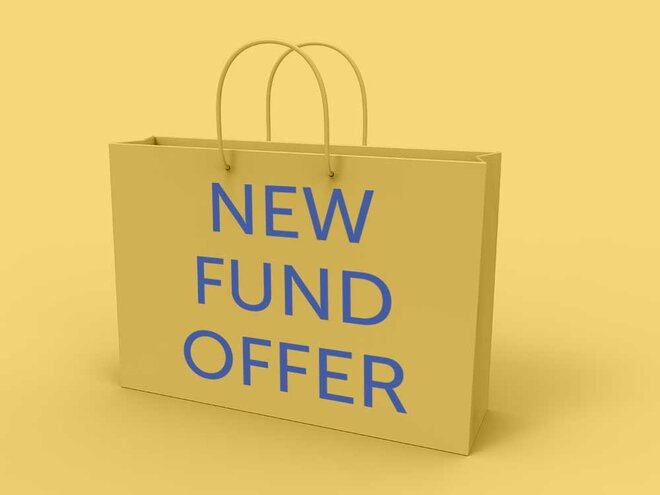 Adding another fund to its bouquet, Kotak Mutual Fund launched a multi-cap fund on September 8, 2021. The fund will invest a minimum of 25 per cent each across the large-, mid- and small-cap companies, while the remaining 25 per cent will be allocated dynamically across these market caps through a proprietary model developed by the firm.
The scheme will close for subscription on September 22, 2021. It will be primarily managed by Harsha Upadhyaya and Devender Singhal and will be benchmarked against the Nifty 500 Multicap 50:25:25 TRI.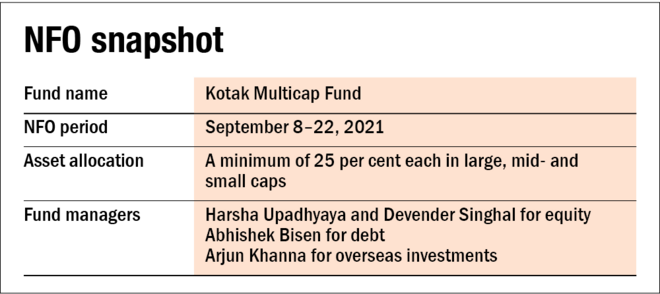 According to the AMC, the fund will follow a disciplined investment process with a focus on BMV, i.e., business scalability and sustainability, management quality and valuation parameters.
About the strategy
The category of multi-cap funds is effectively a new one created by SEBI in September 2020. As of now, this category has just 11 funds managing a total of Rs 26,800 crore.
These funds are mandated to invest at least 25 per cent of their money each in large-, mid- and small-cap stocks. They are somewhat similar to their flexi-cap counterparts, however, flexi-cap funds do not have any restrictions regarding the minimum allocation that must be made to any market-cap segment. Therefore, fund managers of flexi caps enjoy a greater degree of flexibility when it comes to building the portfolio. Hence, at Value Research, we prefer flexi-cap funds over multi-cap ones.
Generally speaking, most flexi-cap funds tend to have a lower allocation to mid- and small-cap stocks than that of multi-cap funds. Owing to this factor, the latter tend to be a bit more aggressive in relative terms.
The performance history of multi-cap funds is very short, as the current avatar of the category came into being just about a year ago. But a comparison between the performance of the multi-cap index (NIFTY 500 Multicap 50:25:25 TRI) and the more mainstream Nifty 500 TRI reveals that the former was an outperformer on a five-year rolling return basis till about the middle of 2019, thanks to its higher mid- and small-cap allocation. Of late, though, both have been neck and neck. But this performance has also come at the cost of high volatility and bigger drawdowns during the down markets, which again shows the higher mid- and small-cap exposure of the multi-cap strategy.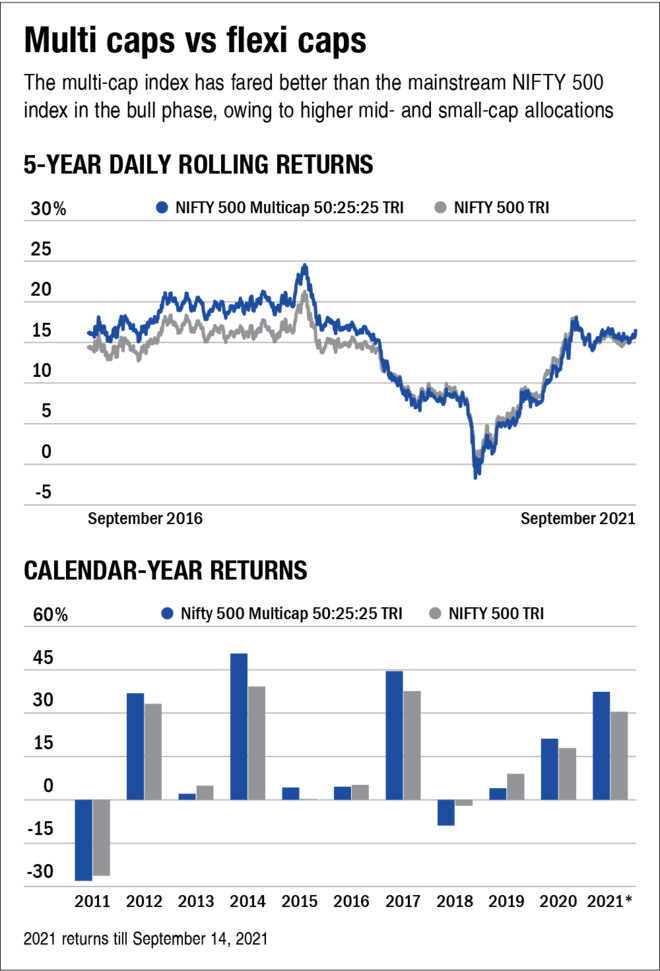 About the fund manager
Harsha Upadhyaya, Chief Investment Officer at Kotak Mutual Fund, has been appointed as one of the fund managers of the multi-cap fund. He has over 25 years of experience in equity research and fund management. Prior to joining Kotak AMC, he was associated with DSP BlackRock Investment Managers, Prabhudas Lilladher Pvt. Ltd, SG Asia Securities, Reliance Group and UTI Asset Management.
He is currently managing four equity funds of Kotak Mutual Fund and three of them are amongst the top-rated funds in their respective categories (4- and 5-star rated), while another one has recently been launched and is unrated by the rating system of Value Research.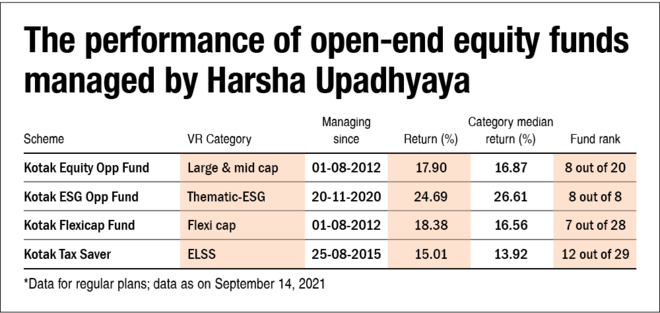 About the AMC
The wholly-owned subsidiary of Kotak Mahindra Bank Limited, Kotak Mutual Fund has been present in the mutual fund industry since 1998.
As of August 2021, the AMC managed assets worth about Rs 2.72 lakh crore across 46 open-end equity, debt and hybrid schemes. In the actively managed open-end equity funds (excluding fund-of-fund and index funds, ETFs) segment, the fund house manages an asset base of over Rs 80,000 crore spread across 11 funds, ranking it seventh in the 39-player mutual fund industry.
The fund house has built a strong reputation for itself in the equity space and a bulk of its equity funds rank high as per the fund-rating system of Value Research.