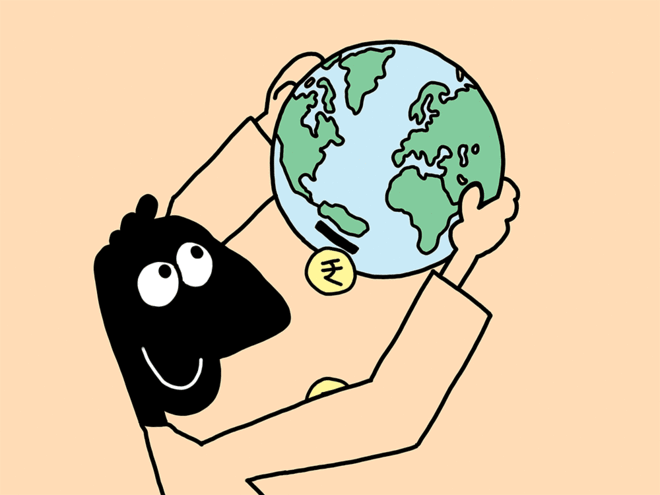 Gone are the days when most of our consumption was limited to goods and services produced in India. Just think about the products and services that you use in your everyday life. You would realise that many companies which are behind them have their roots abroad. Whether it is satiating our taste buds with an imported chocolate, binge watching a web series on Netflix, ordering a book on Amazon or surfing the Internet with Google, we do spend on goods and services produced by many foreign companies which are not listed in India. If we are going 'global' in consumption, why not in investing too? Many international companies have a customer base not only in India but across the globe. It can be truly rewarding to invest in such companies.
One can allocate 20-25 per cent of one's equity portfolio to international equities. Over the last one year, when domestic multi-cap funds were deep in the red due to the outbreak of COVID-19, international equity funds still managed to give positive returns. This did not go unnoticed. The AUM of international equity funds peaked at Rs 5,516 crore on April 30, 2020. Still, it was less than 1 per cent of the industry's total assets (see the graph below).
But the investment case for investing in overseas equity goes beyond its returns and the recent history of containing the fall. Here are a few reasons why you should take exposure to it.
Opportunity to invest in global leaders:
International markets, especially those of the United States, are home to many strong companies. Many of them, such as Apple, Alphabet, Microsoft, Amazon, are global leaders in their areas. Adding them to your portfolio can do it a lot of good. However, these companies are not listed in India. By investing in overseas equity, you can make them a part of your portfolio.
Better diversification:
Often referred by the phrase, 'Don't put all your eggs in one basket', diversification is probably one of the most important and fundamental requisites of successful investing. It becomes even more important when we invest in equities due to the inherently volatile nature of this asset class.
However, when you are limiting your equity investments only to India, you are still not diversifying geographically. All your investments would be prone to the basket of the Indian economy. Any sudden economic, political, regulatory change or event, like demonetisation, can have an impact on your portfolio.
Hence, by investing a portion of your equity portfolio overseas, you can also benefit from geographical diversification.
The currency factor:
Another reason to invest overseas is to profit from a depreciating rupee. Historically, the Indian rupee has depreciated against many developed-market currencies, such as the US dollar, the UK pound and the euro. When you invest overseas, by default you are investing in a foreign currency. If that currency appreciates against the rupee, that amounts to some additional gains. For instance, the US dollar has appreciated to Rs 75 from Rs 63 over the last five years - a gain of about 4 per cent per annum (see the graph below). That means you got 3.4 per cent extra on your returns every year.
A word of caution here. If the currency you are investing in depreciates against the rupee, that would also lower your net returns. So, if you are planning to invest in some other emerging-market-based fund, better check the movement of the rupee against that currency. So it's clear that exposure to international equity could be very rewarding in the long run. But how do you take it? Here are some ways.
Overseas stocks:
To invest in the stocks of international companies, you need to have a separate demat and trading account with an authorised broker. ICICI Direct and HDFC Securities are among the few Indian brokers that facilitate opening an international trading and demat account. For HDFC Securities, the brokerage is between 1 cent per share to $2.99 per trade, depending on the plan you opt for.
Currently, Indian investors are allowed to invest $250,000 (about Rs 1.88 crore) under the Liberalised Remittance Scheme (LRS). That would be more than sufficient for most of us. However, do remember that you should invest directly in stocks only if you can undertake the research required and have the temperament for handling a stocks portfolio. If not, you have other methods to invest in overseas equity.
Exchange-traded funds (ETFs):
ETFs are usually meant to track an index. Some Indian fund houses have launched ETFs based on international indices, like the Nasdaq 100. You do not need an international trading account to invest in them and can invest in them through your regular trading and demat account. However, if you don't have a trading and demat account or don't intend to invest in stocks directly, opening an account solely for investing in an ETF may not be practical. You would have to bear account-opening and annual-maintenance charges just for investing in ETFs. Besides, ETFs often face liquidity issues - there may not be enough buyers/sellers. This makes domestic funds investing overseas a good choice.
Mutual funds:
This is probably the simplest and the most convenient route to take international exposure. Indian fund houses have many schemes that invest in overseas equities. For instance, Motilal Oswal offers index funds that track the US S&P 500 and Nasdaq 100 indices. These indices comprise many world-class names (see the chart 'Top 10 holdings of S&P 500'). Combined with rupee depreciation, these indices could be good investment options (see the chart 'S&P 500 returns') And then there are funds of funds (FOFs) which invest in actively managed funds abroad. We also have a few actively managed international-equity funds.
You do not need to have any trading account to invest in these funds. You can invest in these funds exactly like any other mutual fund - directly or through a distributor. You can also invest in them through SIPs, which could be as low as Rs 500 per month.
The best of both worlds:
A few domestic funds invest part of their corpus in overseas equity. For instance, Parag Parikh Long Term Equity invests about 25-30 per cent of its portfolio in international equity. Its top holdings comprise Facebook, Amazon and Alphabet. So if you don't want to add a separate international fund to your portfolio, you can opt for such domestic funds.
Such funds still qualify as an equity fund for taxation purposes since they invest at least 65 per cent of their portfolios in the Indian market. Other international funds have the tax treatment of debt funds. The gains realised on them after three years of investment are taxed at 20 per cent with indexation. If sold within three years, the gains realised are added to your income and taxed as per the applicable slab rate.
Choosing an international fund
With international equity funds also, investors are spoilt for choice. There are funds that invest in specific geographies (China, Europe, etc.), sectors or themes. However, it is best to avoid funds which have a narrowly defined mandate as this is quite similar to investing in Indian sectoral or thematic funds, where the fund manager is restricted to pick stocks from a limited universe. One should instead go for a fund with a broader investment mandate, one that doesn't impose restrictions on the fund manager.
Funds investing in the US market are a good choice as the companies that they invest in are global in nature, though they are listed in the US. This helps you diversify better.