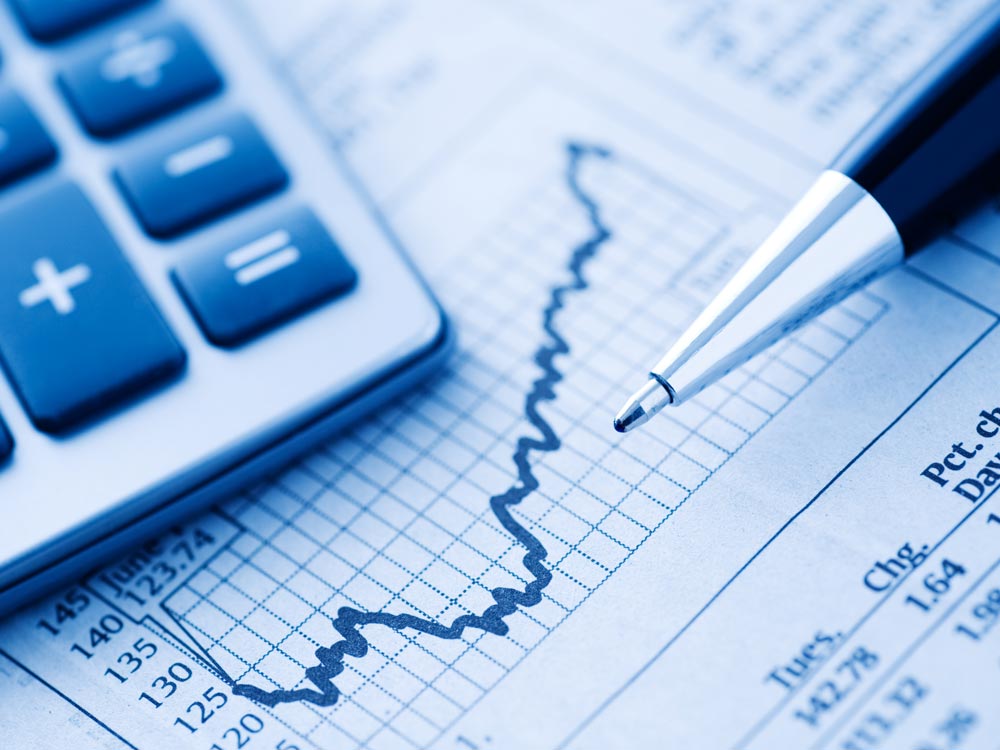 AMFI fund flows data for the month of April is out and fortunately, there aren't any signs of a mass exodus of the kind that was feared after the winding up of six Franklin schemes.
On an aggregate basis, the industry reported net inflows of Rs 46,000 crore and the total AUM increased by 7.5 per cent over last month to Rs 23.9 lakh crore. This comes after a decline in the AUM in the preceding two months.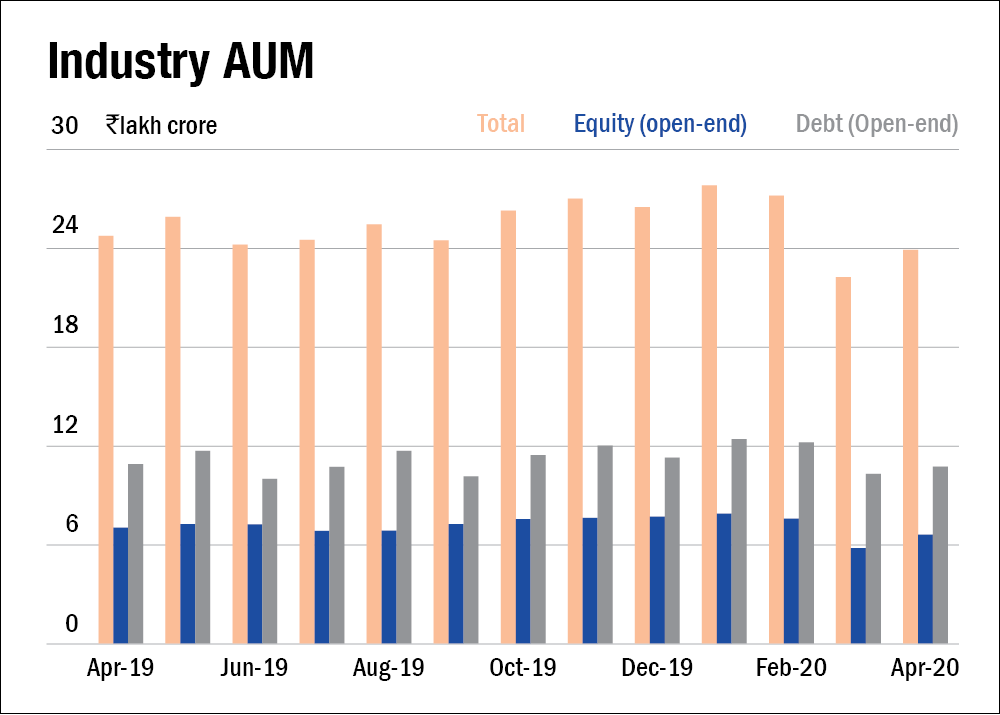 Debt - Credit Risk funds feel the heat
Debt funds saw net inflows of Rs 43,000 crore, primarily driven by liquid funds which had money coming back in after quarter-end redemptions by corporates last month. Barring liquid funds, other categories of debt funds saw net outflows of around Rs 25,000 crore.
Particularly, it is the Credit Risk funds that continue to reel under redemption pressure. The net outflows from this beleaguered category accelerated multifold to Rs 19,000 crore on a net basis. These funds have been witnessing outflows consistently over the past several months as a result of which their assets have more than halved in the last one year to just about Rs 35,000 crore. It remains to be seen how the category handles redemptions if they continue at this pace going forward. A bulk of their portfolios comprise of lower rated securities which tend to be difficult to liquidate during stressful times.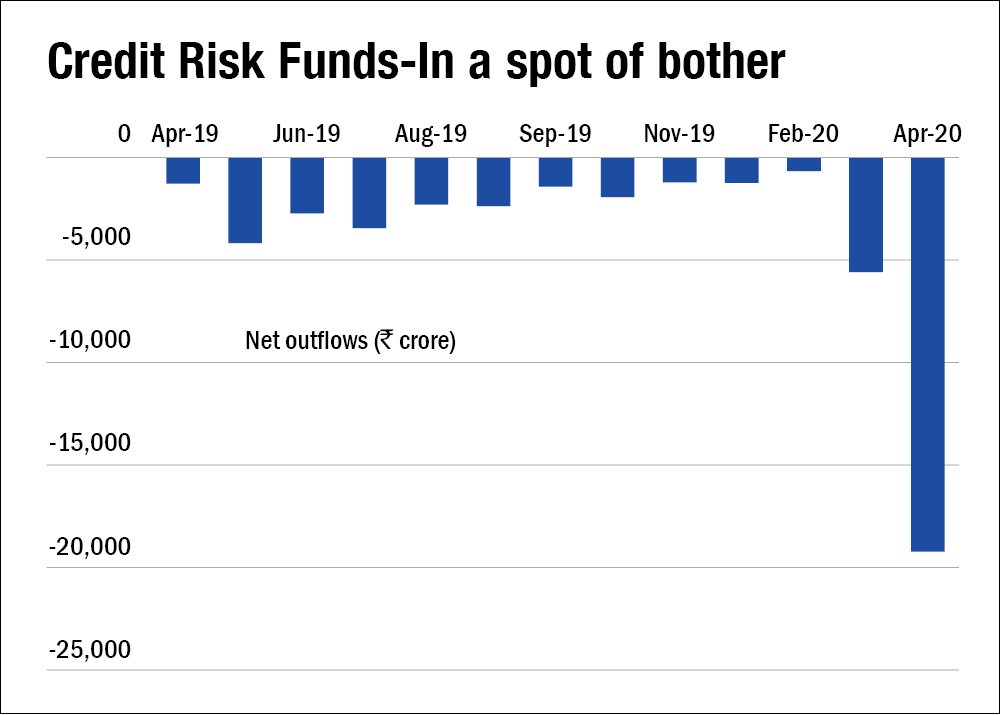 Other than that, categories of Low Duration funds and Medium Duration funds also came under the hammer, witnessing net outflows over Rs 6,000 crore each.
From a slightly longer term perspective, the category Overnight funds has been steadily gaining prominence as its AUM has increased seven-fold in the last one year to Rs 83,000 crore.
Amid the falling interest rates, the two categories that invest in government securities - Gilt funds and Gilt funds with 10 year constant duration have gained traction. The former reported the biggest jump in their assets (29 per cent) among all categories in the month of April, taking them to Rs 12,000 crore.
Gilt funds with 10 year constant duration, on the other hand, have seen their assets double in the last one year, although on a very small base, to Rs 1,000 crore.
Equity - Business as usual
It was business as usual for equity funds with all categories reporting inflows on a net basis except Dividend Yield funds, which have been reporting net outflows continuously over the past one year now. The inflows in equity had been exaggerated in months of February and March but were back to their average levels of around Rs 6,000 crore in April, taking the total AUM managed by equity funds to Rs 6.6 lakh crore.
At the gross level though, April appears to be a month of lower activity with both gross inflows and gross outflows close to their lowest levels in the past one year.
Of particular note has been the rise of Focused funds which appear to be generating strong traction among equity investors. They have gained the maximum in percentage terms over the last one year, with their assets swelling by 20 per cent to Rs 45,000 crore. Large cap funds is the only other category whose assets have registered growth in the last one year.
Others - The Rise of Gold and Overseas Investing
Gold funds are generating a renewed investor interest on the back of stellar performance of the shiny metal. After years of continuous decline, the AUM of these funds has grown by 100 per cent since April last year to Rs 9,200 crore.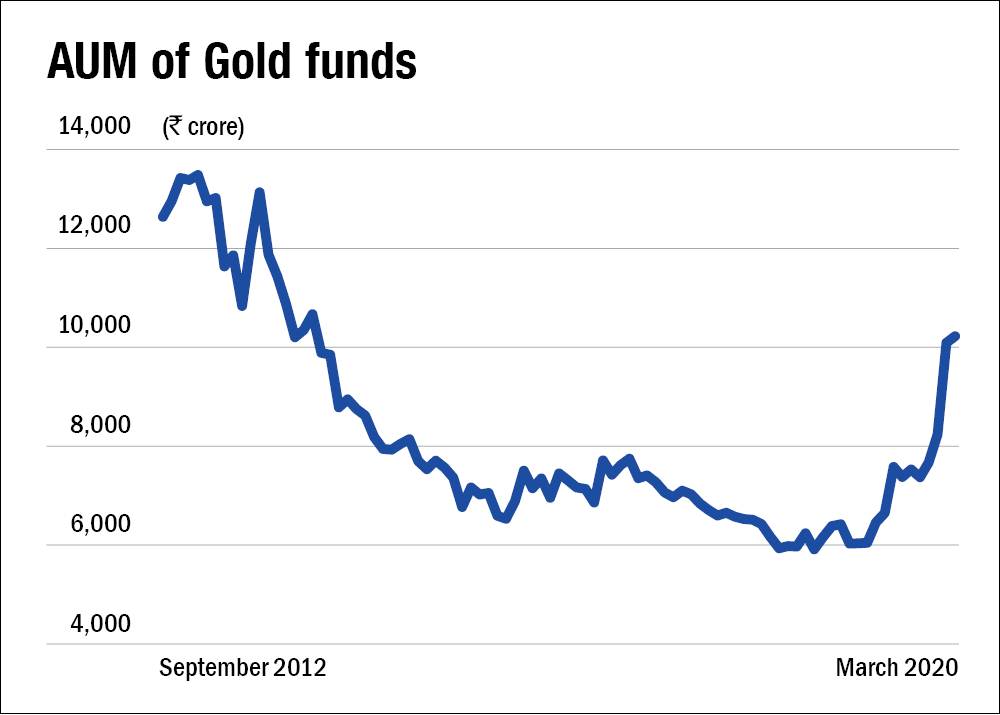 Overseas investing is another trend which is slowly but surely in the making. As the Indian equity markets have witnessed a brutal fall in this year, overseas investing seems to be fascinating investors. Over the past one year, these funds have seen net inflows month-on-month, with the net flows accelerating a bit in the past 4-5 months. The assets managed by these funds have thus increased by over 68 percent in the past one year to Rs 3,300 crore. Though they are still far from becoming mainstream, their steady rise augers well from the point of diversification of investors' money.