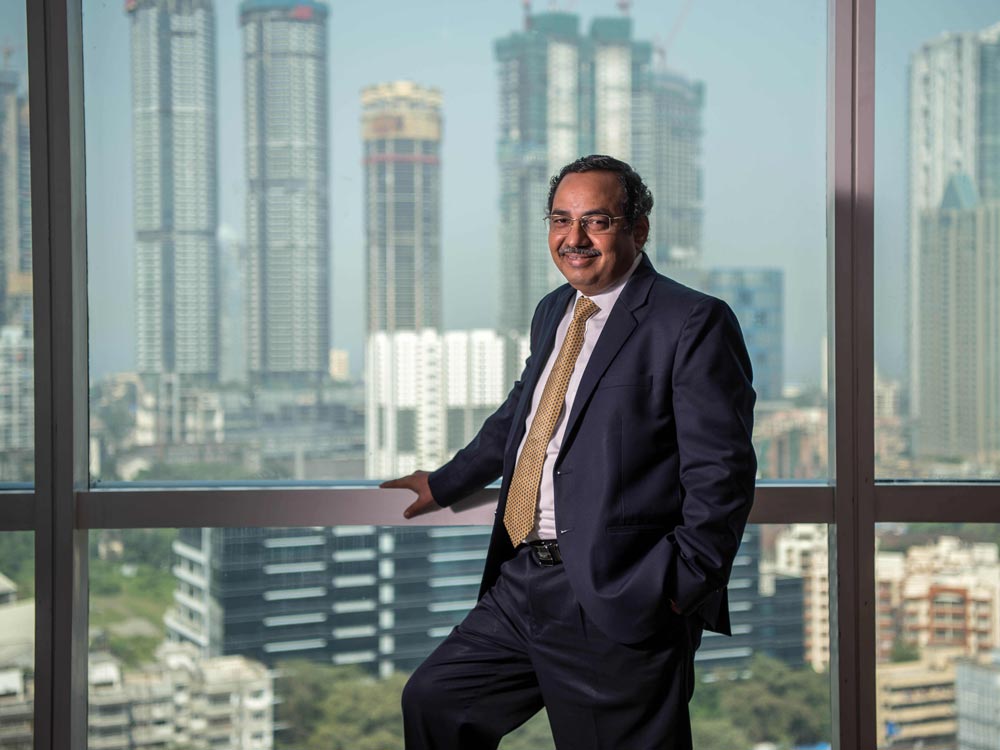 It has of late become quite a task for investors to get a grip on the ever-changing dynamics of the market amid the COVID-19 outbreak. To make sense of these rather strange times, we spoke to the veteran leader of the mutual fund industry, A. Balasubramanian, MD & CEO of Aditya Birla Sun Life AMC Limited. During his long career, he has witnessed a number of market crashes. Here he shares his views on the current markets and how the AMC is navigating the crisis both in their equity and debt fund segments.
You've seen many market crashes in your long career. Would you rate this as the worst one in your living memory?
A market crash of more than 40 per cent in a matter of one month is completely unprecedented. I have never seen this before, not even during the 1999 tech bubble or the 2008 Lehman Brothers crisis. Every time in the past, a market fall was related to some sectors or some countries. This time the fall was not only sharp, but all sectors got sold off. Large-cap companies with good promoters falling like this was never seen. Infact, the last one month's fall is worse than the 2008 period.
While things are still unfolding, how deep could the economic impact be?
Covid-19 has really shaken the world and has created huge fear in the minds of people and government officials across the globe. The Indian Prime Minister announced a complete national lock down for 21 days in the best interest of the people and the country. This essentially means putting all economic activities to rest except for keeping a few segments of the economy that are essential in nature functional. Before India's lockdown, when China was going through their pain period, most Indian companies had to stop production due to a lack of raw material from China. One can probably say Indian industries have somewhat been in lockdown for more than 21 days. This development has in fact taken away the earnings of two quarters either in full or in part for most companies operating in India. The impact will be quite large on our economic growth, saving pool of savers, job concerns, change of business model, and new forms of disruption in certain sectors among other things. One should accept the growth slowdown, and that obviously reflects in the market movement as well.
What changes to portfolios are you making, both on the debt and equity sides, to navigate these times and to position them for growth subsequently?
As a fund house, we have cut down the risk associated with fixed income portfolios big time in the last one year. Wherever we had exposure to high leverage companies or sectors, we got out completely and have made the portfolio across fixed income schemes more centred on high quality AAA companies, less levered companies, public- sector-owned entities, etc. We have been completely avoiding having large exposures to Tier I bonds as a matter of prudence. In the same way, we did not participate much in those sectors that are currently getting impacted due to the global commodity price fluctuation or even underwriting consumer loan Pass Through Certificates. Instead of going down the credit, we have been managing portfolios with a good mix of duration play and high quality credit.
In the case of equity, the last one month of fall could not be escaped as the fall was very sharp. Most of the index companies fell sharply including Banking and Financial Sector. While equity managers continue to focus on stocks that have a sound business case, our equity managers cut down the risk related to commodities, especially the auto sector. We as a fund house have been increasing our exposure to both domestic and global pharma companies in the portfolio by way of overweight to the index. In some of the portfolios, we did go for companies that are high dividend yielding value companies from public sector space, which have in fact outperformed in the market in the current fall. Given the fact the market has corrected by close to 40 per cent from its peak, we remain focussed on the quality of portfolio and see how best we can participate when the market reverses.
How concerned are you from the perspective of a fixed-income investor about liquidity and returns? It is not often that you see liquid funds reporting negative returns.
Frankly, I am not worried about liquid funds' negative return for one simple reason: the underlying portfolio gets reset every 30 to 60 days. As one would know, liquid funds cannot have any investment greater than 60 days to maturity. Average maturity of the schemes generally varies from 45 days to 55 days. When the portfolio generates negative returns due to the yield movement at the short end of the yield curve, the portfolio accrual over time also compensates for the loss in the portfolio due to such mark to market. The yield movement that was witnessed was largely one-off in nature due to the year-end pressure. And at the same time, liquidity in the banking system is quite abundant. Credit growth is at an all-time low. The Reserve Bank of India is determined to provide liquidity in the form of Longer Term repo as well as overnight Repo. Hence, fixed-income investors should ignore such volatility for the reasons mentioned above.
Many bond issuers were already facing downgrades in recent months. Could the current situation trigger another wave of downgrades and defaults among bond issuers?
The coronavirus slowdown might affect the borrower repayment across the financial service industry. Business slowdown and slow pick up in the economy might lead to shortfall in cash flow for most of the companies and hence can lead to rating reviews across different sectors. Consumer lending companies could potentially be at risk if there is a slowdown in terms of repayment instalments. We might also see negative credit cycles in sectors like Real Estate and personal loan portfolios of various NBFCs and Banks. Having said that, rating agencies would also look at the deterioration of business linked to economic slowdown or temporary lockdown announcement of the Government. One should be prepared for rating downgrades in more names in the days to come. We as a fund house have been risk averse for quite some time and hence we believe we would have the least impact in our portfolio in this round of the rating downgrade fear.
What is Bala, the investor, doing with his investments at this time? Where are you keeping your fixed income allocation?
I continue to keep my investment in equity as it is kept for long-term wealth creation. No doubt last one month's fall has eroded the portfolio value. But I remain hopeful that equity in the long run will create reasonably good returns than alternate investment opportunities from fixed income and real estate. In the case of fixed income, I remain invested in our liquid fund, medium term plan and credit risk fund. I am now looking at moving my liquid fund investment to equity large cap and also some portion to other debt funds such as our low duration fund or Banking & PSU debt fund or corporate bond fund. In the current financial year, I am looking at increasing my weight in fixed income schemes, one to correct my higher allocation to equity and also to benefit from the real power of compounding from fixed income over three years adjusted for tax.