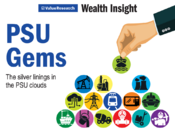 Every equity investor has a PSU story--some positive and some negative. However, with the right approach, PSU stocks are a great opportunity.
Read the cover story of the December 2019 issue of Wealth Insight, PSU Gems: The silver lining in the PSU clouds, and learn about the PSU stocks picked by our analyst team.
That's not all, like every issue of Wealth Insight, we also have columns, interviews, and news to keep you updated to help you find and track the investments that will generate the best returns!
Click here to buy a digital subscription (downloadable PDF + online reader) and start reading instantly. You can also pay extra and receive a printed version.