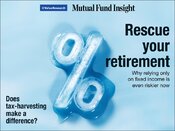 When it comes to retirement savings and income, what looks safe may not be safe any more.
Read the cover story of the December 2019 issue of Mutual Fund Insight, 'Rescue Your Retirement' and figure out how to fix the problems right now, before it's too late.
Plus, just like every issue of Mutual Fund Insight, we have columns, interviews, news, data on all mutual funds.
Click here to buy a digital subscription (downloadable PDF + online reader) and start reading instantly. You can also pay extra and receive a printed version.