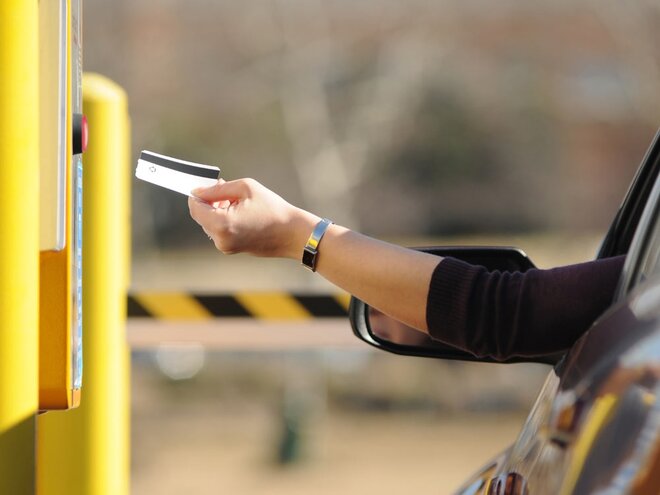 Effective October 20, all liquid funds have started charging an exit load varying between 0.0070% to 0.0045% of the redemption amount if the money is withdrawn within seven days of investment. SEBI had required fund houses to impose this exit load in its circular released a month ago . It had also directed Association of Mutual Funds of India (AMFI) to devise a minimum graded exit load structure which was later approved by SEBI. See the below table for the applicable exit load.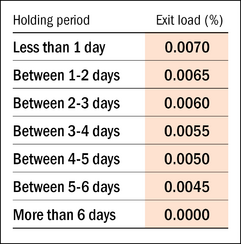 The main idea behind levying the exit load was to encourage corporate investors to use overnight funds instead of liquid funds, for parking their money for very short durations of less than a week. While liquid funds can invest in securities with a maturity of up to 91 days, overnight funds are mandated to not invest in any securities with maturities of more than one day.
So how do the new exit loads impact returns for investors in liquid funds? Our study on actual returns from liquid funds over the last six months suggests that even after factoring in the exit load, investors may get higher returns from liquid funds, compared to overnight funds, for investment tenures of 3 days or more.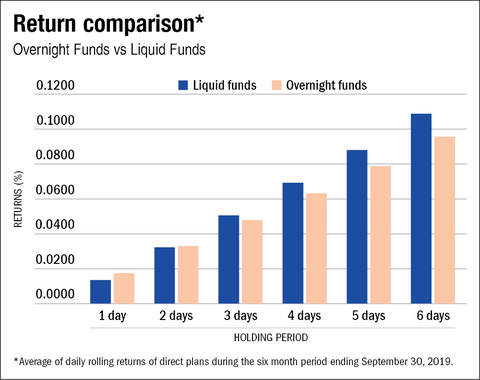 We compared the daily rolling returns of every overnight fund with the corresponding returns (after factoring in exit load) of the liquid fund of the same fund house over the last six-month period. The findings indicate that for investment tenures of 2 days or less, the exit loads do nullify any excess return that liquid funds generated in comparison to overnight funds and therefore the latter are a preferred investment choice. But for tenures longer than 2 days, liquid funds would have beaten overnight funds, even after loads, in an overwhelming majority of the cases in the last six months.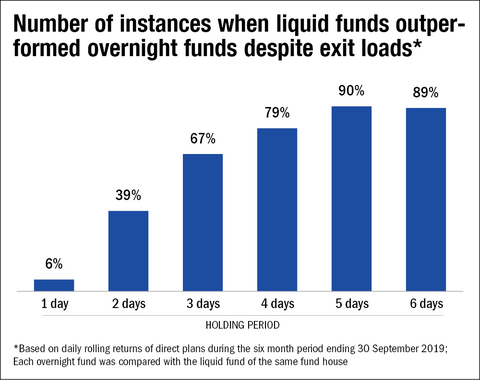 But there's a caveat that investors must take note of. While liquid funds continue to carry an edge over overnight funds for three-day plus investments despite the exit loads, one may need to observe if returns change materially from the next financial year. Starting April 2020, liquid funds are required to have to value all their holdings on a 'marked-to-market' basis, not just the one which have a residual maturity of more than 30 days. Secondly, they would have to compulsorily keep at least 20% of their portfolio in liquid assets such as cash, T-bills and repo on government securities. These changes can potentially dampen the returns of liquid funds a bit and make their NAVs more volatile than before, whereby negative returns over very short periods may not be ruled out.
These changes may tilt the scales in favour of overnight funds for holding periods of under a week but until then, liquid funds appear to have an edge where the holding period is of three days or more.