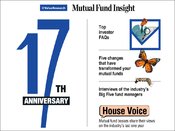 Mutual Fund Insight is 17! Like every year, here's our anniversary issue, a very special 214-page package, this year with the main magazine PLUS THREE SPECIAL SUPPLEMENTS!
Here's the set of special cover stories we have in this issue:
The Value Research Way: Dhirendra Kumar's answers to the most common investor queries
Five changes that have transformed your mutual funds
The Big Five: Interviews with industry titans who together manage a fourth of mutual funds' equity assets
Plus THREE special supplements of 64 pages:
Value Research Fund Analysts' Choice: India's Finest Funds
Most Rewarding SIP Funds
SIP Sahi Hai
House Voice: Mutual fund bosses share their views on the industry's last one year
Click here to buy a digital subscription (downloadable PDF + online reader) and start reading instantly. You can also pay extra and receive a printed version.