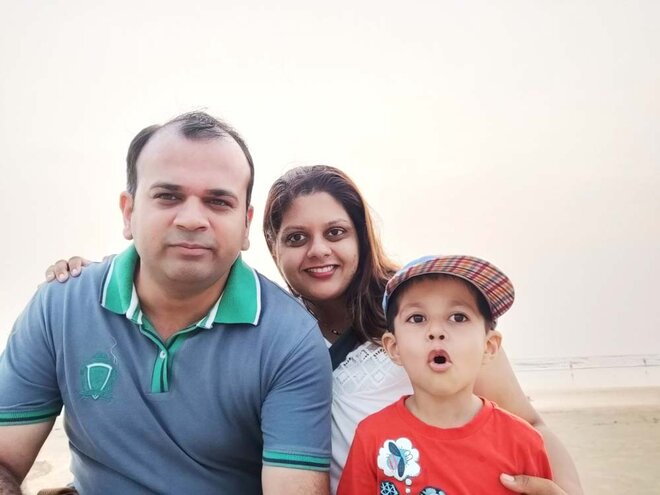 Nikhil Lakhkar, 39, loves exploring new places. He also likes to read books on investments, fiction, history and geopolitics. With an MBA from Indian School of Business, Nikhil works as a business analyst with Credit Suisse. He lives in Pune with his parents, homemaker wife, three-year-old son, and younger brother and family.
Dhirendra Kumar's articles on Value Research Online and in Mutual Fund Insight, in addition to regular discussions with his father, laid the foundation for Nikhil's investment journey. Crediting his investing approach to his upbringing, he recollects, "Since childhood, my parents have put emphasis on value for money as opposed to saving money for money's sake. While I used to pester them to buy me expensive things, they mostly bought books and educational toys for me."
Starting the investment journey
Nikhil took little interest in managing money during his college days. His father, a firm believer in the long-term benefits of mutual fund investments, started an SIP in Franklin India Prima Fund for Nikhil somewhere in 1998. Following his first career break in 2003 as a tech lead in TCS, he started giving investing a serious thought. Interestingly, Lakhkar's investment journey coincided with the 2003 bull run - the biggest in the history of the Indian stock market. Around that time, he began following the Value Research website. Based on the historical returns and ratings of funds, their portfolio compositions and performance in volatile markets, Nikhil started long-running SIPs.
In 2004, he received an opportunity to work in Europe for two years. Subsequently, in 2006, Lakhkar took a break from his career to pursue an MBA. The bull run, coupled with his two-year stint in Europe, helped him finance his MBA at the Indian School of Business in 2007. He reminisces, "My portfolio's CAGR went to 22 per cent during that time. This helped me pay the fees and expenses summing up to Rs 21 lakh for my MBA, without taking an education loan." During that period, Lakhkar became a regular reader of VRO. "Dhirendra Kumar's 'First Page' articles always had a clear resonance with my personal thought process and gave a new perspective to things," he admits.
An MBA degree added more power to Lakhkar's career. His income jumped three-fold, thereby increasing his investable surplus. Then came the first thump to Lakhkar's journey - the financial crisis of 2008.
Beating the crisis
The dramatic decline led Nikhil to consider exiting equity markets. But he kept his faith in the learning of his father and Dhirendra Kumar's articles. Nikhil contentedly remembers, "I held my nerve and continued investing with the conviction that this too shall pass."
Resonating with one of Dhirendra Kumar's articles, Lakhkar feels that healthy investment habits bring with them the freedom of a different kind. "I can distinctly feel that I have a lot more freedom in making decisions about my career, major purchase decisions, son's education, holiday destinations, among others," he shares.
As advised by his father, since the early days of his investment journey, Lakhkar has maintained an overall asset allocation of 75:25. "Ideally, I should have reduced the equity allocation with age but considering India's long-term growth story and my ability to withstand high volatility, I have maintained this allocation till date," he adds quickly.
Nikhil's investments
Talking about his goals, Nikhil maintains a portion of his emergency fund in a savings account and some portion in Aditya Birla Sun Life Liquid Fund, with some minor holdings in sovereign gold bonds. His primary goals are funding his son's college education and wedding, due in around 15 and 25 years from now, respectively, and accumulating a sufficient retirement corpus over 20 years.
Starting with an SIP of Rs 5,000 in 2003, Lakhkar now invests around Rs 1 lakh monthly. With a current per-annum return of 14 per cent, his mutual fund portfolio currently comprises Parag Parikh Long Term Equity Fund (now Parag Parikh Flexi Cap Fund) , Quantum Long Term Equity Value Fund, Motilal Oswal Long Term Equity Fund, HDFC Mid-Cap Opportunities Fund, Mirae Asset Emerging Bluechip Fund, Mirae Asset Large Cap Fund and ICICI Prudential US Bluechip Equity Fund. Out of these, his investment in Quantum Long Term Equity Value Fund is dedicated to funding his son's education and wedding expenses. The rest is for his retirement.
He also invests in the NPS (75 per cent equity and 25 per cent debt) through his employer for tax exemption under section 80CCD. Lakhkar stays in his own house and has enough corpus to repay his home loan. However, he has retained it for tax purposes.
Lakhkar also has direct exposure to equity. With around 12 stocks in his kitty, his stock portfolio is a mix of large and mid caps. "Around 2011, the Nifty witnessed a fall of around 30 per cent and consequently, a lot of good stocks were available at low prices. Taking inspiration from some all-time investing classics - One Up on Wall Street by Peter Lynch, The Intelligent Investor by Benjamin Graham, Common Stocks and Uncommon Profits by Philip A. Fisher, I started hunting for good bargain stocks," he recalls.
Even now, he performs extensive research before choosing a stock. "I look for trends in sales growth, analyse the operating and net profit margins over five-10 years relative to peers, try understanding management credentials, etc.," he emphasises. Nikhil's basic goal from this portfolio is to fund his retirement expenses and eventually leave an inheritance for his son.
Apart from the emergency fund, his debt portfolio comprises substantial investments in tax-free and other bonds with maturities of three-20 years. Not quite a fan of fixed deposits, he says, "The only FDs I have are with the bank wherein my wife has a safe deposit locker. That's also because the bank didn't allow us to book the locker without an FD. My preference, however, lies with liquid or ultra-short-duration funds."
Following Dhirendra Kumar's key principle of separating insurance and investment, Lakhkar has a health insurance plan from his employer as well as a personal health policy and term insurance. With all the basics under check, Nikhil hopes to retire by the age of 50.
Investing lessons
Nikhil's journey wasn't without hiccups. "During the early days of my investing journey, I bought stocks based on tips from friends rather than doing my own research and lost a lot of money," the investor recalls. He even invested in sector funds, which depicting their true nature, eventually ran out of steam. However, all of these never tainted his investing beliefs. Ask him about his successes and the avid investor graciously says, "The principles of regular investing combined with extensive research helped me outnumber my failures!"
Lakhkar credits his investing habits to his father, as following in his footsteps, he grew up learning the basic rules of investing. "I can say emphatically that my saving and investing habits inculcated over the last 16 years have changed my life for the better. I am indeed lucky to have a great teacher in my father, who put me on the right path," signs off the doting son.
This story first appeared in the August 2019 issue of Mutual Fund Insight.
Do you have an interesting story about how your investment journey unfolded? Share with us on [email protected]