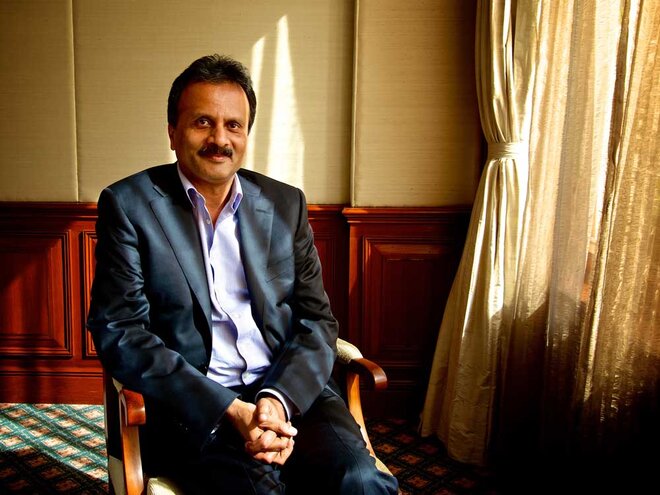 The Indian business fraternity woke up to the shocking news of Mr V.G Siddhartha's missing and later, the news of his suicide. Before committing suicide, Siddhartha wrote a letter wherein he blamed one of the private equity investors for pressuring him into buybacks and also charged a former DG Income Tax for harassment.
In 2010, KKR, one of the prominent private equity investors with the company, invested in the company through Compulsory Convertible Debentures worth Rs 271.6 crore, which was converted into equity post the company's IPO in 2016 to have a holding of 10.6 per cent. However, in February 2018, the PE firm reduced its stake to around six per cent in the company through a mix of selling shares in the open market and to the promoter group. The PE firm's CEO, Mr Sanjay Nayar, sat on the board of the firm as a non-executive nominee director.
Mr Siddhartha's problem with the IT department started in 2017 when his company was raided and Rs 650 crore of undeclared income was found. Later, the department attached the shares of Mr Siddhartha and Coffee day's 20 per cent stake in Mindtree, resulting in a delay in the sale process of Mindtree's shares.
On a standalone basis, Coffee Day Enterprises had minuscule revenue of Rs 124 crore as of FY19 and made a loss of Rs 67.7 crore mainly because of interest expense of Rs 105 crore (including balloon payment) on total borrowing of Rs 326.5 crore. But the actual picture of the company was revealed at the consolidated level, where we found that the company operated as a holding company with 45 subsidiaries, which included entities operating in various fields ranging from coffee business and logistics to financial services and technology parks.
At the consolidated level, its revenues in the last five years increased by almost 12 per cent, while the consolidated profit after tax grew by 2.65 times. Interestingly, in the last five years since FY18, the company has raised about Rs 2,000 crore in debt but at the same time, has not been able to create cumulative free cash flow. In fact, its non-current investments, comprising investments in land and property, tripled to Rs 1,591 crore as of March 2018 from Rs 430 crore in March 2014. At the same time, cash on its books also more than tripled to Rs 1,667 crore. As of FY19 financial report, the company had a total debt of Rs 6,550 crore, which was expected to come down to around Rs 4,500 crore following the Mindtree's stake sale.
Mr Siddhartha (including other promoters) held around 54 per cent stake in Coffee Day Enterprises as of June 2019 of which, 76 per cent was pledged. Also, as per FY18 annual report, the company borrowed Rs 1,028 crore secured by Mr Siddhartha's personal guarantees. In the latest conference call, Mr Siddhartha revealed that he had reduced his personal debt by Rs 600 crore post the Mindtree sale and seemed confident about his company's future.
Mr Siddhartha fell into a spiral debt trap because of a complex web of personal guarantees and share pledging given out to various lenders, coupled with his aggressive growth plans in tech parks, tea plantation and coffee business. And this trap ultimately took him down.